The hypocrisy of Nike
Why the sportswear giant turned its back on a Turkish NBA star.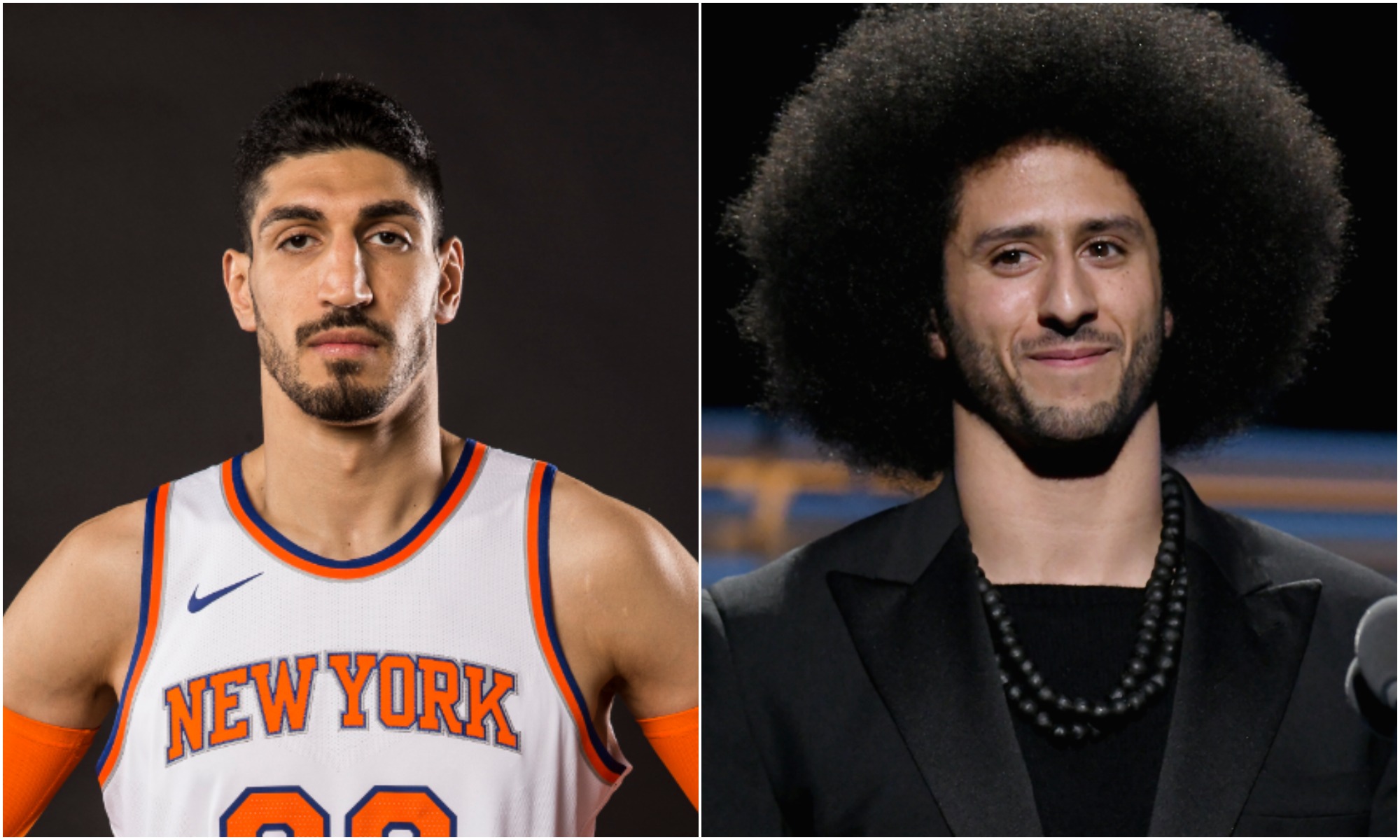 'Believe in something. Even if it means sacrificing everything.'
This was the much-acclaimed quote that Nike led with in a recent campaign featuring American football player Colin Kaepernick. He became a public icon in 2016 for refusing to stand for the US national anthem at games – a protest, he said, against police brutality and systemic racism.
Many have praised Kaepernick as a leader of an important movement, while others have slammed him as an anti-American opportunist. But despite some initial backlash to Nike's ad campaign, it has been a net win for the company, and was hailed for its 'brave' and 'defiant' message.
Is this campaign proof, then, that major brands are starting to take matters of social justice seriously, or was it just an empty marketing ploy? Of course, it has turned out to be the latter. Recent comments made by another sports star, Turkish NBA player Enes Kanter, have exposed Nike's lack of principle.
In the summer of 2016, around the same time as Kaepernick began his protests, an attempted coup against the Turkish government sparked a crackdown on dissenting voices by President Recep Tayyip Erdogan. Kanter is a longtime critic of the regime and a supporter of US-based Fetullah Gulen, who Erdogan blamed for the coup. And so he became a target.
The New York Knicks player had his Turkish passport revoked, and Erdogan issued a warrant for his arrest. Kanter's father even had to disown him in a bid to safeguard their family.
Despite playing for a popular NBA team, the 26-year-old cannot find a sponsor. This is because, he says, sportswear companies are wary of damaging their commercial prospects in Turkey. And in an interview with Vice Sports last month, he singled out (you guessed it) Nike as one of those companies:
'I talked to Nike and they said "we want to give Enes a contract, but if we give him one [the Turkish government] will shut down every store in Turkey, so we cannot"… I'm an NBA player with no shoe deal. No endorsement deal. And I play in New York!'
It seems that Kanter sacrificed everything for something he believed in, and yet Nike was nowhere to be found.
With Kaepernick, Nike took a risk, but a safely calculated one: he was just edgy enough to seem countercultural, but mainstream enough to suit their bottom line. In the current anti-Trump climate, he was about as safe a bet as you could make.
The decision to sign Kaepernick obviously had nothing to do with his sporting profile. He has not played in the NFL since 2016, as he has been unable to find a new team. And yet he was given a contract with Nike that was said to be on par with top-end NFL players.
Kanter, on the other hand, is in the prime of his sporting career, making millions pursuing his passion. What's more, his decision to put everything on the line to continue speaking out against the Turkish regime, which has detained over 170,000 of his fellow citizens in recent years, showed precisely the kind of bravery Nike is claiming to champion.
While the trend for using social-justice issues to promote products is nothing new, there has certainly been a wave recently of preachy politically charged commercials. In this age of virtue-signalling, companies are trying to imbue their products with a sense of moral superiority. But Kanter's story shows that campaigns like Kaepernick's have nothing to do with principle.
Nike is a business. It has the right to do whatever it likes, and to work with whoever it chooses. But if it is going to portray itself as a principled defender of progressive ideals, it should at least be consistent. Otherwise, it should knock off the charade altogether.
Andreas Vou is a freelance journalist currently based in France. Follow him on Twitter: @andreasvou89
To enquire about republishing spiked's content, a right to reply or to request a correction, please contact the managing editor, Viv Regan.