'I was sacked for saying Brexit is good'
Meet the Berlin Deliveroo rider whose pro-Brexit smalltalk cost him his job.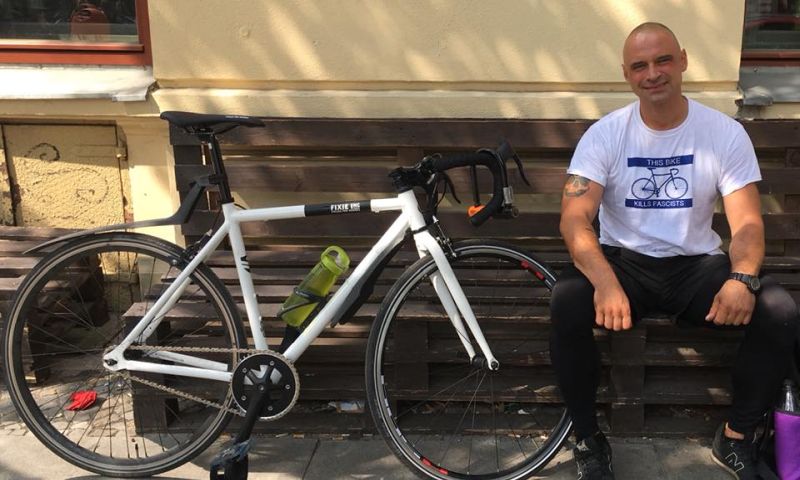 Andres Georgi had been earning a living as a bicycle courier for Deliveroo in Berlin. But earlier this month, he made the mistake of making smalltalk with a British customer, Redfern Jon Barrett, a writer, activist and Remainer. Georgi said that Brexit was a good thing.
After the exchange, Barrett sent a tweet complaining to Deliveroo and branding Georgi a Nazi. The accusation cost him his job. 'The Deliveroo delivery guy just went on an aggressive nationalist rant when he saw the EU flag in our hallway. We are gay immigrants who live in Berlin. Deliveroo: please don't send Nazis to our door!', read the tweet.
I caught up with Georgi after his story was reported on in Ruhrbarone, a German-language blog.
For him, the tweet came as a shock. 'I was having a great weekend doing lots of deliveries. Then I got this email from the coordinator asking whether the tweet's accusations were true', he tells me.
Georgi is 41 years old and had been working for Deliveroo for 13 months. When we meet, there is nothing visibly Nazi about him: no questionable tattoos, no big black boots, no insignias that might arouse suspicion.
From what Georgi remembers, the conversation with Barrett lasted only a few minutes. Barrett came to the door, and spoke in English. Georgi saw two flags in the hallway: a rainbow flag and an EU flag. 'Are you from England?', he asked Barrett. 'I like the rainbow flag, but not the EU flag. I think Brexit is good', he said. Barrett asked him why, and he replied that Germany had too much influence in the EU. In other words, 'nothing nationalistic at all', Georgi says. 'I was in a good mood as I was about to meet my girlfriend and I was definitely not being unfriendly', he insists.
When I contacted Deliveroo, it told me that it had terminated Georgi's contract not because of this specific incident, but because of 'other unprofessional behaviour'. But Georgi showed me an email conversation with his Deliveroo coordinator which suggests otherwise.
The exchange focuses almost entirely on the conversation about Brexit. One email says that he had behaved irresponsibly by speaking about touchy political issues with customers. 'It was especially inappropriate to tell an obviously pro-EU Brit living in Germany that Brexit was a good thing', it reads. Although another case was also mentioned – a female customer had complained about an unwarranted remark – it was clearly the tweet that triggered the sacking. (An accusation, however spurious, that a company employs Nazis is no small matter in Germany.)
I tried to contact Barrett, the customer, but received no response. His website says he is an activist who 'identifies as a polyamorous, pagan giant'. His 'personal life and campaign work has been referenced throughout the British and wider European press', it claims. The emails from the Deliveroo coordinator nod to this: 'He is an activist and the damage has been done.'
The seriousness of the accusation, combined with the accuser's status as an apparently successful activist, would certainly be enough to frighten the PR team of a company like Deliveroo. Whether the accusation, against one of their workers, was actually true appears to have been less of a concern.
In the email exchange Georgi shows me, even his Deliveroo coordinator admits that the accusations are over the top. 'No one in the office believes that you are a Nazi', he concedes.
Nevertheless, Deliveroo tells me that the incident is currently a matter for the police. Perhaps there is more to the story than meets the eye. We shall see. But for Georgi, right now, the whole episode has been a disaster. He says he had been making up to €2,000 per month as a courier. While other courier work is available, it will be difficult for him, he says, to make up for the loss of his work with Deliveroo.
'Meeting different people and chatting to them gave me pleasure in my job', he says. And most people appreciated the conversation, he says – even when it hit upon touchy political subjects. 'With my Turkish customers I could speak about Erdogan and we always had a good laugh.'
Georgi may have misjudged the situation. There are indeed customers who prefer their delivery drivers to be seen and not heard. But whatever else comes out of this story, the potential for one tweet by a seemingly self-important activist to destroy someone's livelihood is scary. It would be a very sad world if we all had to keep our thoughts to ourselves lest someone takes offence.
Sabine Beppler-Spahl is head of the board of the liberal thinktank Freiblickinstitut e.V., which has published the Freedom Manifesto. She is also the organiser of the Berlin Salon.
To enquire about republishing spiked's content, a right to reply or to request a correction, please contact the managing editor, Viv Regan.