Atlas Shrugged: Ayn Rand's novel of ideas
It is not a great novel, but it offers a compelling philosophy of great men.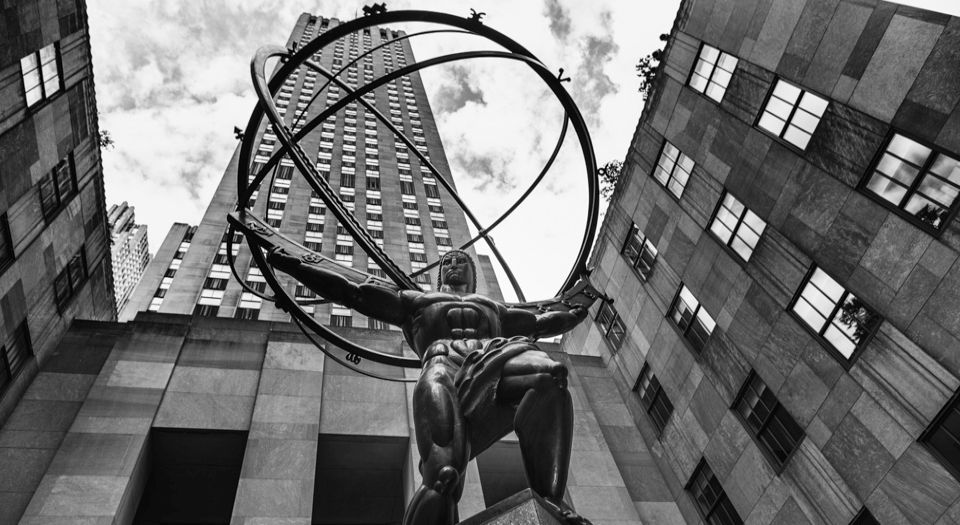 Ayn Rand (1905-82) is now more famous as a philosopher and ardent proponent of laissez-faire capitalism than as a writer of fiction. As such she is known for advocating rationalism and pure self-interest as bases for ethical and political action and as a bulwark against collectivist ideologies and government influence.
According to this approach, which she called objectivism, the most virtuous man is one who makes money; the most depraved is one without purpose. Wealth, therefore, is a sign of success and a motivator for ambitious capable men. (Rand's attitude to feminism was ambivalent – personally ambitious, she was opposed to the intrusion of feminine virtues into traditional masculine public spaces of politics, commerce and science.)
Although objectivism has furnished American libertarianism with (disputed) intellectual seriousness, a worldview that considers all taxation as theft has had little appeal in Europe. Objectivism has largely been seen by philosophers as a political position rather than a coherent system of ethics and logic.
Rand's belief in the great-man theory of history (positing that social and technological progress is made through the achievements of exceptional individuals) translated in artistic terms into a strand of heroic individualism. That is nowhere better exemplified than in her giant novel, Atlas Shrugged, published in 1957. An elegant new edition, published by the Folio Society, captures the grand scale and epic themes in its illustrations and pictorial hardcover designs.
In Rand's view, the US of the late 1940s faced the dangers of an expanding state that constricted business. In Atlas Shrugged, the entire industrialised world has adopted socialism and the US is following them. The novel is intended to demonstrate why society depends on great men, how the profit motive incentivises trade and technological advance, and why envious states destroy powerful individuals.
Atlas Shrugged is a blockbuster novel incorporating aspects of the thriller, mystery, romance and family-saga genres. It has action, courtroom drama and boardroom struggles. What it is primarily is a novel of ideas, in which characters, atmosphere and plot are subordinated to concepts, which, in turn, are forcefully expressed in dialogue and narrative.
It is a successful novel of ideas because the characters and plot grow naturally from the principles underlying the novel. (An unsuccessful one will feature characters sitting around and talking in Socratic dialogues about contrary positions, without this ever driving the plot or motivating characters.)
Whether or not one agrees with Rand's views, Atlas Shrugged is an effective vehicle for them. It is not a great novel, it may not even be a good one, but it certainly is not a bad one. It is also very long – 1,533 pages in this three-volume edition. Though there are passages that are stiff and unpersuasive, it is readable and actually a page-turner. Readers really do want to know what happens next.
Rand set her novel in the hyper-masculine worlds of the steel and rail industries. Dagny Taggart is the glamorous and ruthless heroine of the novel. She is the brilliant vice-president of Taggart Transcontinental Railways, her family firm. The drive for profit is her overriding motive. Her weak-willed brother, James, is forever being bribed and browbeaten by sharp operators, cautious company men and meddling bureaucrats, who lead him to betray his firm.
Francisco d'Anconia is the heir to a mining company and excels in almost every activity. He is the embodiment of noble virtues, indefatigable stamina and genius intellect. Hank Rearden has invented Rearden Metal, an alloy stronger, lighter and more durable than steel. His invention is being frozen out by collusion between stuffy corporations and corrupt steel producers. Only Dagny is bold enough to order new rails for her railway using Rearden's invention. Will d'Anconia or Rearden win Dagny's heart?
Rand could hardly draw her characters and moral issues more emphatically. Atlas Shrugged is a novel that makes you consider where the dividing line is between character and caricature. The stock characters here are like figures from a 1940s film noir or maybe a Pathé newsreel – titanic figures struggling against adversity, set to stirring music. Rand includes mysteries to draw us into this alternative dystopia of the 1950s. Why have so many of the great men of America retired from public life? What is the cause of the pervasive economic malaise and corporate timidity? Why has a revolutionary motor design been abandoned and its engineers dispersed? What is Project X and who is John Galt?
Although some aspects of the novel have dated, the principles that concerned Rand are ever current. How much control should government have? How does the press collude to suppress the truth for political motives? Referring to media bias, one character says: 'There are no objective facts… Every report on facts is only somebody's opinion. It is, therefore, useless to write about facts.' Rand also correctly catches the tenor of government rhetoric when 'protecting the weak' is used as the rationale for expanding state control. And when an opponent of competition states, 'I don't think that the strong should have the right to wound the self-esteem of the weak', he prefigures contemporary arguments.
Atlas Shrugged has many flaws. The plot is full of coincidences; Rand's outlook is simplistic and her tone is didactic; human nature is depicted unrealistically; the prose is cluttered with stylistic clichés; and the dialogue is inadequately individualised.
And yet, once one has accepted Rand's characters are emphatic archetypes operating in symbolic settings, one can become engaged by the drama and adventure and sympathise with many of Rand's points. It is easy to see why Atlas Shrugged has won fans who like Rand's story, and broad worldview, while not wholly buying into objectivism.
This Folio Society edition includes illustrations by Anna and Elena Balbusso. Their fitting colour illustrations combine the art deco and Hollywood-movie aesthetic of the period to produce an attractive accompaniment to Rand's writing. This would make a good gift for any Rand enthusiast. Even the most hardened objectivist's heart would melt a little at such a generous – if foolishly altruistic – gift.
Alexander Adams is an artist and writer. Visit his website here.
Atlas Shrugged, by Ayn Rand, is published by Folio Society. (Buy this book from Folio Society.)
To enquire about republishing spiked's content, a right to reply or to request a correction, please contact the managing editor, Viv Regan.