The rise of the mind-reading left
Imputing the motives of one's opponents is no way to win an argument.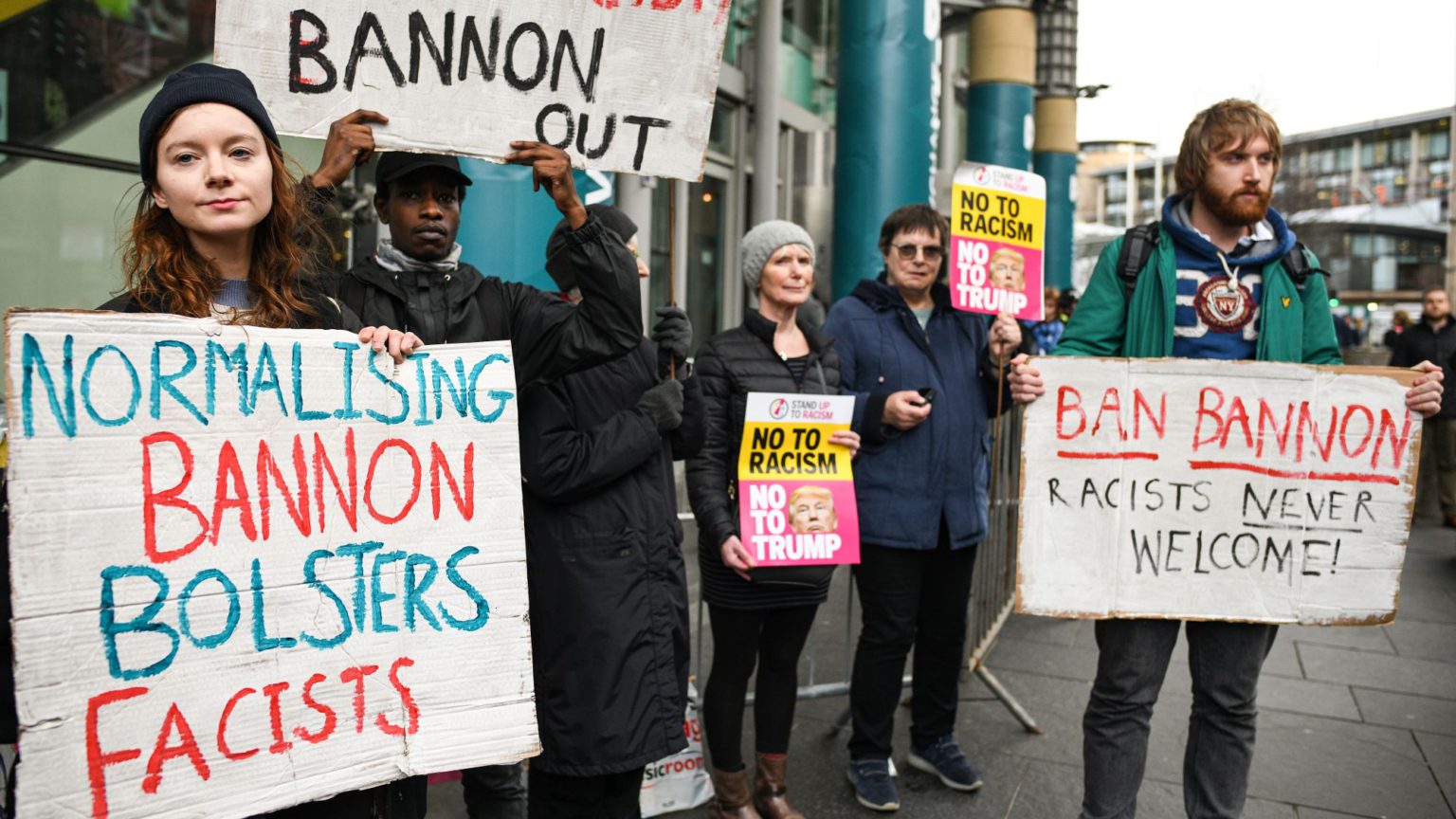 The Oxford Union faced heavy criticism last week for extending an invitation to Steve Bannon, Donald Trump's former chief strategist. When asked to defend the decision, the president of the union, Stephen Horvath, explained that it 'is only through listening to the opinions of others that we can fully understand those opinions'. This is not only a reasonable and measured response, it also has the advantage of being true.
In an article for the Guardian, Fred Dimbleby attacked the union for its decision, and in doing so exemplified one of the most troubling aspects of the censorial mindset. 'So why has the Oxford Union invited him?', asked Dimbleby, a somewhat redundant question given that he had already quoted Horvath's answer. But Dimbleby apparently knows the ghastly truth: 'It's for the excitement. Leaders of the union are titillated by the idea of having someone like Bannon speak at their institution.'
I am less interested in Dimbleby's fatuous arguments against freedom of speech, and more in what his article reveals about the intellectually defunct approach of so many on the left. Too often we see polemicists attempting to intuit the motives of those with whom they disagree. Speculation would be one thing, but the certainty which they tend to make these assumptions is chilling. Dimbleby's sixth sense apparently knows no bounds. He shouldn't be writing articles for the Guardian, he should be vying for Mystic Meg's job.
Not only does he claim to have a telepathic insight into the minds of the Oxford Union's standing committee, he also knows for sure that Bannon is a fascist. As far as I am aware, Bannon has never expressed support for imperialism, the violent suppression of political opposition, or a paramilitary coup against the state. Bannon may be a right-wing nationalist with whom I share little ideological common ground, but I also know that to brand him a fascist would be to open myself up to accusations of historical illiteracy.
It is rarely possible nowadays to read an article by a leftist identitarian without the writer at some point divining the secret motives of his or her adversaries. It is the same mentality that has led so many to assume that the Brexit vote was predominantly driven by xenophobia. In a broad poll analysis by the Centre for Social Investigation at the London School of Economics, it was discovered that Leavers were 'better at characterising Remainers' reasons than vice versa – something which may be linked to progressives' greater tendency to disengage from their political opponents'. The findings are depressing, but no great surprise.
After the election of Donald Trump, leftists desperately sought to understand why people had not voted in the 'correct' way. It soon became clear that a nuanced discussion of the possibilities was to be rejected in favour of groundless assertions. So we had Suzanne Moore diagnosing the majority of American women as suffering from 'internalised misogyny' because they voted Republican. It apparently didn't cross her mind that there might be women out there who simply do not share her political perspective.
In a similar vein, Laurie Penny decided that Trump won because of 'white resentment' born of a frustration that 'women, migrants and people of colour no longer seem to know their proper place'. When Trump supporters express concern for 'ordinary people', Penny tells us, 'they mean white people'. Few would be foolish enough to deny that there are many individuals whose politics are motivated by prejudice, but this kind of blanket assessment of such a broad contingent of the electorate is hardly a productive tactic.
And last week Carole Cadwalladr, feature writer for the Observer, accused BBC interviewer Andrew Neil of trying to limit her speech by comparing her to the 'crazy cat woman' from The Simpsons. Whereas most would surely assume that Neil's tweet was simply a throwaway barb of the kind one regularly sees on social media, Cadwalladr assures us that it was in fact 'an attempt to silence' her, and an exercise in 'slut-shaming'. If Neil had genuinely intended to slut-shame, one imagines he might have chosen a better example of sexual debauchery than an elderly cartoon woman who keeps cats.
Whenever I read articles of this kind, I am always struck by the sheer sense of certitude on display. Has it ever occurred to the likes of Dimbleby, Moore, Penny and Cadwalladr that they might be wrong? If it has, there is little evidence of it in their work. This kind of rigidity comes when critical thinking is abandoned. To close oneself off to the possibility of alternative opinions, and only to see the world through the lens of confirmation bias, is a form of intellectual death.
Nobody has ever been persuaded to alter their convictions by having them misrepresented. I do not disbelieve these prominent voices on the left when they tell us how frustrated they are at what they perceive to be the rise of the far right. I also have little doubt that their intentions are good, even if their conclusions are bad. But if they are serious about changing minds, it would serve them well to try arguing against their detractors' actual viewpoints rather than those they imagine them to hold.
Andrew Doyle is a stand-up comedian and spiked columnist. He is also the co-founder of Comedy Unleashed, London's free-thinking comedy club. Follow Andrew on Twitter: @andrewdoyle_com
Watch Andrew Doyle in The Curious Case of the Nazi Pug below:

Picture by: Getty
To enquire about republishing spiked's content, a right to reply or to request a correction, please contact the managing editor, Viv Regan.