The problem with Apu's critics
It is so much easier to destroy great culture than to create it.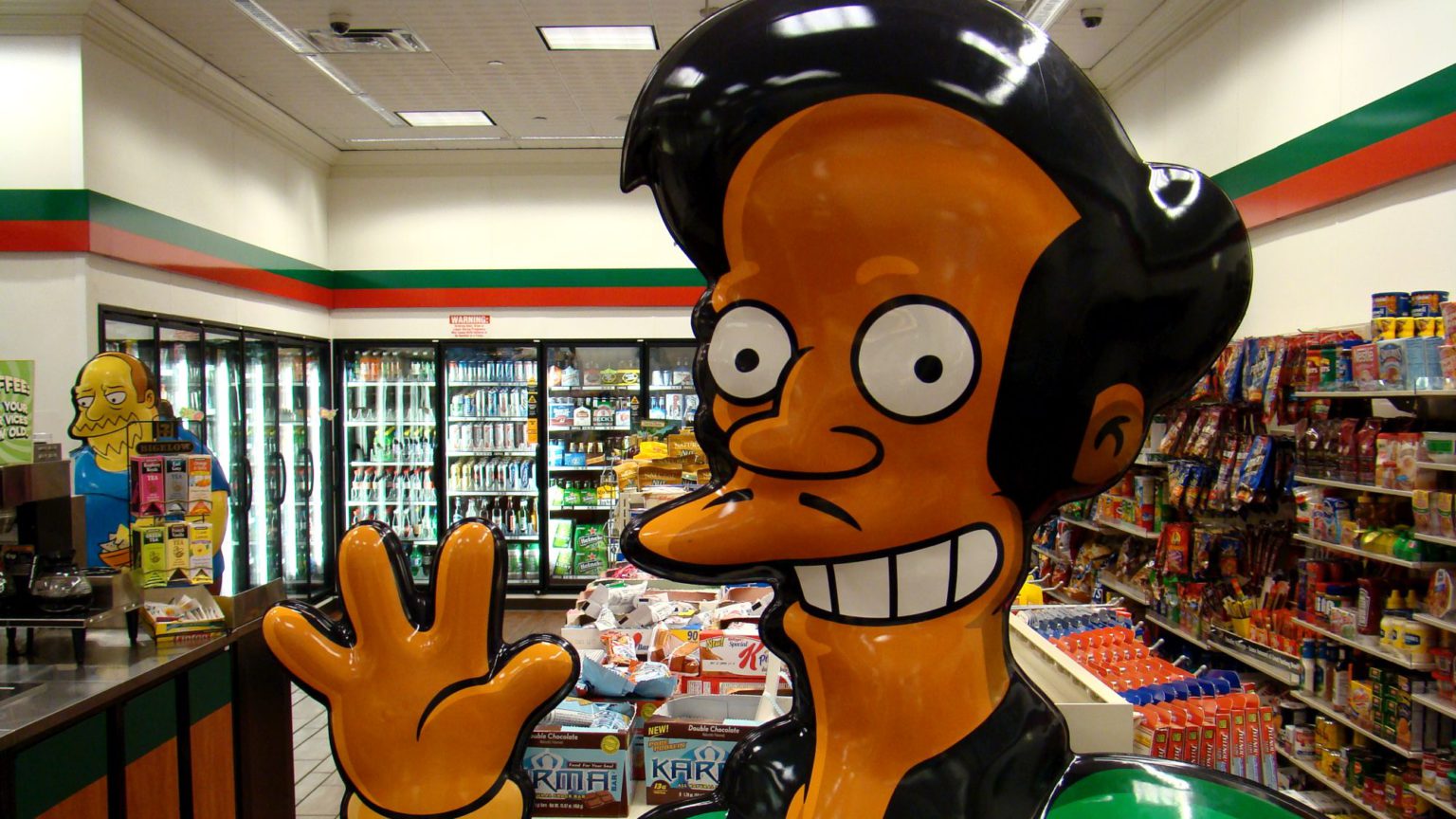 The Simpsons is going to kill off Apu, its iconic, but recently controversial, Indian-American character. This comes after the release of activist-comedian Hari Kondabolu's documentary, The Problem with Apu, which claimed the shopkeeper character, voiced by Hank Azaria, is a racist stereotype.
But while The Simpsons seems to have finally bowed to the pressure, it shouldn't stop here. If its depiction of Kwik-E-Mart owner Apu Nahasapeemapetilon was a slap in the face to sensitive Indian-Americans like Kondabolu, then the show's treatment of Bumblebee Man was a kick to the nuts of my people – Hispanics who dress like bumblebees.
I wasn't born an activist. But I had no choice but to become one after I watched Kondabolu's documentary. It assured me that it is okay for a grown man to be angry at a cartoon. Now my problem is your problem: this is a film my colleagues and I at We The Internet TV made to address the lasting, racist legacy of the Bumblebee Man:
I hope you know that I'm joking. So many viewers do not. Hey, these are the times we're living in…
While I mock Hari's crusade, the two of us actually have a lot in common. We both self-identify as comedians, we're both from Queens, New York, and my father – like both of Kondabolu's parents – is an immigrant. Albeit my dad's a butcher from Argentina – so while I was called lots of things on the playground, I was never called 'Apu'. (Now I'm wondering: was there a Simpsons character named 'Spic'?)
Like Apu, my dad has a 'funny' accent. Think of The Most Interesting Man in the World from those Dos Equis commercials, but gruffer and with a more limited English vocabulary. I exploit that accent whenever I can – in stand-up routines, comedy sketches, on dates. Not only is it funny, but it is a reminder of my roots. And I like hearing others put on my dad's accent, too.
That may be why my favourite moment in The Problem with Apu is when, right after Kondabolu comments on how ridiculous Hank Azaria's Indian accent is, we meet Kondabolu's parents for the first time and… they kinda sound like Apu. (If I had made the doc, I would have either recast my parents or pretended I was orphaned. Anything to help my thesis!)
Hari has been criticised for leaving out interviews he had done with Indian-American small-business owners. As Amar Shah pointed out, 'Everybody has an opinion about Apu, but did they ever talk to someone who owned a convenience store or gas station or work in one or grow up in one? You know, like my dad and I?'
Shah likened Apu to his father – in a good way – and shared stories of pride and love for his old man. I couldn't help but think of my dad and the similar tales I could tell about him and our family butcher shop in Spanish Harlem.
Hari says the interviews had to be cut for time. That may be true. But I'm betting they were cut because the working-class immigrants he spoke to didn't care about Apu. They probably had more pressing matters on their minds. I mean, ask yourself, would Apu give a shit about Apu?
But even now that Apu is no more, Kondabolu is still upset. He lamented the news of his departue on Twitter, saying that 'there are so many ways to make Apu work without getting rid of him… this sucks'.
You can't make a documentary in which you liken The Simpsons to a 'racist grandfather', accuse the white guy voicing a character you dislike of committing 'cultural appropriation' at best or doing a minstrel show at worst, and then act shocked when the show's producers decide to kill off the character.
Apu might be on the way out, but some good has come from his sacrifice. Whereas Kondabolu sees Apu as an Indian stereotype, others have paid tribute to him and reminded us of the many things we loved most about him. Apu is a testament to the brilliance of The Simpsons, whose writers bring depth to so many two-dimensional figures by playing with stereotypes and by transcending them.
There is a Hamletian moment at the end of my mockumentary. Our Hispanic Bumblebee asks: 'Am I just humourless, overly sensitive, and petty? Am I riding fashionable social-justice causes to put myself in the spotlight, while assassinating the work of better artists who have made millions of people laugh?'
Of course he is.
The simple truth is this: it is far easier to destroy Apu than it is to create him. Too bad we had to destroy him to find that out.
Lou Perez is head writer and executive producer at We the Internet TV. He is also half of the comedy duo, Greg and Lou. Follow him on Twitter: @LOUontheSUBWAY.
To enquire about republishing spiked's content, a right to reply or to request a correction, please contact the managing editor, Viv Regan.