No, Trump is not 'erasing' trans people
Defending the biological reality of sex should be welcomed in these confused times.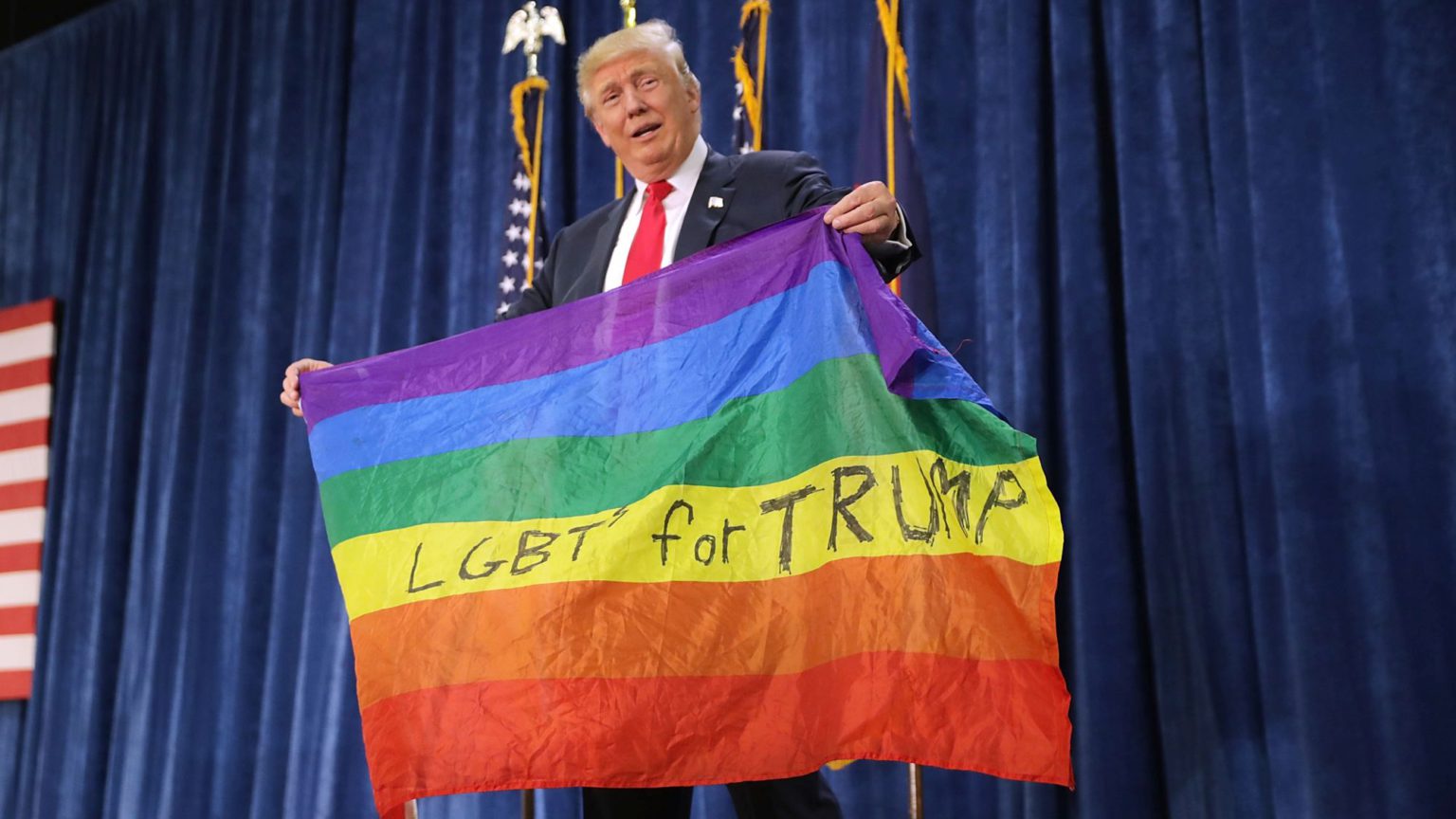 The New York Times reported earlier this week that the Trump administration is considering 'narrowly defining gender as a biological, immutable condition'. The NYT's headline read: 'Trump Administration Eyes Defining Transgender Out of Existence.'
And, with that, all hell broke loose among transgender activists and advocates. Writers took to the op-ed pages. 'I was surprised to learn on Sunday morning that I do not exist', said Jennifer Finney Boylan. Rallies across US cities were organised. A social-media campaign, using the hashtag #WontBeErased, took off.
This is a melodramatic overreaction, but a revealing one at the same time. The change that the Trump administration is reportedly contemplating would not prevent anyone from self-labelling themselves as transgender. No one's existence will be 'erased'.
In contrast to what the NYT reports, guidance from Trump officials would not 'narrowly define gender' – it would clarify the definition 'sex', which is the basis of the specific sex-discrimination law under consideration, known as 'Title IX'. Indeed, it would restore the understanding that existed until the Obama administration slipped 'gender identity' into the law in 2014.
Title IX is a US federal government law that prohibits discrimination on the basis of sex in education and other federally funded activities. It was passed in 1972, after efforts by feminists and others. At the time, Title IX was most associated with expanding women's sports programmes in schools and colleges.
So, when Title IX was created, it was about protecting women from discrimination. There was no thought of gender identity. But then, under Obama, transgender supporters sought to piggyback on this protection for women.
In 2014, the Obama administration redefined the meaning of sex in Title IX to cover gender identity and transgender people. They did so not by getting Congress to pass a new or amended law, but by regulation (and even this regulation did not go through the normal internal process of approval). Obama officials simply declared that, 'Title IX's sex-discrimination prohibition extends to claims of discrimination based on gender identity or failure to conform to stereotypical notions of masculinity or femininity'.
Then, in 2016, in the waning months of the Obama regime, his officials went further. Leaning on their expanded definition of sex to include gender, they imposed mandates on schools nationwide, including rules on pronoun use, bathrooms and lockerrooms, sports teams, among others. What Democrats could not introduce via legislation they dictated by Obama's pen.
The Trump administration has already reversed the mandates to schools on transgender issues. Now, if the New York Times report is correct, they will clarify the guidance as to what constitutes 'sex' in the Title IX sex-discrimination law. But such a move would not redefine sex in the law; it would simply restore the understanding of what 'sex' has meant, from the time of the law's introduction in 1972 up to Obama's fairly recent edits.
What really bothers transgender advocates is any recognition of the biological basis of sex – that's what they would like to erase. The NYT report includes the following statement: 'A series of decisions by the Obama administration loosened the concept of gender in federal programmes, including in education and healthcare, recognising gender largely as an individual's choice and not determined by sex assigned at birth.' But sex is not 'assigned' at birth – it is a biological fact.
As transgender supporters like to say, gender is socially constructed and fluid. But, in reality, they do not allow for fluidity. Facebook might have 71 gender categories, but the transgender lobby insists that transmen must be recognised as 'men' and transwomen as 'women'. In other words, they are not content to use descriptions like traditionally masculine and feminine, but instead demand that gender be tied to the sex categories of 'men' and 'women'. They want the solidity of the biological category, without the reality of biological sex underpinning it.
As it happens, if anyone wants to extend anti-discrimination law to include gender identity, that's their prerogative, but they should seek to pass a new law, not edge in on an existing law designed to protect women. Of course, that would require transgender advocates to wage a campaign to convince the public and elected representatives – something that the pro-trans 'movement' has not done to date. Indeed, this cause has been a thoroughly top-down initiative, originating in the US from a small clique of the Obama civil rights unit administrators and the New York Times editorial board only a few years ago. At a rapid pace, transgenderism has become the conventional wisdom of the political and cultural elite, and anyone who questions its premises risks being labelled a bigot by these elites.
Restating that sex is biological in nature would be a welcome dose of common sense. In terms of Title IX, doing so would restore the law to its original intent, and roll back Obama's lawmaking by regulation. It would set the law on an objective foundation, rather than individuals' subjective declarations. And it would remove 1600 Pennsylvania Avenue's dictates over thousands of schools across the country, including obliging schools to open women's changing rooms to males who identify as females – while also giving schools the freedom to adopt such a policy, if they wished.
Most importantly of all, putting sex-discrimination law back on an objective footing would help women. As noted, Title IX was originally linked with ensuring women had equal opportunities in sports. But thanks to the Obama rewriting of Title IX to accommodate gender identity, more and more biological male athletes have been competing and winning in women's events across the country, including track and field. Of course, males have a competitive advantage in athletics, given the inherent physical differences between men and women.
Biological males dominating women's sports reveals the inherent nonsense and injustice of the recent obsession with transgenderism. It exposes that the Obama-era expansion of sex to include 'gender identity' was not a useful addition to laws that address discrimination against women, but in itself undermined women. In sports and other areas of life, promoting the cause of transgender women comes at the cost of damaging women. Any step that challenges today's transgender dogma – including one as simple and obvious as declaring that sex is biological in nature – should be welcomed.
To enquire about republishing spiked's content, a right to reply or to request a correction, please contact the managing editor, Viv Regan.