Black '47: setting the record straight
Lance Daly's revenge flick is a blast against Famine revisionism.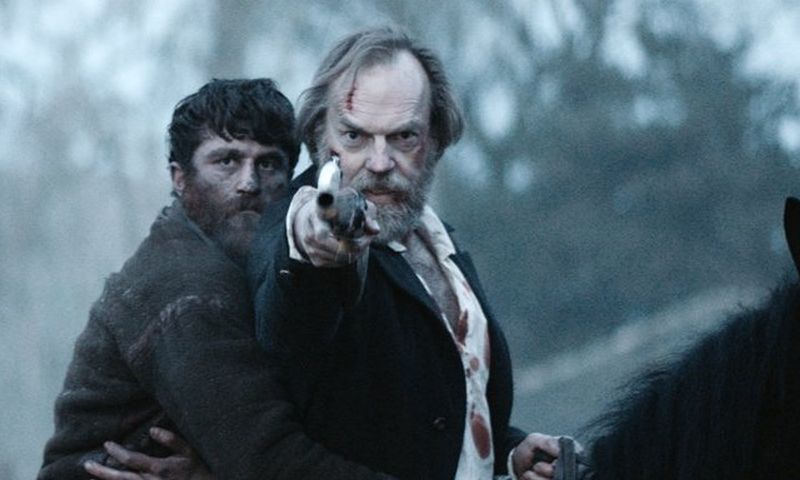 In 1835, Alexis de Tocqueville (Democracy in America) and his close associate, Gustave de Beaumont, visited Ireland for six weeks. Beaumont came back again in 1837, and in 1839 he published his study L'Irelande. Ten years before 1847, the bleakest point of the Irish Famine, he wrote: 'I have seen the Indian in his forests and the negro in his chains, and thought, as I contemplated their pitiable condition, that I saw the very extreme of human wretchedness; but I did not then know the condition of unfortunate Ireland.'
This is the setting for Irish director Lance Daly's latest film, Black '47, which has packed out cinemas across Ireland. Feeney is an Irishman who, having served for, and deserted, the British army in Afghanistan, arrives back in the west of Ireland to find his family home tumbled, his mother dead from starvation, and his brother hanged for stabbing a bailiff. As Feeney observes such injustices repeated in the horror of the Famine, he is compelled to seek revenge.
Daly says he doesn't want Black '47 to be viewed as a straightforward Famine film, 'smuggling', as he puts it, the history into a revenge thriller. But it nevertheless addresses the key questions of who or what was to blame for the Famine, which led to two million people leaving Ireland and one million dying of starvation.
Rather than hit you over the head with political posturing, Black '47 reveals much of the true history of the Famine through characterisation and symbolism. British politicians' insistence that market forces couldn't be interfered with, even though they knew Irish people were dying of starvation, is depicted in scenes of grain and foodstuffs being exported from Ireland. And the then Malthusian view of the Irish – Malthus himself described the Irish poor as 'brutes' and subhuman – is conveyed through the character of the bigoted Captain Pope, who never misses an opportunity to express his disdain for the Irish.
Daly even swings at the Church of England, with scenes of proselytisers offering broth to starving people, but only if they would convert. This was bitterly referred to by Catholics at the time as 'taking the soup'.
Feeney's ultimate aim is to kill his nemesis Lord Kilmichael – an obvious caricature of Charles Trevelyan, the chief architect of British policy in Ireland at the time, who once wrote, 'The real evil with which we have to contend is not the physical evil of the famine, but the moral evil of the selfish, perverse and turbulent character of the people'. Lord Kilmichael thinks the famine is a godsend, which will help him clear the peasants off his land. Feeney sees him as ultimately responsible for the death of his family members.
But there is more to this film than English-bashing. In Feeney's willingness to resort to violence against the British system in Ireland, Daly both legitimises the right to fight oppression and breaks with the preferred Famine history of the Irish political class – the victim narrative. It is this aspect of the film – the portrayal of the Irish as active rather than passive – which is proving so popular with audiences outside of metropolitan elites.
Following the outbreak of the war in Northern Ireland in 1971, the political elites in the south were fearful of a resurgent nationalism and sought to downplay not just the Famine, but all aspects of Ireland's historical conflict with British imperialism. This led to the emergence of a new school of so-called revisionist historians. Chief among them was Roy Foster, whose book, Modern Ireland (1989), is, in the words of Desmond Fennell, 'a retelling of Irish history which seeks to show that British rule of Ireland was not, as we have believed, a bad thing, but a mixture of necessity, good intentions and bungling; and that Irish resistance to it was not, as we have believed, a good thing, but a mixture of wrong-headed idealism and unnecessary, often cruel violence'. In 2002, Foster published The Irish Story, in which he argued that the Irish have 'misused' their own history, including the Famine.
This twisting of the Famine proved to be incredibly popular among certain sets of the Irish middle class. As one of Foster's admirers, the author and contemporary Irish public intellectual Colm Tóibín, put it: 'This revisionism is precisely what our state needed once the north blew up and we joined the EC, in order to isolate Northern Ireland from us and our history, in order to improve relations with Britain, in order to make us concentrate on a European future. Foster and his fellow historians' work became useful, not for its purity, or its truth, but its politics.'
In 1995, the Irish government launched a Famine commemoration committee to prepare for the 150th anniversary. But it was a disaster – the committee proposed a joint commemoration with Britain, which was summarily dismissed by John Major. After the Celtic Tiger had gone belly-up and recession hit in 2008, the government established a new annual memorial day. At the 2018 commemoration, President Michael D Higgins gave only a vague reference to Britain's role in the Famine during his speech, choosing instead to emphasise a more general victim narrative.
Not everyone is willing to misremember Famine history, however. There are some historians, like Christine Kinealy (This Great Calamity), who have sought to restore some rigour and integrity to Irish Famine historiography by concentrating on the specifics of the colonial relationship between Britain and Ireland. But Daly's film, intentionally or not, gets to the heart of who was responsible for the Famine – and packs a punch with its populist edge.
Many Irish people still feel some anger about Famine history, perhaps because the truth of it has been suppressed for so long. Black '47 will no doubt have given some satisfaction back to many ordinary Irish people. It defies both British and Irish establishments and their twisting of history. Revenge can be sweet even if it is only in fiction.
Denis Russell is a former history teacher.
Watch the trailer for Black '47 below:

To enquire about republishing spiked's content, a right to reply or to request a correction, please contact the managing editor, Viv Regan.