The truth about Amazon's wage rises
This is more a business move than an act of generosity.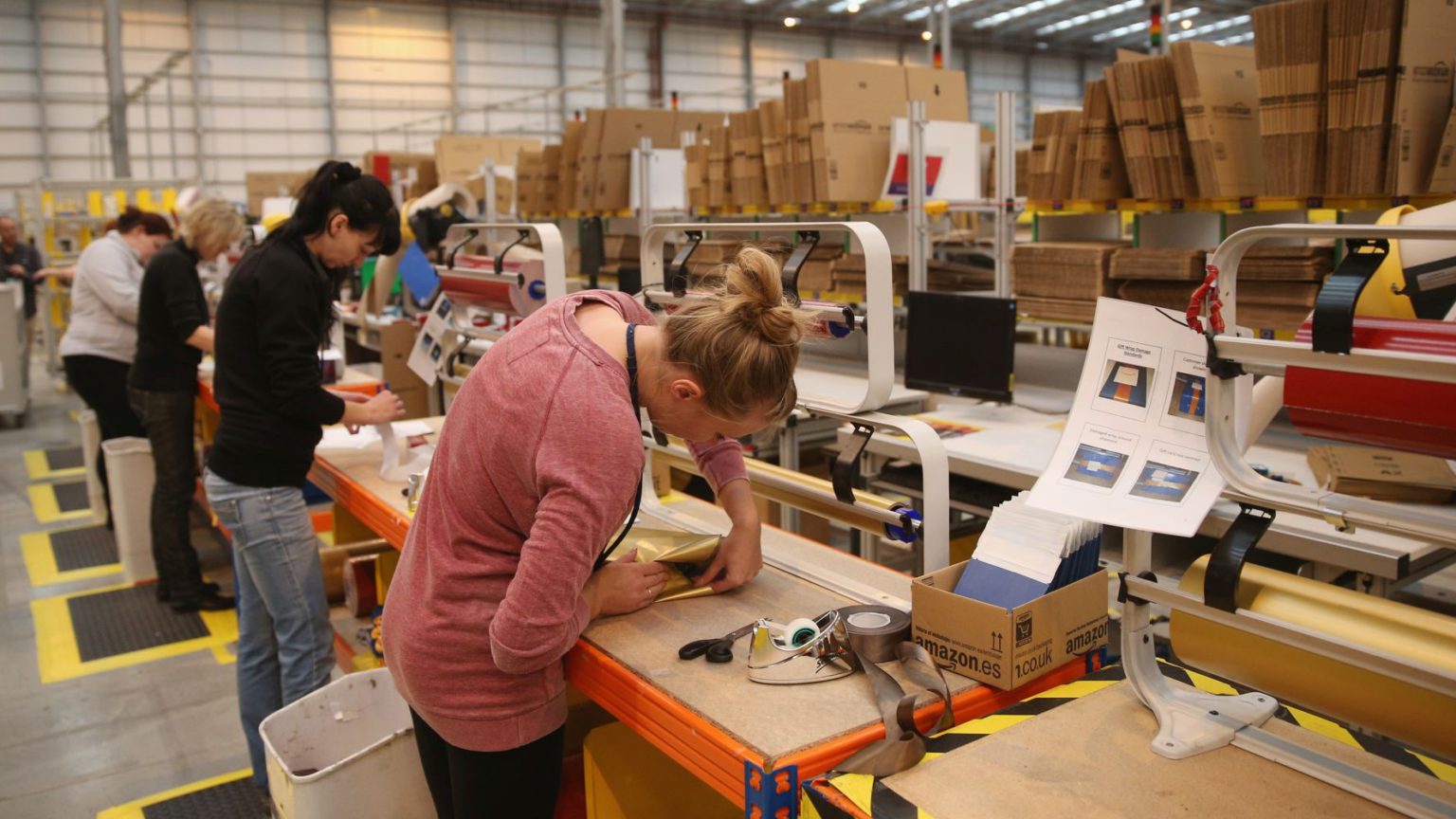 To much fanfare, Amazon has announced that, as of next month, it will be doubling the minimum wage it pays to its workers in the US. This will mean raising the pay of around 250,000 full- and part-time workers, and around 100,000 seasonal workers. In the UK, meanwhile, its thousands of workers will see their pay rise from £10.20 an hour to £10.50 an hour (in London), and from £8 an hour to £9.50 an hour outside of London. Understandably, there has been much applause.
Many commentators are putting Amazon's change of heart down to an increased awareness of the harsh conditions Amazon workers face. That is certainly what Amazon's founder Jeff Bezos is hinting at: 'We listened to our critics, thought hard about what we wanted to do, and decided we want to lead.'
There is some truth to this view of the Amazon pay rises. But there is also much more to the story.
First of all, wages in the retail sector in the US have, following years of stagnation, started to pick up. Since around the mid-2000s, hourly wages in retail had been largely flat. Since 2018, however, wage growth in the sector has taken off again, reaching around four per cent. This isn't earth-shattering, of course, but it's a rate not seen since 2002.
Amazon workers are not strictly speaking retail workers: they sort goods for delivery in warehouses rather than serving customers in stores. However, general warehouse workers in the US have also seen their hourly wages rise, by 6.7 per cent since 2017.
These wage increases for retail workers are being driven by America's long and sustained job boom, or 'tightening labour market', which means businesses have to offer higher wages to get workers on board. In addition to this, Trump's tax cuts to try to rev up the economy (whatever the long-term implications might be) mean that seasonal spending is projected to be significantly higher in the forthcoming period, and so retailers are expecting to hire more workers. Even before the recent announcements, Amazon was bringing in small wage increases for its US workers, of around 25 to 50 cents an hour.
Even against such a backdrop, though, the decision by a business, any business, to quite significantly raise its staff's wages — doubling them in the US — seems dramatic. And it is dramatic, because for Amazon this move is about more than attracting and keeping workers in its warehouses — it is part of a broader strategy.
Part of Amazon's business strategy seems to be to force the competition — that is, bricks-and-mortar retail outlets and high-street stores — out of the market by making it too expensive for them to compete.
As Scott Galloway notes in his book The Four, Amazon is driven by the logic of, 'What can we do that gives us an advantage that is hugely expensive and that no one else can afford?'. With this in mind, Amazon has spent billions on building smart warehouses near cities where property prices and labour are expensive, which allows it to fulfil faster delivery times. Other retailers struggle to match these costs and therefore struggle to achieve the same delivery times that Amazon customers have come to expect. 'Consumers love it, and competitors stand flaccid on the sidelines', notes Galloway.
The decision to hike wages is in the same vein. As Bezos also noted, 'We're excited about this change and encourage our competitors and other large employers to join us'. By raising the minimum pay, Amazon seems intent on setting a new minimum wage standard to be paid by all retail outlets to their employees.
Some may be able to bear the extra costs of such a shift, but for others it would only add to the woes of their already diminishing profit margins. Amazon is also more advanced than its competitors when it comes to warehouse robotics, meaning in the future it should be able to rely on fewer workers — and this would limit the costs of general retail wage rises for Amazon but not for its less technologically advanced competitors.
The threat that all of this poses to other retailers can seen by the reaction of the markets to the Amazon announcement on wages: an index fund that tracks US retailers in the S&P 500 fell by 3.27 per cent, compared to a dip of less than one per cent for the whole S&P 500 on the same day.
Amazon isn't only hoping that it can set $15 as a new standard minimum retail wage in the US — it is also hoping to call on the power of the state to enforce it. As part of its minimum-wage hike announcement, it also announced plans to lobby the federal government to increase the minimum wage officially. Jay Carney, senior vice-president of Amazon global corporate affairs, said: 'We intend to advocate for a minimum-wage increase that will have a profound impact on the lives of tens of millions of people and families across this country.'
This feeds into another aspect of Amazon's decision: to tackle the growing criticism it faces. Amazon has come under growing scrutiny following the publication of numerous articles and even books about its labour practices. What's more, a wing of the Democrat party is now loudly advocating minimum-wage increases. In September, Senator Bernie Sanders introduced a bill that would force large companies such as Amazon to contribute to the cost of welfare services that their low-wage workers often rely upon to supplement low incomes. Also, in some US policymaking circles there appears to be a growing appetite to regulate, or perhaps even break up, large tech firms.
Amazon wants to offset all of this. By both introducing a large minimum-wage rise for its workers and positioning itself as a pioneer of a better-paid America, Amazon is trying to take the sails out of today's growing anti-Amazon sentiment. It is seeking to wound its competitors and stymie anti-Amazon feeling in one go.
Whether Amazon's strategic move will work for the company itself, and do good or ill for the US economy overall, is hard to say. Still, Amazon workers are in for bump in their paychecks, and that's worth celebrating.
To enquire about republishing spiked's content, a right to reply or to request a correction, please contact the managing editor, Viv Regan.