The brutality of Fortress Europe
The EU will do anything to keep out the 'wrong' people.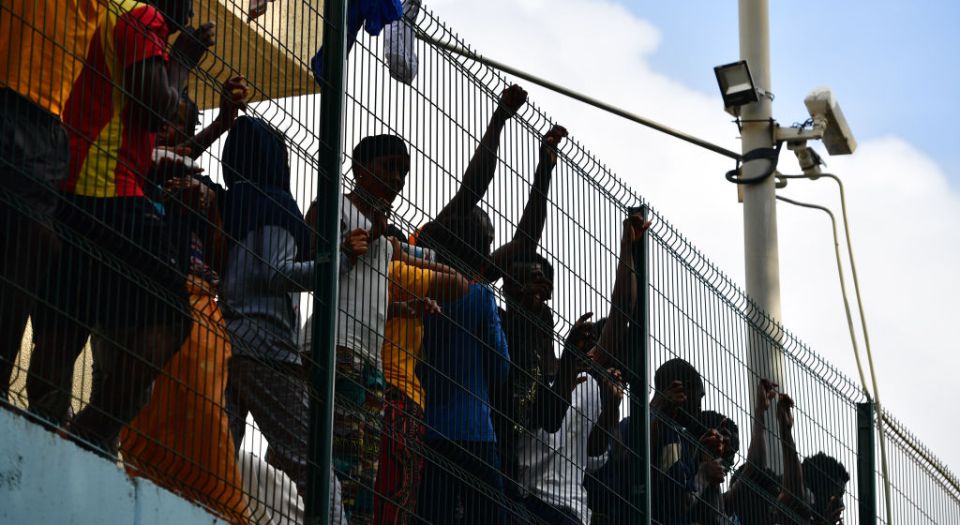 As British PM Theresa May was shuffling away from that European Union summit in Salzburg last month, her half-baked Brexit-ish plan mocked to pieces and the jeers of Remainers about to ring in her ears, other news on the ongoing migrant crisis, largely ignored at the time, was emerging from the EU bunker.
According to Donald Tusk, the EU Council president, there was a 'sharp determination' among EU members – although, I should add, not the poorer, put-upon ones like Italy and Greece – to expand Frontex, the EU's border and coast guard, increasing it from 1,300 agents to 10,000 by 2020.
Not content with massively expanding the EU's own territorial forcefield, Tusk also promised to deepen working relations with North African and Middle Eastern states in order to stop Europe-bound migrants on their own side of the figurative fence. In doing so, he singled out Egyptian president Abdel Fattah al-Sisi for special praise for his successful containment of migrants, and promised a friendly chin-wag in the 'coming days'.
This aggressive, unscrupulous approach to the migrant crisis, particularly in the Mediterranean, where the numbers have fallen but the death toll is up, tells us as much about the real nature of the EU as its smug humiliation of the British prime minister.
It tells us, first of all, that the EU is not the beacon of values, of human rights, of progressiveness, that its supporters, especially in the UK, still seem to think it is. If it was, would it really be cosying up to Sisi's Egyptian regime? (There is even talk now of a multi-billion euro migrant deal with Egypt.) This, after all, is effectively a military dictatorship, which deposed an elected leader in a coup d'état in 2013, before eliminating political opposition, rounding up critics and dissenters, and either executing or disappearing them. It is in the grip of 'a human-rights crisis' — the conclusion of one Western NGO. Another calls it an 'open-air prison'.
And yet there the EU is, not condemning Sisi's regime, but praising it, and greasing its palms with the promise of economic aid and trade deals. It is even using Egypt as the migrant-detaining 'model' for other African and Middle Eastern states to follow.
Do Tusk et al not realise why Egypt is proving so adept at preventing migrants, many from Syria, from bothering the EU's borders? It is because it is a despotic state, with a huge security apparatus and no qualms about the interminable detention, squalid incarceration and sometimes simple extermination of undesirable elements. It would be a surprise if it wasn't effective at dealing with people trying to escape Syria or Sudan for Europe.
All this seems to have bypassed EU officialdom. Instead, EU front-of-office chaps like Tusk are applauding Sisi, and even planning a we'll-pay-you-to-keep-'em-out confab with Arab states early next year. As one EU source admitted, blankly: '[Egypt] is a partner which is taking its responsibility seriously, a partner we can work with in the context of migration even more.'
That the EU is unperturbed by investing in and trading with the Egyptian state is not an aberration — it is entirely in keeping with its approach to the migrant crisis. The EU has consistently sought to wash its hands of boat-fulls of migrants by shaking hands with North African states on a variety of 'European-financed development programmes', in return for which the likes of Niger, Chad and Libya have taken strongarmed responsibility for policing the Mediterranean border with the EU.
This is why EU leaders still laud the six billion euro deal they struck with that other great champion of rights and openness, Turkish president Recep Tayyip Erdogan, who, in return, agreed that Turkey would host hundreds of thousands of largely Syrian refugees in often squalid refugee camps. But just because the EU's approach to migrants is unsurprising, at least for those willing to see the EU for what it is, it does not make it any less reprehensible. 'With all the criticism one can have of the deal, it did confine a very toxic situation', acknowledged one EU diplomat: 'We would all like to be nice and not the one to block someone's dreams and aspirations. [But] the situation was such that this was not an option.'
The EU wants to expand this approach, which one report calls Commission president Jean-Claude Juncker's policy of 'externalisation' – in other words, the EU externalises responsibility for the migrant crisis, and, presumably, assuages 'internal' EU tensions. Which is a description rich in euphemism. In reality, it means paying despotic states, and where they don't yet exist, as in Libya, local warlords and their militias, to 'deal' with any migrants trying to launch themselves seaborne towards Fortress Europe. Egypt is the model for this approach only insofar as it is the most brutally successful at implementing it.
And what of the expansion of EU border-control agency Frontex? What does that say about the EU? First, and most obviously, it says that the EU has no scruples when it comes to wanting to keep African and Middle Eastern migrants out of its territory. And in doing so, it blows a hole in the idea that the EU is some paragon of virtue, welcoming people with open arms. Quite the opposite. It is promising to turn people away, with the strongarm tactics of a multi-billion-euro security force.
But while it has no problem with zealously policing its borders, it does have a problem with who is doing the zealous policing. This is why the EU's plans to expand Frontex have been interpreted as a threat to precisely those EU nations (from Hungary to Italy) that have experienced the brunt of the migrant crisis, and, in some cases, have been reinforcing and policing their own borders.
As Viktor Orban, the Hungarian prime minister, and the EU's current internal bête noire, put it last week: 'There is no need for Frontex to defend the Hungarian border for us'. Czech Prime Minister Andrej Babis went further, and called Frontex 'obsolete' and said the EU seemed intent on expanding a 'useless parallel institution'.
The EU's leaders do not see Frontex as the 'useless parallel institution'; rather, they see Hungary's or the Czech Republic's own border forces as the useless parallel institution. So when Tusk admitted that the Frontex-expansion plans raised 'issues regarding sovereignty', it is also clear that he sees an expanded Frontex as the solution to issues regarding sovereignty. You can have stronger borders, EU leaders are saying, but we will police them.
This is the EU. This is what too many in the upper echelons of British society want to remain part of: an institution that is prepared to support dictators and despots in return for stopping the wrong people from getting in. And an institution that is thoroughly in favour of heavily policed borders — just so long as they are controlled by the opaque network of EU governance rather than by democratically elected national governments.
Tim Black is a spiked columnist.
Picture by: Getty.
To enquire about republishing spiked's content, a right to reply or to request a correction, please contact the managing editor, Viv Regan.