An ode to nuclear waste
Nuclear power is so amazing even its waste is enormously beneficial.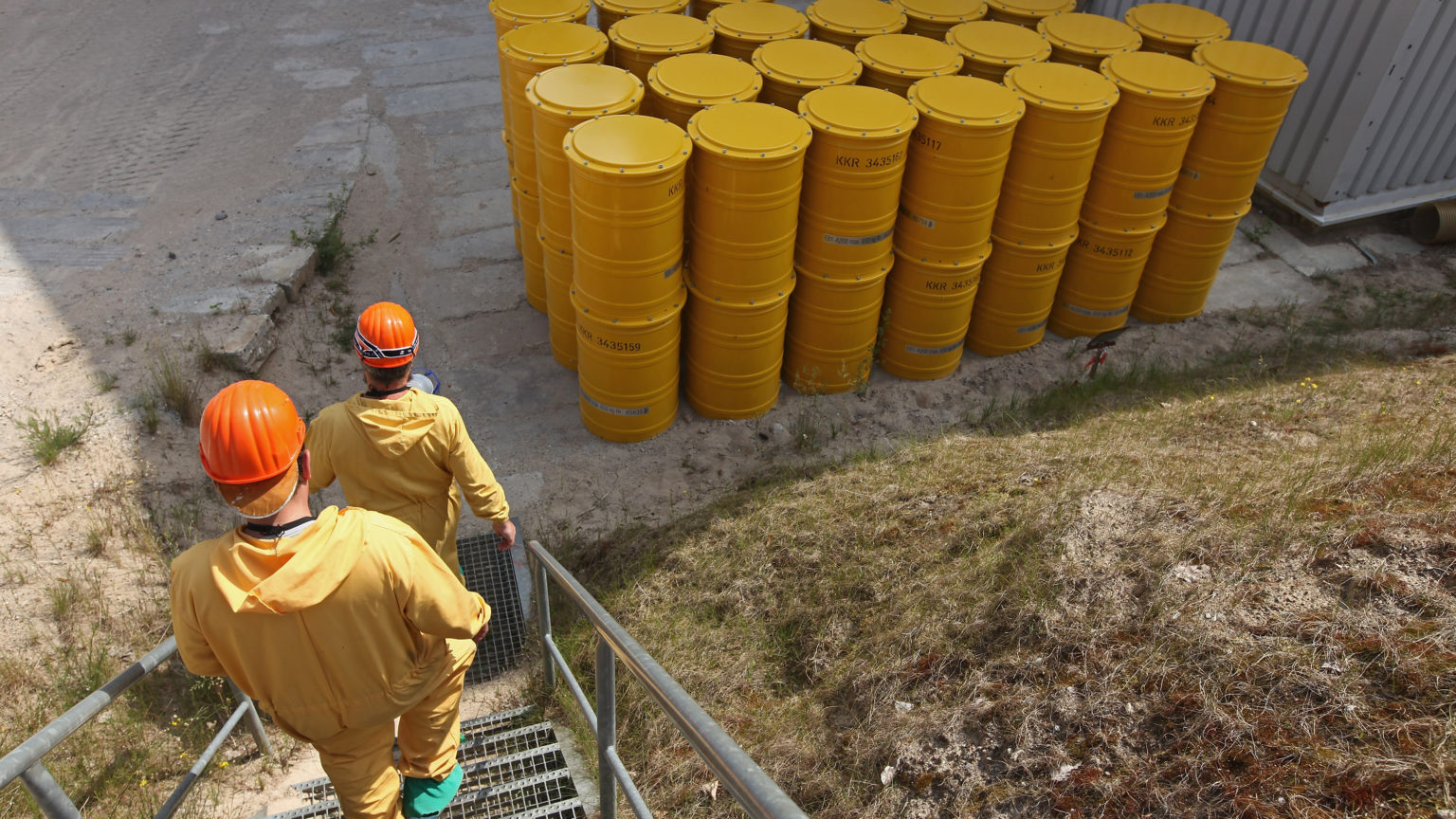 Frankenstein, 200 years old this year, can still be read as a relevant warning. It is a warning against modern technology. In Mary Shelley's novel, we read about a young, intelligent scientist, Dr Victor Frankenstein, who creates a friend for himself, but who then recoils when he sees that his creature has come to life. That creature ultimately becomes a monster that chases his inventor and kills his sister and bride. The message it impresses on many readers, then and now, is: don't meddle with nature; don't go too far.
Now, let's talk about nuclear waste, considered by many as a painful accident of modern technology. What do you think when you hear that term? Do you think nuclear waste is a product of human arrogance? Do you wish we had never started with all this nuclear technology? Perhaps it makes you feel uncomfortable just to think about the fact that nuclear waste exists on this planet.
Let's be frank: you're a little afraid of it, aren't you?
That's a good thing. It is good that you – or rather, we – are a bit afraid of nuclear waste. We are afraid of nuclear waste because of what it can do if it is released into nature. This is why we don't release it into nature. We never let go of it; instead, we keep it in special barrels that are so sturdy a train at full speed could hit them and they would remain perfectly intact. Or we store it underground, sheltered carefully, with outer walls so strong an airplane could crash into them and it wouldn't even leave a scratch. That's how afraid we are of nuclear waste.
We are also afraid of nuclear waste because we think a villain might steal a barrel of it, smuggle it into an advanced factory somewhere in a mountain where even James Bond could not find him, and then make a bomb. But every villain knows one cannot make a serious bomb from nuclear waste. That is why it has never happened. That is why no terrorist group has shown much interest in nuclear waste. Yes, you could make a lousy 'dirty bomb' from nuclear waste, but it would not be nearly as powerful as people think. Villains, rogue states, terrorists: they are not going to waste their time trying to source some nuclear waste.
If only we were as scared of all our waste as we are of nuclear waste. Chemical waste, for example, always remains toxic, and yet the rules and regulations surrounding it are not as strict as they are for nuclear. If chemical waste was treated as scrupulously and carefully as nuclear waste is, a lot of environmental damage could have been avoided – our soil, our water and our air could today be much cleaner.
If we were so afraid of all the waste that threatens our beautiful planet, then we would have thought of similar detection systems to those surrounding nuclear waste. Even the smallest leakage of nuclear waste into the air or the ocean is noticed in no time at all by highly sensitive equipment that registers radioactive material anywhere in the world. I wish we had such delicate systems to trace particulate matter, sulphur, dioxin, mercury, cadmium, barium, thallium, all those heavy metals that are proven to damage our health and even kill us.
So if you are afraid of nuclear waste, I understand that. But I also want you to cherish nuclear waste. I want you to develop a respect for it, and even to feel awe for it. I want you to learn to love nuclear waste.
That is the lesson I think we can learn from the story of Dr Frankenstein. His sin was not that he created a living being. His sin was that he abandoned his creation. Dr Frankenstein was afraid and ashamed of his creation. He turned away, and it is this that allowed his creation to become a monster.
So what is nuclear waste, really? It is the so-called waste product of nuclear energy: an energy source which, all experts agree, does not contribute to climate change and which produces a huge amount of energy, 24/7, rain or shine, on small pieces of land, meaning there is a lot of space left over for nature.
Compare that to other forms of energy. Burning coal pollutes the air, because sulphur dioxide arises as a byproduct, and that is very damaging to our airways. Also, coal-fired plants produce fly ash that is more radioactive than what is produced by a nuclear power plant.
Solar panels, you say? Solar panels are nothing more than future electronic waste, spread over our rooftops and soon in our beautiful green fields. Within 30 years, these solar panels will have to be dismantled at garbage heaps in poor countries. There, the solar panels are burnt to get the copper wire out, and all the toxic fumes from all that molten plastic and all those heavy metals like lead, chromium and cadmium will cause problems to people's airways, increased risk of cancer, birth defects… Solar waste: who ever makes a fuss about that?
It is very different when it comes to nuclear waste. In the past 60 years, nuclear waste has never killed or injured anyone; it has not made a single person sick. And that is because nuclear waste is stored safely. Nuclear waste is extremely compact. In volume it is staggeringly little. How little? Currently, there's 120,000 cubic metres of nuclear waste in the world. How much is 120,000 cubic metres? If you start pouring this greyish drab on to a football pitch, and keep pouring and pouring, you won't even fill up a regular Premier League stadium. And this is all the highly radioactive waste from each and every one of today's 450 nuclear power plants in the entire world, since we started with nuclear energy in the 1950s. One football stadium!
I do not want us to throw away our precious nuclear waste. Whatever we do, let's not do that. Because nuclear waste isn't really waste. Waste is something which leaks into water, or the soil, or the air. Waste is something that has no economic value and which the owner wants to discard. This is not the case with nuclear 'waste'. Virtually every component of 'nuclear waste' has a useful application in industry, agriculture, science or medicine. We use radio cobalt for the irradiation of potatoes, so that they last longer. We use strontium or plutonium for generators in space travel. We use americium in smoke detectors, tritium in emergency-exit signalling. We use a variety of radioactive isotopes to diagnose and treat diseases.
Nuclear waste isn't waste because it is still incredibly valuable. It is full of energy. Recent developments show that soon, not only will we be able to split the beautiful but rare U-235 (the radioactive isotope of uranium), but also all the heavy metals in the uranium family. That means we can reuse everything we today regard as 'nuclear waste'. 'Nuclear waste' is a raw material, and could even be the ultimate building block in a circular economy: we could use this 'waste' for an overwhelming amount of energy, and for centuries no raw material will be needed.
Nuclear waste is a treasury. Let's be very careful with it, yes. But we will only be able to open the nuclear-waste treasury when we overcome our fear of this waste, and maybe even learn to love it.
Marco Visscher is a journalist based in the Netherlands. He is a board member of the Dutch Ecomodernist Society and part of the Nuclear Pride Coalition that is organising the world's first Nuclear Pride Fest on Sunday 21 October in Munich, Germany. This text was delivered in a theatrical performance at Club Imagine, an evening on waste in Theater Rotterdam, on 27 September.
Picture by: Getty
To enquire about republishing spiked's content, a right to reply or to request a correction, please contact the managing editor, Viv Regan.