'I believe' — an irrational cry
The bottom line is: there is no evidence against Brett Kavanaugh.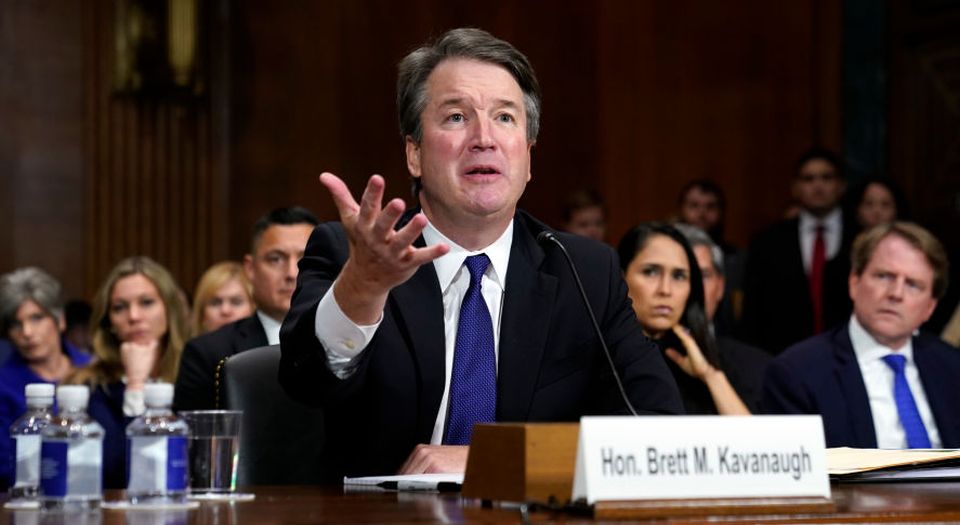 Americans stopped what they were doing to watch Thursday's Senate hearing to confirm Brett Kavanaugh to the Supreme Court. And what an embarrassing spectacle it was. A seat on the highest court of the world's most powerful country was hanging on what may or may not have happened to two teenagers at a party almost 40 years ago. Democrats flung evidence-free accusations of gang rape at Kavanaugh, while descending into farcical questions about his high-school yearbook and drinking games. And they dare to talk about Trump eroding social norms.
With raw testimony from both Christine Blasey Ford and Kavanaugh, and outbursts from members of the Judiciary Committee, the hearing was full of emotion and drama. But lost in the circus was the central issue they should have been focused on: evidence as to whether Kavanaugh committed sexual assault, or not. Indeed, at the hearing and after, Democrats and their supporters have thrown allegations of vile sexual misconduct, including assault, indecent exposure and gang rapes, all without substantial evidence. All of their talk about 'believing' Ford, and how bad the 'entitled white male' Kavanaugh is, is one huge diversion from the question they refuse to answer: where is the evidence?
Because, when it came to evidence, the hearing confirmed what we already knew going into it: there is no corroborating evidence to back up Ford's accusation, and a fair amount that contradicts it. As Ford admitted in her testimony, she didn't know the home the party was held at, how she got there, or how she returned home afterwards. There was so much that Ford couldn't remember that her testimony became a good illustration of why we have statutes of limitation on cases. The four people she named as attendees have – in sworn testimony subject to felony if found lying — denied attending the party or witnessing the assault. That list of four includes Ford's friend Leland Keyser, who also said she never met Kavanaugh. Ford threw Leland under the bus at the hearing, saying her schoolfriend denied it because she 'has health issues'.
The American public were invited, by the Democrats and their friends in the media, to view the hearing not as an opportunity to weigh the evidence, but as an event at which we were to decide who we should 'believe', Ford or Kavanaugh, on the basis of how they presented themselves. Do they look like they are telling the truth? On that level, some found both Ford and Kavanaugh sympathetic , while others identified more with one or the other.
Following the hearing, the New York Times spent its editorial explaining that Kavanaugh wasn't 'believable', mainly based on an assessment of his manner: while Ford was 'calm and dignified', Kavanaugh was 'volatile and belligerent'; and while she was 'credible and unshakeable', he was 'evasive' and gave answers that 'strained credulity'. To the NYT and others, one's position on Ford's accusations is a matter of 'belief', on the basis of how we interpret the protagonists' emotional comportment. But frankly, I don't give a damn what the NYT or anyone 'believes' – I want to know, where is the evidence?
Without evidence, all that the expressions of 'I believe' boil down to is affirmation of your existing personal biases or political views. This is an irrational way to judge a person.
Kavanagh gave a strong and surprisingly emotional self-defence, which at times showed real anger. He expressed how the accusations levelled against him were destroying his reputation and his family. The wildest smears were being thrown at him, painting him as a monster, a belligerent drunk, a sexual molester. Democrats were taking his juvenile boasts and twisting them to try to define his character today.
Forgot about his career accomplishments, his references, scholarship, the many women clerks he hired and mentored, and many others who vouch for him – no, said the Democrats, what really defines Brett Kavanaugh is what we allege he did as a teenager.
After spending the hearing throwing baseless accusations at Kavanaugh, the Democrats turned around after the hearing and said his anger proved he did not have the right temperament to be a fair Supreme Court justice. This is rich. They smeared Kavanaugh, provoked him, and he became understandably angry about that – and then they have the gall to say he isn't calm and balanced. They forget that Kavanaugh wasn't in the role of judge in that hearing, weighing up both sides: he was the one being presumed guilty, the one who was being forced to prove his innocence. Was he supposed to just act like it was no big deal?
Liberals' ridicule of Kavanaugh's behaviour in the hearing is a big distraction – a distraction from the fact that they have no substantial evidence against him; all they have is the dogma of 'believe the women'. They want us to get worked up over his angry responses — 'see, he looks guilty', and 'he's not acting like a fair judge' — all the while failing to address matters of fact and proof.
What really rattles Kavanaugh's opponents is his unapologetic self-defence. Time and again, we have seen those accused of sexual misconduct by the #MeToo tidal-wave — including those who have been found innocent, or were guilty of minor things, like a hand on a knee — issue a grovelling apology, in the hope of getting back in good graces (which of course never works). A meme doing the rounds on social media even drafted an apology they demanded that Kavanaugh use:
'I am so incredibly sorry for this pain I have caused this woman, that this memory would be with her all these years. I don't remember this night in question, but I am mortified to think I might have done this. I don't know because I binge drank too much in high school. I didn't know how to handle all the pressure. It got to me. I come from a religious family and didn't know how to deal with sexuality. No one did. I'm ashamed when I look back. I have deep regrets. From now on, I will be a part of the solution so that my daughters don't have to grow up in an environment like my high school. I will do whatever it takes to change the way young men and young women come of age in this culture.'
To his credit, Kavanaugh issued no apology. From campus kangaroo courts to, now, the Democrats in Washington DC, the only appropriate answer to the accusation of 'rapist!' is meant to be passive acquiescence and apology. But Kavanaugh didn't follow the script. He wouldn't let his reputation be smeared without a fight. He did not attack Ford personally, and — what critics of his anger fail to note — his self-defence did not rely on emotion and assertion alone. He reminded his accusers that none of the witnesses supported the story and that there was no corroborating evidence; and he even presented his 1982 calendar, which did not cite the party in question. In other words, unlike his attackers, he referenced facts and evidence.
Moving further from any discussion of what really happened, Kavanaugh's critics in the op-ed pages have resorted to convicting him of guilty of being a 'white male', a privileged prep-school and frat boy, Exhibit A of a toxic 'bro culture'. To Marci Hamilton in the New York Daily News, 'Kavanaugh's indignation is the sound of privileged white male entitlement'. 'Hell hath no fury like an entitled white man denied', writes Jonathan Capehart in the Washington Post. Based on these charges, you would have thought Kavanaugh was outlining his group's grievances, rather than defending himself against specific charges. And is Kavanaugh supposed to just shut up in the face of charges against him, because he is guilty of being part of the 'white male' collective, and women have been treated badly in the past?
It's the references to 'white' that lets us know these Kavanaugh critics have an agenda far removed from the circumstances of an alleged schoolkids' party in 1982. This case has nothing to do with race, as both accused and accuser are white, yet the social-justice types feel the need to add the adjective 'white' in a derogatory way. Attributing likely guilt on the basis of skin colour and sex in this way is pure prejudice.
The Kavanaugh confirmation process has become bigger than the case itself. It has now become a question of whether we will let the campus culture spread to the rest of the country, whether we allow the #MeToo witch-hunts to take over our politics. A rejection of Kavanaugh from the Supreme Court on the grounds of unsubstantiated and contradicted allegations would set a terrible precedent. His downfall would effectively endorse the use of smear tactics, and open the door to others to deploy these as political weapons in the future.
A political sphere in which unsupported sexual accusations, including wild claims about gang rape, are considered fair game would be a disaster. Enough with the #MeToo McCarthyism in our politics. These peddlers of gossip and convenient beliefs should be ashamed for how they are debasing public life, and ruining individual lives in the process.
To enquire about republishing spiked's content, a right to reply or to request a correction, please contact the managing editor, Viv Regan.