#MeToo is poisoning American politics
Unsubstantiated allegations are now used as weapons.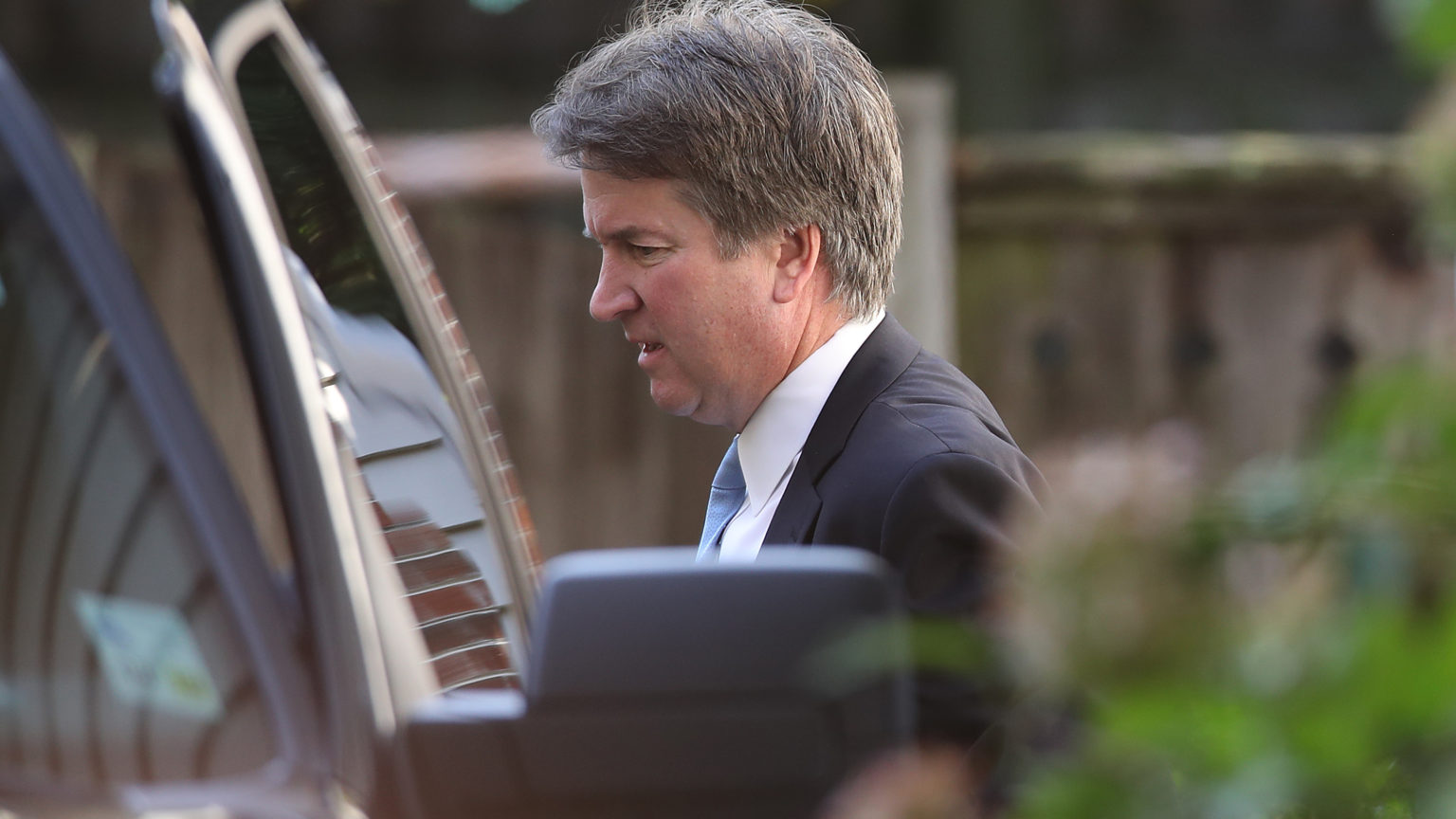 Rumours were rumbling on social media last week, suggesting that the Democrats had a second accuser lined up against Brett Kavanaugh, President Trump's Supreme Court pick, to follow Christine Blasey Ford, who has alleged that Kavanaugh sexually assaulted her when they were both teenagers.
The Democrats were dragging out the negotiations over whether and when Ford might testify before the Senate, some commentators said, because they were waiting for the right time to drop a bombshell and blow up Trump's nominee past the midterm elections. Conspiracy-theory nonsense, I thought. The news about Ford was already a last-minute, hold-on-till-next-week's-episode cliffhanger move by the Democrats; who would try that ploy a second time?
How naive I was. Sure enough, just as the rumour-mongers predicted, last night the New Yorker reported that Senate Democrats were investigating a new allegation of sexual misconduct against Kavanaugh. Dianne Feinstein, the senior Democrat on the Senate Judiciary Committee, demanded that Kavanaugh's confirmation hearings be postponed immediately in light of the allegations in the New Yorker.
Like the Ford allegation, this new allegation involves an event more than 30 years ago, when the accuser, Deborah Ramirez, and Kavanaugh were both freshman students at Yale University. It is a sordid story of a party with a drinking game, dildos, and Kavanaugh (allegedly) exposing himself to Ramirez.
Ford's accusations have not been substantiated (which doesn't necessarily mean they aren't true). She says, when they were both in high school, a drunk Kavanaugh groped her at a party, tried to remove her clothes, covered her mouth as she tried to scream for help, and that she only escaped when Kavanaugh's friend jumped on top of them. Kavanaugh adamantly denies this. And, as the alleged crime was 36 years ago, Ford cannot remember all of the details, such as exactly where and when it happened. In recent days, the four people who Ford named as other attendees at the party all denied being there. One of them, her friend Leland Keyser, denied even knowing Kavanaugh and said she had no recollection of being at such a party with either him or Ford.
The late-hour accusations from Ramirez – which Kavanaugh has also denied – are even more evidence-lite. Not only did the alleged party happen 35 years ago, but also the accuser was drunk and acknowledges 'significant gaps in her memories of the evening'. When first approached, Ramirez said she wasn't confident enough to say that Kavanaugh was definitely the man who exposed himself. But 'after several days of considering the matter carefully', she decided she was confident. The article goes on to cite six classmates, alleged to be involved in the incident, who dispute Ramirez's account of events. ('This is a woman I was best friends with', said a former female friend. 'We shared intimate details of our lives. And I was never told this story by her, or by anyone else.') The classmates who said they believe Ramirez had only heard about it second-hand.
These charges are so flimsy that they raise questions about why the New Yorker even published them. Ronan Farrow and Jane Meyer, the authors of the piece, openly admit they don't have the story nailed down: 'The New Yorker has not confirmed with other eyewitnesses that Kavanaugh was present at the party.'
But, in our #MeToo era, it seems proof is unnecessary. Already, many Democrats had lined up to say 'I believe Christine Blasey Ford'. Now, a second allegation is supposedly enough to establish a 'pattern' and condemn Kavanaugh's nomination for good. Following the New Yorker revelations, Democrat Senator Kirsten Gillibrand, who has set herself up as the #MeToo witchfinder-general, tweeted: 'Enough is enough. One credible sexual-assault claim should have been too many to get a lifetime appointment to the Supreme Court and make decisions that will affect millions of women's lives for generations. Two is an embarrassment. It's time for a new nominee.'
It is amazing to think that all it takes is a couple of hazy recollections decades ago to up-end the US Senate and Supreme Court. #MeToo is turning American politics into a farce. It is making the highest levels of government look like a college campus, where for years students have been subjected to unjust campus hearings over sexual-assault cases, often based on unclear and hazy allegations. The parallels are striking. Both accusations against Kavanaugh involve drunken students, making it difficult to establish the facts. As happens in campus kangaroo courts, the presumption of innocence has been overturned for Kavanaugh, and a serious alleged crime is being judged via extralegal means, without full due process.
The #MeToo movement, on campus and in politics, is not helping women generally. Saying that a woman would never lie or misremember the past is patronising and untrue. Claiming that it is 're-traumatising' to have to present your case, whether to a campus tribunal or Congress, makes women out to be fragile flowers. Arguing that women do not have to prove their case is insulting, differential treatment. And when political parties, whether Democrats or Republicans, turn sexual-assault accusers into political puppets for their partisan ends, they cheapen and demean true cases of assault.
Despite what Gillibrand and others say, the claims of Ford and Ramirez are 'credible' only in the sense of being in the realm of possibility, not in the sense of being anywhere near proven. These accusations would be immediately thrown out of a court of law, as they happened so long ago and are so uncorroborated. They should be thrown out of the political sphere as well, including Supreme Court confirmation hearings. The presumption of innocence is not just a legal principle; it is the only fair way to conduct political affairs. Otherwise, all it would take is an allegation – even a false one – to bring down a political opponent.
What we are witnessing is the use of sexual-assault accusations as political weapons. Back in November, I wrote on spiked about the negative impact of #MeToo on politics: 'Such a fevered, witch-hunt-like atmosphere has severe negative consequences in any social arena, but it is particularly problematic in political life. It is far too easy for such claims of sexual misconduct to be utilised for old-fashioned political advantage.'
With the Kavanaugh nomination, this trend is worsening. The Democrats are cynically using the allegations against Kavanaugh to get one over on Trump and the Republicans. #MeToo is a cancer for a functioning democracy. If Kavanaugh's nomination falls due to these unsubstantiated accusations, regarding alleged events of almost 40 years ago, you can believe it will set a dangerous precedent, and the Republicans will not hold back on using such tactics as well. It will be mutually assured political destruction, with women no better off for it.
#MeToo is not justice. It gives certain individuals (the accusers) power over other individuals (the accused) in the name of remedying the social injustices of the past. But collective guilt and collective innocence have no place in a true system of justice. Moreover, as we are seeing in Washington right now, the power given to accusers can be harnessed and abused by the political elite, for their own petty ends, in ways that are detrimental to politics and the people involved.
#MeToo is poisonous for personal relations, and a crazy way to run a democracy.
Sean Collins is a writer based in New York. Visit his blog, The American Situation.
Picture by: Getty
To enquire about republishing spiked's content, a right to reply or to request a correction, please contact the managing editor, Viv Regan.