Germaine Greer: hardly a heretic
On Rape buys into much of today's misanthropic feminism.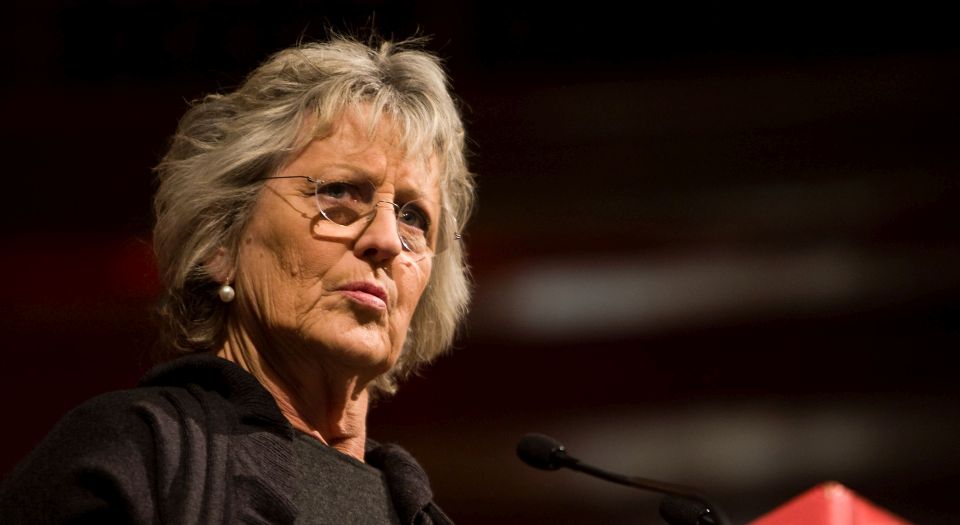 When Germaine Greer first burst into public consciousness in the early 1970s, her firebrand feminism shocked the world. At her best, she still drops quotably blunt statements. Forget philosophical discussion about the meaning of gender; Greer tells it how it is. 'Just because you lop off your dick, it doesn't make you a fucking woman', she has said. She shocks by boldly stating what others dare not even whisper.
However, where she once provoked outrage for her feminism, today it is feminists who recoil in horror at her every utterance. With her latest book, On Rape, Greer stands accused of being anti-women, trivialising rape, and – 2018's most heinous crime of all – victim-blaming. The midwife of second-wave feminism has been ridiculed, insulted, told to shut up or, better still, quietly shuffle off and die.
Controversy is clearly part of the Greer package; it is something we've all come to expect. Despite this, there's something unhinged about the response to Greer's latest offering. If readers expect On Rape to fire words like bullets directly into the heart of today's feminist orthodoxies they'll be left disappointed. Cut through both Greer's own penchant for the crude and a surprising amount of this tiny book (at most an extended essay) confirms, rather than challenges, the consensus.
Sadly, Greer echoes uncritically many of the arguments made by the most vocal proponents of rape culture. According to this view, rape is only very rarely a sexual attack carried out by a stranger. Instead, rape is defined as unwanted sex: sex to which women reluctantly acquiesce rather than enthusiastically consent. Greer defines rape as, 'the penetration of an unwilling human female'. As such, rape becomes mundane, a routine experience; a risk women take simply by being in a relationship, getting into bed with a man when tired or drunk, or wanting a quiet life.
When rape is defined this broadly, it becomes impossible to quantify. To Greer, 'the true extent of non-consensual sex remains unimaginable'. When she tries, the best she can do is to surmise: 'Non-consensual sex is possibly commoner than the consensual variety.' Greer shares with the most vociferous university feminists a view that rape is happening to women everywhere, constantly. Indeed, she points uncritically to the shockingly high occurrence of rape on campus and criticises institutions for only ever dealing with reported incidents half-heartedly.
If Greer questions the statistics around campus sexual assault or rape more broadly, it is only to suggest they represent the tip of an unreported rape epidemic. This is a mainstream feminist argument. It is so uncontroversial as to be boring. It is frustrating to see Greer blindly accept the narrative that delicate women routinely endure 'banal rape' by men who, at best, care nothing for their partner's feelings and at worst actively despise them. This degrades women as much as it does men. However, Greer is at least consistent. In The Female Eunuch she famously declared, 'Women have very little idea of how much men hate them'. But back in 1970, Greer had a sense of fun. She championed women's liberation so women could enjoy sex in the same way as men did. Today, Greer sees women simply putting up with 'lawful rape' as part of a 'vast, monotonous landscape of bad sex'. This rape, she explains, is 'not a sex crime, but a hate crime'.
Where Greer and today's feminists differ is that Greer does not sees this 'banal' rape as being necessarily traumatic for women. On Rape is controversial because Greer argues that the fear of rape is out of all proportion to the nature of the crime. Today, the campus rape-culture crusaders and the virtual #MeToo mob all promote the feminist line that the unwanted presence of a penis in a vagina can never be anything other than an act of violence with permanent repercussions for the victim. Women are taught to see the penis as 'a weapon', Greer points out, but 'it is a nonsense for our daughters to be more frightened of penises than our sons are of knives and guns'.
When rape is defined as loosely as it is today, Greer is absolutely right. Having sex when you're tired and not really in the mood but want to avoid a row might not be pleasant, but it is hardly traumatic. Waking up next to someone whose name you barely remember and with no recollection of what happened the night before is hardly worse than being physically assaulted or having your bank account cleared out. Greer is right that it is how women interpret what has happened to them that comes to define the severity of the impact. But unlike Greer, I'd question whether either of these were necessarily incidents of rape, banal or otherwise.
Greer argues that the assumption of trauma has been used to justify lengthy prison sentences for rapists, and, as juries can rarely be convinced beyond all reasonable doubt whether the accused is guilty or not, there are low rates of conviction. But Greer is as scathing of the principle of innocent until proven guilty as any #MeToo activist. She is right behind lists of 'shitty media men' and universities that take dealing with sexual assault into their own hands. No doubt to the chagrin of the #MeToo crowd, Greer claims to have beaten them to it, with a database of sexual predators she tried (but failed) to get off the ground decades ago. Greer would prefer lower sentences and higher rates of conviction; but her assumption that non-consensual sex is ubiquitous would lead to very crowded prisons.
At times it seems as if Greer is simply out of touch with the modern world. She talks of the need for punishment to be proportional to the degree of rape committed. But today an allegation, never mind a conviction, will follow a man around for the rest of his life, destroying his reputation and livelihood. Greer assumes women accusing someone of rape are always telling the truth, but need to 'own their own narrative' so they see themselves as survivors rather than victims. But today, being 'a survivor' doesn't mean being someone who has moved on with his or her life – it is simply a new identity to adopt, one that continues to define people according to traumatic past events.
Perhaps the best thing about On Rape is that it prompts debate. As the first anniversary of #MeToo approaches, we do need to ask what rape is, how it can be proven, and how it should be punished. Greer raises all these questions and, in the process, she challenges us to think about why rape should be considered so differently to other crimes. In this regard, On Rape is an important book. But the problem is that Greer never turns the questions on her own assumptions. Despite the outrage, she does little to challenge the mainstream feminist view that women are constantly at risk from predatory men.
To enquire about republishing spiked's content, a right to reply or to request a correction, please contact the managing editor, Viv Regan.