The casual tyranny of the second-referendum set
Rearguard Remainers are unabashed authoritarians.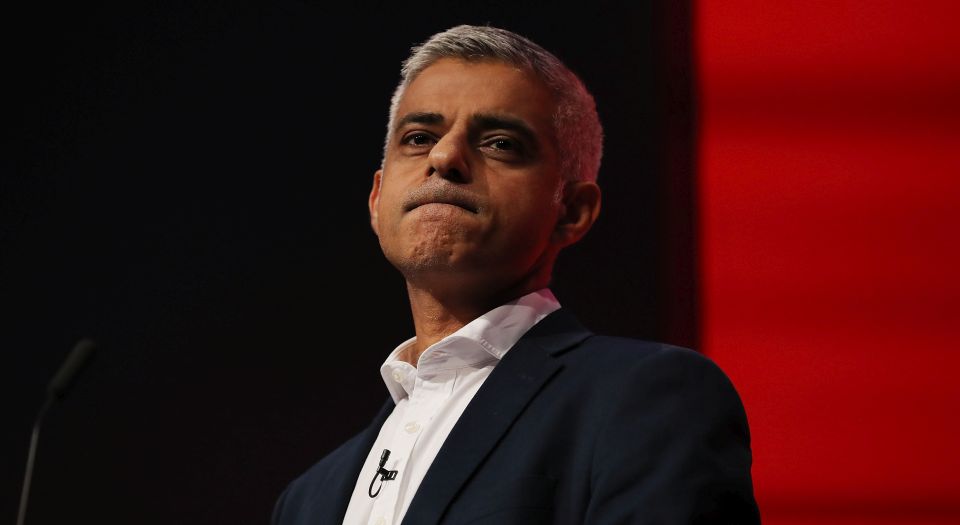 London mayor Sadiq Khan shocked no one this weekend by putting his weight behind the campaign for second EU referendum. In an article for the Observer, and later an interview on the BBC's Andrew Marr Show, he made his case in the typically duplicitous way we have come to expect from those pushing for a do-over ref. He said it wasn't about having a second referendum, but a first referendum on the deal, before adding that he thinks staying in the EU should still be on the ballot paper – thus making it a second referendum.
As ever, it's hard to tell if those pushing for a so-called People's Vote think we're so stupid as to be fooled by their rhetorical contortionism or just don't care what we think at all. I'm betting it's the latter. Theirs is a campaign fronted by capitalists, Blairites and luvvies. If they were interested in convincing a Leave-voting builder in Stoke why he should change his mind on Brexit, they wouldn't be sending in Caroline Lucas, Jean-Luc Picard or the bald one from Mock the Week to make the case. Their aim is not to appeal to regretful voters, but to energise a Remainer base and hope Leavers just give in. Which, given the circumstances, would be completely understandable: if the anti-democrats secure a second referendum it would send a clear signal that any vote they dislike can and will be ignored.
But just because the calls for a second referendum now ring out from every Brexit media discussion, we cannot let the casual tyranny of this campaign escape us. Indeed, as Theresa May's Tory Party continues to turn Brexit into an exercise in national humiliation, the People's Vote lot are becoming more and more cocky, more open in their authoritarianism and anti-democracy. Blairite lord Andrew Adonis is now not only openly admitting that the aim of the 'People's Vote' campaign is simply 'to stop Brexit' – to squash, that is, the biggest democratic mandate in our history – he's also piping up again about barring Brexiteers from public life. He gets more tinpot tyrant by the day.
These people drape themselves in the veil of democracy, they claim that their aim is to right the exploitation of our democratic process by the populist pro-Brexit demagogues who were willing to lie their way to a Leave victory. But the exaggerations and spin of the elite Leave campaign (which was, at worst, as bad as the exaggerations and spin of the elite Remain campaign) pale into insignificance in comparison with Rearguard Remain's wilful distortions. They are slinging around almost comical scare stories about job losses, sperm shortages and super gonorrhea epidemics as a result of Brexit as unalloyed truth. They are bluffing and bullshitting their way to a second referendum, and they know they are.
Take the much-touted claim that there is significant and growing support for a second referendum and a backdoor Remain vote. This is, in fact, incredibly tenuous. Sir John Curtice, Britain's top polling expert, notes that support for a second referendum across opinion polls varies significantly depending on how you phrase the question. '[P]olls that ask people whether the "public" should have a vote usually record a higher level of support than those that just ask whether there should be another referendum', he writes. This is something Best for Britain, Gina Miller's Rearguard Remain group, knows all too well. In April, a YouGov poll it commissioned was trumpeted as proof that more people than not wanted a second referendum. The poll actually asked two questions: one asked if there should be a public vote on the final deal (which was rejected 44 per cent to 39 per cent), and the other asked if there should be a final say (which was accepted 44 per cent to 36 per cent). No prizes for guessing which one made the press release.
What's more, there has been no great shift in polling figures to suggest that Leave voters are changing their minds on Brexit, the key measure, surely, for whether or not a second referendum is justified. Indeed, while there is, in a few polls, some support among Leavers for a final say, this is largely a product, it seems, of their distrust of politicians to implement Brexit properly. 'They are more likely to back another ballot when it is presented as a vote by the "public" than as a "referendum" and less likely to support the idea if it is made clear that the choice would be between remaining and leaving', writes Curtice. '[T]he one and only question where more Leave voters expressed support than opposition was one where respondents were asked whether, in the event of there being no deal, the decision about what to do should be made by MPs or the public.'
The main reason, it seems, that some Leavers are contemplating a second vote is that the political class are refusing to take the first one seriously. This, in turn, is being cited as proof by the People's Vote crew that Remain is what the people actually want. It is perverse, dishonest and Orwellian. And just because the calls for a second referendum have become a constant foghorn in the Brexit discussion, we can't let the unabashed anti-democracy of elite Remainers escape us. For all the liberal-elite fearmongering about this populist moment ushering in an era of strongman politics, these people are the real authoritarians.
Tom Slater is deputy editor at spiked. Follow him on Twitter: @Tom_Slater_
Picture by: Getty
To enquire about republishing spiked's content, a right to reply or to request a correction, please contact the managing editor, Viv Regan.