Exiting the EU cult
The EU is terrified that other member states will follow Britain.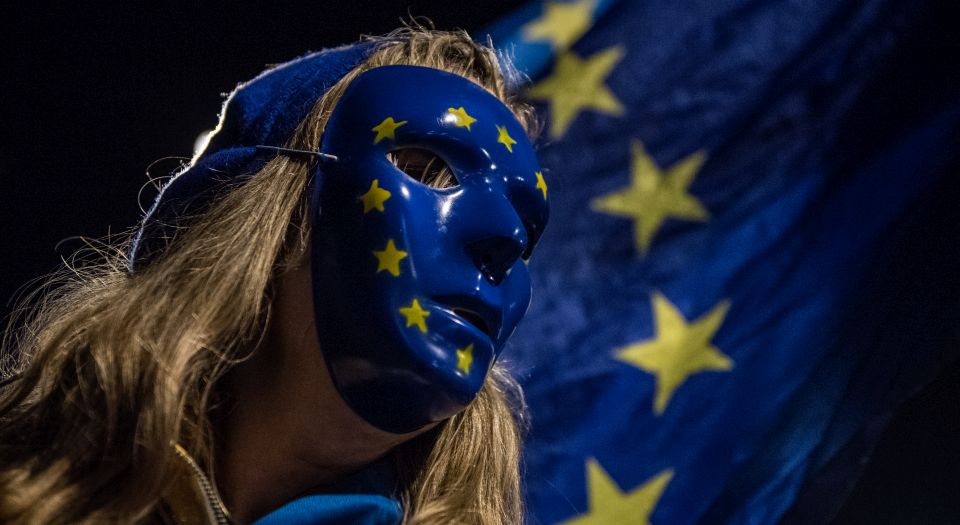 Whatever comes to pass at the conclusion of the Brexit talks, the absolute priority is that Britain must leave the European Union, or at least get a deal that will allow it to push further for total separation. It is not just because the EU is in a moribund state and destined to disintegrate, as has been the fate of all multilingual, multinational states, from Austria-Hungary to Czechoslovakia, the USSR and Yugoslavia. It is not just because of the EU's democratic deficit or its economic protectionism. It is more serious than that. The UK must leave the EU because the organisation is becoming a cult.
You might think I exaggerate. But consider the words of Guy Verhofstadt, the European Parliament's representative in the Brexit negotiations, earlier this week. The MEP who supports a United States of Europe boasted in a French newspaper that the tortuous process of Brexit has become a cautionary tale about the perils of Euroscepticism. While Brexit 'illustrates the populist wave', he told Ouest France, 'it has also provoked a renewed affection for the EU'. 'In Denmark, polls clearly say that people do not want to jump ship any more. We see the difficulties, the chaos created by Great Britain's exit.' And here's the clincher: 'Even the populists do not dare to say that they want to leave the EU… We see a change in their language. They all wanted to get out… and now they are staying.' Pro-Europeans should 'seize upon this opportunity', he said.
We all know that the EU has taken a punitive and prohibitive line with Britain because it is terrified of other countries following our example. The leaders of an organisation don't want its members to leave and so will do anything to prevent this happening. This means making an example to those who are thinking of doing so. This is one of the classic hallmarks of a cult.
The leaders of this cult like the alleged drunkard Jean-Claude Juncker have been able to get away with their autocratic behaviour because they are unelected and therefore unaccountable. They respond to dissent with threats and bullying. As Italy's deputy prime minister, Luigi Di Maio, said at the weekend, the EU 'has not learnt the lessons of Brexit'. Pre-Brexit, the EU's attitude was 'full of suspicion and arrogance' towards anyone who considered voting Leave. And after the referendum, 'nothing has changed', he said. The unaccountability of the EU's leaders explains its detachment from reality.
The Brexit vote is but the beginning. The rumblings of discontent in Hungary, Italy, Greece, and the rise of right-wing parties in Germany, Austria and Sweden, are all a response to the tyranny of this mad cult. The EU will undoubtedly respond with more diktats. And this will seal its fate.
---
Shakespearean snobbery
Aside from the needless and intrusive lefty allusions to today's politics, with obvious and annoying references to Brexit and the #MeToo movement, the third series of Upstart Crow has been as fun as the previous two. The comedy, which stars David Mitchell as William Shakespeare, has as its main theme the Bard's run-ins with Robert Greene (played by Mark Heap), the university-educated wit and dramatist who forever taunts the grammar-school boy from the Midlands. It's written by Ben Elton, and like his other creation, Blackadder, it is chiefly about snobbery and the obstacles that face the lower middle classes.
So how appropriate that Wednesday's episode featured Ben Miller playing a character that lampoons the actor Mark Rylance. Rylance, like Derek Jacobi, Vanessa Redgrave and others, is one of those people who believes that Shakespeare did not write the plays ascribed to him. These Shakespeare conspiracy theorists believe someone from such a humble background, with such a rudimentary education, could never possibly have written such works of genius – they must have been penned by Sir Francis Bacon or the 17th Earl of Oxford or some other 'posh bloke', as the Upstart Crow character, Bottom, would say.
This is pure snobbery. Yes, Shakespeare's grasp of Latin was tenuous and his geography was terrible. He was also a notorious pilferer of Nordic sagas and Italian dramas. But all of this points precisely to a wily, crafty, modestly educated chancer from the provinces, as Shakespeare was.
'There is literally zero evidence to suggest Shakespeare did not write his plays and a massive amount of proof that he did', says Elton, who should be returned to everyone's good books.
---
Minding your language
One of the great joys of learning a second language is eavesdropping on unsuspecting foreigners. So when I was in Ramsgate on the Kent coast last week, my ears pricked up when I heard Italians speaking their language. There was one teenager who exclaimed towards his friend, half in jest but at full volume, testa di cazzo!. In English, this would correspond to 'dickhead', 'prick' or 'fucker'.
The French are possibly the only foreigners who should watch their mouths when visiting Britain, as everyone here has the rudiments of the language to know what merde means – mind you, the Italian merda isn't far off. But Italians are far less likely to suspect that anyone will understand them. This is why Italians always smile and look surprised when you try to speak their language to them, and why the French decidedly don't.
There are those who believe that technology is or will be the solution to overcoming language barriers, with Google Translate being our Babel Fish. But no technology currently exists that alerts you that someone is shouting 'dickhead' right in front of your face.
Patrick West is a spiked columnist. His latest book, Get Over Yourself: Nietzsche For Our Times, is published by Societas.
To enquire about republishing spiked's content, a right to reply or to request a correction, please contact the managing editor, Viv Regan.