The New Yorker's Steve Bannon self-own
He calls the media snowflakes. And what do they do? Ban him.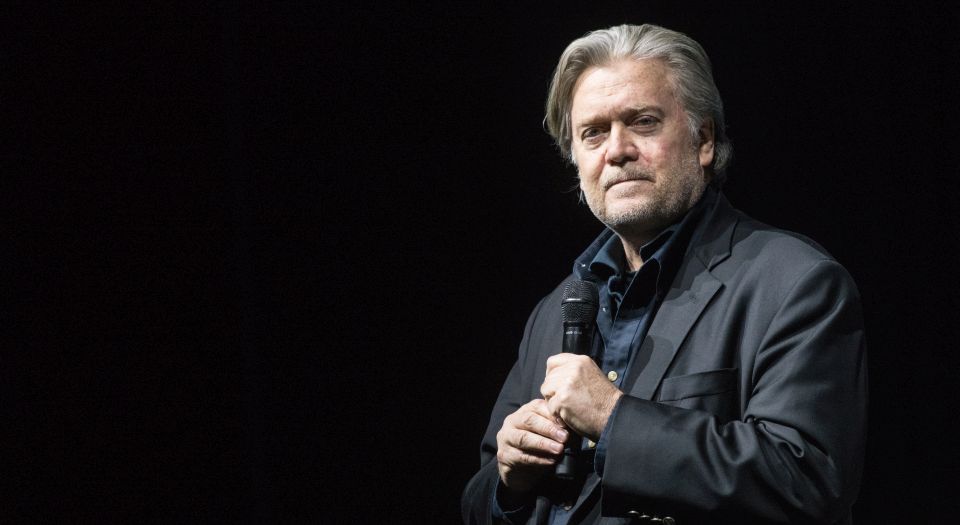 The vote for Donald Trump was as much a vote against something as it was for something; as much a vote against a distant coastal establishment as it was for this untested populist vulgarian.
Sure, Trump tapped into concerns about immigration; a sense of economic and social decline, particularly among the Rust Belt formerly Democratic voters who helped get him over the top; and a desire to push back against the supposedly inexorable forces of 'globalisation'.
But his campaign was at the very least turbocharged by the often shrill, dismissive and intolerant reaction to him, and especially to his voters, from liberals – a hysteria that has only worsened in the nearly two years since his election.
This is why the decision of the New Yorker to disinvite Trump campaign strategist and former White House aide Steve Bannon from its annual festival is one of many spectacular self-owns chalked up by the US intelligentsia in the Trump era.
The self-touted architect of Trumpism was due to headline the New Yorker's annual event. But a backlash to his invitation from the other big-draw speakers (including Jimmy Fallon, Jim Carrey and Judd Apatow), and from New Yorker readers on Twitter, led the magazine to reconsider.
New Yorker editor David Remnick, who was due to interview Bannon on stage, has issued a statement, which at first defends what he said would be a 'rigorous', 'combative' exchange. The point of such interviews, he writes, is not to 'platform' anyone but to 'put pressure on the views of the person being interviewed'.
It is a pretty robust, liberal defence of the importance of trying to understand one's political opponents, particularly when they're on the up. Until the final paragraph, that is, in which he caves completely: 'I don't want well-meaning readers and staff members to think that I've ignored their concerns… I've reconsidered.'
These concerns amounted to the idea that the New Yorker was somehow playing into Bannon's hands, that he would use the event 'to amplify and legitimise his repulsive ideas'. But given Bannon's main beef with the dreaded MSM is that they are, in his view, intolerant, cowardly 'snowflakes', his disinvitation has 'legitimised' him regardless.
In being disinvited, Bannon has not only clocked up a PR win, he has even tried to claim the moral high ground. 'The reason for my acceptance was simple', Bannon told the Associated Press: 'I would be facing one of the most fearless journalists of his generation. In what I would call a defining moment, David Remnick showed he was gutless when confronted by the howling online mob.'
Let's get one thing clear: the idea that offering someone a critical platform legitimises them is intolerant nonsense. No die-hard Democrat was going to leave that event a paid-up Bannon fan. And no Trump supporter cares what the New Yorker thinks about anything. The call to deplatform Bannon was just a performance of moral purity, not a political strategy.
Of course, people say that Bannon is different. He's 'far right', 'white supremacist', a 'fascist'. But the fact remains that he's never actually, publicly, said anything explicitly far right, white-supremacist or fascistic. And as these slurs were flung at him again in the wake of his invitation, the more the invitation looked like a pretty good idea.
The fatal flaw of the anti-Trump Resistance, you see, is that it has no idea what it is resisting. The kneejerk accusations of fascism against Trump, his staff and his voters reveal an elite unwilling to understand what the 2016 election meant. Calling the Trump vote a 1930s throwback is ridiculous, but it is far easier than reckoning with what is actually going on.
What's more, treating Bannon as some neo-Nazi mastermind, the dark power behind Trumpism who must be keenly obstructed at every turn, is part of this delusion. While Bannon no doubt influenced Trump's more nationalist-populist rhetoric, and his anti-state / anti-corporatist / anti-immigration views resonate with many voters, he's not the political genius he – or his detractors – like to make out.
After being pushed out by Trump, Bannon said he would take the fight to establishment Republicans by supporting populist candidates. But the last person he backed, the theocrat and alleged paedophile Roy Moore, was so obnoxious he helped deliver Alabama's first Democratic senator in 25 years.
Like much of the New York intelligentsia, Bannon assumes some voters will back anyone who shouts loud enough about immigration and faith. He's no great puppetmaster, he's been riding on Trump's coattails from day one. New Yorker readers might have realised this, if they had taken the opportunity to listen to him.
Tom Slater is deputy editor at spiked. Follow him on Twitter: @Tom_Slater_
Picture by: Getty
To enquire about republishing spiked's content, a right to reply or to request a correction, please contact the managing editor, Viv Regan.