Scrapping with ghosts
Those who see Nazis everywhere have lost touch with reality.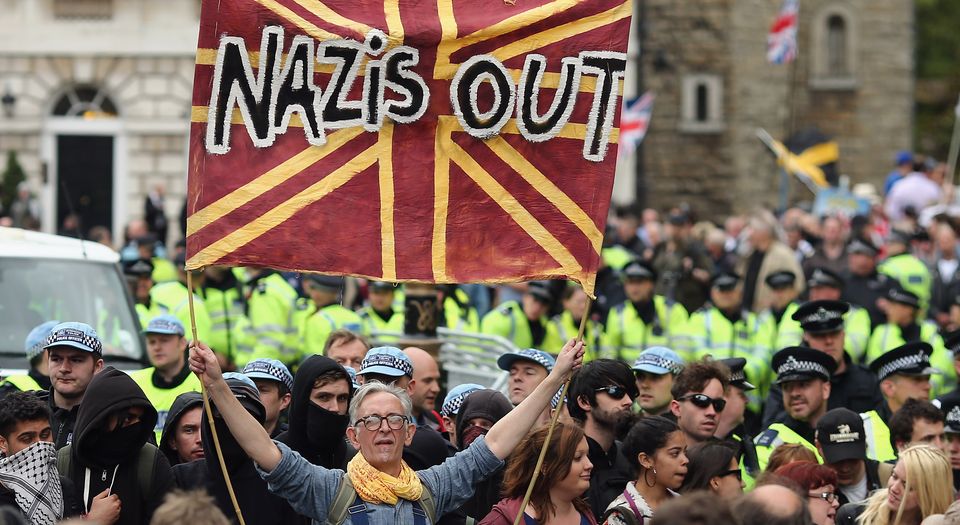 There was a time when the right-wing press seemed to be dominated by fantasists. Reports abounded of asylum seekers being showered with benefits, ethnic minorities forcing local councils to ban the word 'Christmas' in favour of 'Winterval', or nurseries teaching children to sing 'Baa, Baa, Rainbow Sheep' so as not to offend black people. Such alarmist 'PC gone mad' stories were typically propagated by reactionary tabloid polemicists, and bore little resemblance to reality. They were describing a fantasy Britain, one distorted by fear, ignorance, and possibly a few too many boozy press lunches.
Perhaps to combat this phenomenon, a rival world of make-believe has emerged in the past five years or so. This time the fantasists are on the left of the political spectrum. They are gripped by an irrational conviction that we live in a country dominated by fascists, poised to rise and seize control like a rerun of Mussolini's 'March on Rome'. One left-leaning commentator informs us that 'fascist extremism and terrorism is being legitimised and fuelled by "mainstream" newspapers and politicians alike'. Another insists that 'all white people' are implicated 'in white supremacy'. The rhetoric has become so commonplace that these terms have begun to lose their potency.
This kind of concept creep is a huge problem, not least because genuine fascists are able to claim greater support than they really have. For all the sensationalist headlines in the Guardian, we do not live in a country in which racism, homophobia or misogyny are in any way considered acceptable. Even the mildest suspicion of such tendencies can result in excommunication from polite society. That is not to say that such prejudices have been eliminated – human nature is too flawed to ever enable such utopian ideals – but it is reassuring to know that there is at least a civilised consensus among the majority of our citizens.
So why is it that so many activists are persuaded that neo-Nazism has gone mainstream? Why do so many on social media feel the need to identify themselves as 'anti-fascist'? Like most people, I have never met an actual fascist. My default expectation of my fellow creatures is that they would instinctively oppose such a pernicious ideology. Claiming to be an 'anti-fascist' is rather like wearing a badge saying 'I am not a paedophile' — it makes others wonder what you're hiding.
The fantasy of a crypto-fascist epidemic is buoyed by a failure to distinguish between right-leaning civic nationalists and authentic neo-Nazis. When thousands gathered for the 'Day for Freedom' in London earlier this year, the press labelled the protesters as 'far right', in spite of the fact that only a tiny minority of those in attendance could be said to fall into that category. The recent white supremacist march in Washington, DC, at which a paltry 20 or so racists turned up in the face of thousands of counterprotesters, gives an accurate sense of just how marginal this type of extremism has become. Nobody is denying that such repugnant individuals exist, but in these febrile times we need to retain a sensible perspective.
Then there is the slippery term 'alt-right', a catch-all that rivals 'fascist' and 'Nazi' for the way in which it is deployed so thoughtlessly. Even Jordan Peterson, a man whose opposition to tyranny in all its forms could not be more well documented, has been branded as 'alt-right' by numerous media outlets. In common parlance, the term has become irrevocably associated with white nationalism and movements helmed by the likes of Richard Spencer. So when Peter Walker, political correspondent for the Guardian, claims that the meaning of 'alt-right' is 'subjective' he is either being disingenuous or naive. According to him, it 'can be associated with a sort of highly robust, fairly confrontational libertarian right-leaning politics with a dash of support for Trump', but his use of the modal verb is telling. That a phrase with such potentially libellous connotations can be defined in multiple ways should surely give journalists pause for thought. Unless, of course, their intention is to imply a correlation with white supremacy, safe in the knowledge that the get-out clause of ambiguity will excuse the smear.
The blurring of these distinctions contributes to a generalised false belief that neo-Nazism is widespread. Take, for instance, the left-wing press coverage of the news that YouTubers Paul Joseph Watson, Markus Meechan (aka 'Count Dankula') and Carl Benjamin (aka 'Sargon of Akkad') have joined UKIP. One writer described them as 'far right', another as 'social-media activists linked to the alt-right'. A columnist for the Guardian caricatured them as a 'supergroup', asking whether they were best described as an 'alt-right Led Zeppelin or white supremacist A-Team?'. Whatever one may think of these men and their politics, it is grossly misleading to describe them in this way. At worst, it is an attempt to discredit their views through deliberate misrepresentation. At best, it reveals a woeful unfamiliarity with their political output or the definitions of the terms being applied.
In his novel To Hell in a Handcart (2001), Daily Mail columnist Richard Littlejohn depicts a Britain in a state of inexorable moral decline, in which asylum seekers are accommodated in 'luxurious' hostels and granted '£117.50 a week in cash… supplemented with the proceeds of begging and petty crime', while the hard-working indigenous population are left to suffer in penury. In Littlejohn's vision, such circumstances are the norm rather than the exception. Not to be outdone, certain factions of the liberal-left have seemingly conjured a different kind of imaginary Britain, in which the behaviour of a few extremists is magnified to an absurd extent. These are the new Richard Littlejohns, occupying a nightmare land of their own creation. It is our security services and intelligence agencies who are taking on the handful of fascists in our midst. The rest are just scrapping with ghosts.
Andrew Doyle is a stand-up comedian and spiked columnist. He is also the co-founder of Comedy Unleashed, London's free-thinking comedy club. Follow Andrew on Twitter: @andrewdoyle_com
To enquire about republishing spiked's content, a right to reply or to request a correction, please contact the managing editor, Viv Regan.