Anti-tourism gets ugly
Posters mocking dead tourists in Barcelona capture a mainstream sentiment.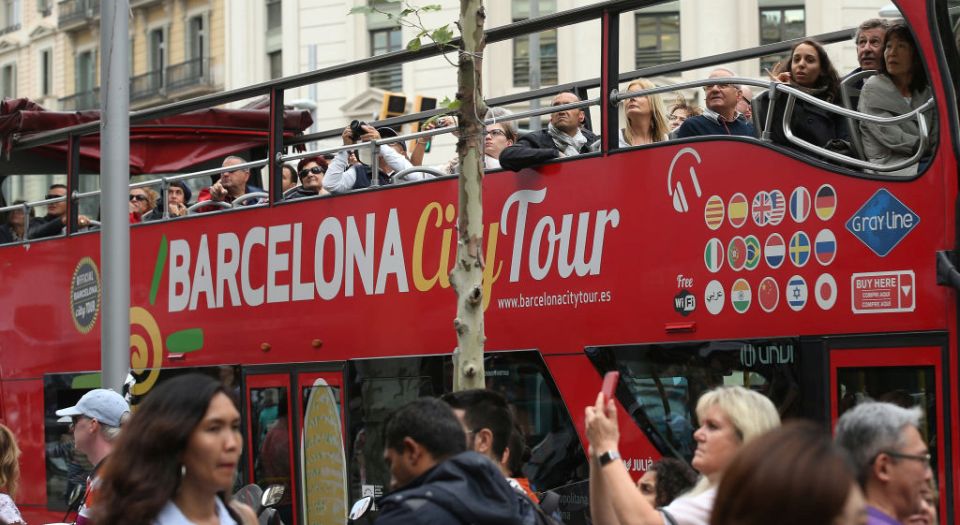 Distasteful posters have started appearing in Barcelona. They say, 'Dear tourist, did you know Balconing prevents gentrification, improves neighbours' quality of life, reduces the risk of heart disease and is lots of fun?', followed by the hashtag #balconingisfun! Balconing, of course, is a reference to attempts by largely British tourists to climb from one hotel balcony to another – some of these tourists have fallen to their deaths in the process.
The posters have rightly drawn the ire of the media here in the UK and in Spain. But do the posters in any way reflect a growing anti-tourism sentiment in Barcelona and other popular destinations? I think they do.
The prime movers in anti-tourism protesting in Barcelona are a group called Arran, which claims to be inspired by Marxism, radical feminism and freedom for the Catalan lands. Last year, Arran staged, and is currently reprising, stunts such as slashing the tyres of tourists' hire bikes, in order to highlight its opposition to the 'massification of tourism'. The slogans on its banners, posters and stickering campaign include #touristsgohome. It insists it is not 'tourismphobic' (a charge levelled at it), but 'capitalismphobic'. It is along these lines that it contends that tourism oppresses the working class.
Arran's popularity is hardly overwhelming, and the same could be said for the political party it identifies with, the Candidature d'Unité Populaire (CUP) (which polled under five per cent of the vote in the December 2017 Catalan elections). Yet it has been treated by some in the media and by critics of tourism as the authentic voice of the Spanish people. Some academics portray Arran as part of a new social movement fighting for justice. UK campaigners and purveyors of ethical tourism, or responsible tourism, even referred to Arran as 'rebellious locals' representing widespread and legitimate opposition to mass tourism.
Mainstream UK commentators have echoed the anti-tourism sentiment of Arran, describing mass tourism as 'an infestation', and claiming that if you are a tourist, you are 'hated' by local people. Such commentators even have a term to refer to the holdidaymaker tipping-point that destinations like Barcelona apparently face: 'overtourism'.
Yet visit Barcelona and you'll find few people who have much time for Arran's stunts. Of course the advent of Airbnb, and the popularity of Barcelona among tourists, has at points contributed to overcrowding and pressure on housing. Yet Barcelona's main housing problem stems from the financial crisis in 2008, and the subsequent eviction of many who could no longer pay their mortgages or rents. It was this, not tourism, that underpinned the election of anti-eviction campaigner Ada Colau as Barcelona's mayor in 2015.
It is also easy to forget in all the negative coverage of the impact of tourism that the 'Barcelona model' of regeneration, beginning with the 1992 Olympics, has been rightly seen as a very positive one. Today it is the revenue from the 'hordes' of tourists that is paying for the completion of Gaudi's Sagrada Familia (construction began in 1882 and is now due to finish in 2028).
So tourism has created problems for certain destinations, but it has helped many, too.
Not that this has made UK-based critics of overtourism pause for thought. Instead, they have started to focus on destinations closer to home. Last year we heard complaints that Skye was full and that Edinburgh was overwhelmed. This year it is claimed that Cornwall is overcrowded, and is therefore the latest victim of 'overtourism'.
But, as in Barcelona, those living close to the supposed problems reject the pessimism of the anti-tourism lobby. So critics of Edinburgh's crowded streets were countered by resident novelist Ian Rankin, who declared 'bring on the busloads'. Likewise, many in Cornwall argue that its economy needs forward-thinking policies to improve roads and public transport, expanding access to its beauty and improving its economic prospects, not exhortations to potential holidaymakers not to visit.
The sick posters in Barcelona targeting UK tourists deserve condemnation. But in many ways they are merely extreme examples of an all too mainstream anti-tourist pessimism, where 'overtourism', we are told, is fuelled by our 'unhealthy appetite for travel'. This miserable worldview views everything, from traffic jams to drunken revellers, as the result of people taking too many holidays and transgressing cultural, natural and economic limits. Yet leisure travel continues to grow, with many more less well-off people enjoying the benefits of cheaper travel. We should see expanding tourism as something positive, and continue to champion what has been, in Barcelona and many other places, a success story.
Jim Butcher is a lecturer at Canterbury Christ Church University, and a member of the Royal Geographical Society.
To enquire about republishing spiked's content, a right to reply or to request a correction, please contact the managing editor, Viv Regan.