Why Trump doesn't hate Russia
The president's refusal to embrace Russophobia is no bad thing.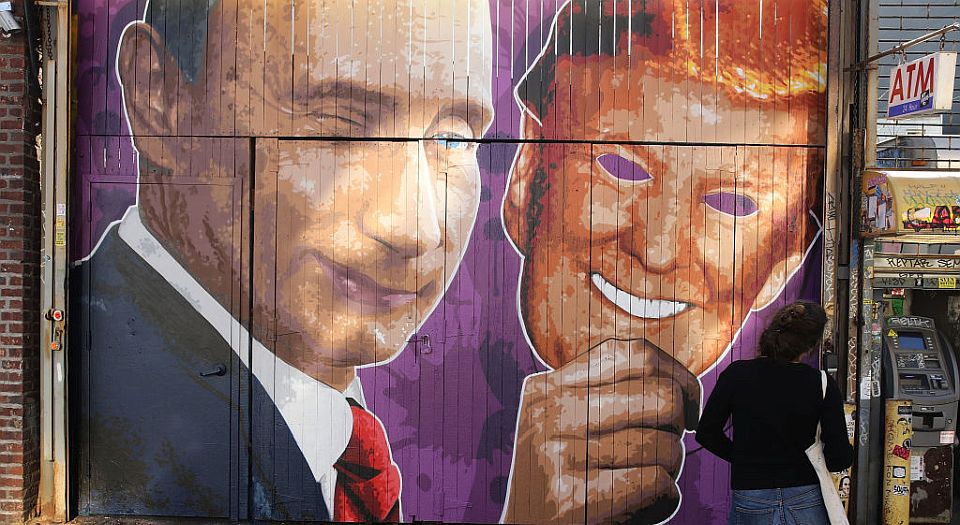 US president Donald Trump is in Helsinki for a one-on-one (plus translators), no-advisers-allowed meeting with Russian premier Vladimir Putin. And seemingly everyone is convinced that Russia is undermining liberal democracy, indulging in nefarious interventions around the world, and even dead-set on reviving some larger Russia, for which the annexation of Crimea was only the start. Everyone, that is, except Trump.
So, on the eve of this most black-boxed of presidential tête-à-têtes, his own Justice Department issued an indictment of 12 Russian intelligence agents for hacking the Democratic National Committee and the Hillary Clinton presidential campaign. Senators and 18 Democratic members of the House Committee on Foreign Affairs have called on Trump to abort the meeting. And, perhaps most remarkable of all, Trump's own team constantly expressed a fear of Russian aggression.
Just this past week, Trump's director of national intelligence, Dan Coats, compared the danger of Russian cyberattacks to the terrorist threat posed to the US in the run-up to 9/11. In his trepidation, Coats was merely following Trump's former national security adviser, General HR McMaster, who warned last year: 'Russia and China are determined to make economies less free and less fair, to grow their militaries, and to control information and data to repress their societies and expand their influence.' Likewise, defence secretary Jim Mattis, secretary of state Mike Pompeo and current national security adviser John Bolton have all been sounding the alarm about Russia's intentions, and urging Trump to go in hard on Russia's electoral meddling.
Yet Trump seemingly refuses to toe his team's line, let alone that of Congress or the Justice Department. Instead, he seems content to accept the Kremlin's contention that 'the meddling never happened', or, as he put it in November, 'Every time [Putin] sees me, he says, "I didn't do that", and I really believe that when he tells me that, he means it'. More striking still, some worry that Trump may even recognise Russia's annexation of Crimea in 2015 as legitimate, despite the US, the EU and NATO all condemning it as a violation of international law and subsequently imposing sanctions. Trump, however, has said that Crimea ought to be part of Russia, given that the majority of Crimeans speak Russian. 'That is not the position of the United States', countered Bolton.
And that's the problem. Regarding Russia, Trump's administration, which is meant to be articulating the 'position of the United States', seems torn in two, with Trump on one side, and everybody else on the other. It is as if there are in fact two positions of the United States on Russia. Trump says simply 'if we can get along with Russia, that's a good thing'. Everybody else says you can't trust Russia, because they're the bad guys, usually with a reference to Putin's past as a KGB agent. Trump will be having a spectacularly private chat with Putin. Everybody else will be working on possibly public agreements and disagreements with Moscow. As the New York Times puts it, 'Trump is wholly untethered from his administration when it comes to dealing with Moscow'.
But too many seem to misunderstand the reasons for this untethering. They seem to think that it has something to do with Trump the person. So they psychoanalyse him, speculating on his attraction to Putin's machismo, his desire to see reflected in the Russian president some of the qualities – strength, cunning, and sheer butchness – that he himself would like to have. Others go deeper into more conspiratorial territory, either outright turning Trump into some lurid parody of the Manchurian Candidate, or alluding to the Kremlin's possession of a recording of some tawdry hookers-and-hotel escapade which it might or might not be using to blackmail him.
Yet perhaps it is not Trump who has the Russia problem. Perhaps it is not Trump who has the Putin fixation. In fact, it is the American political class, indeed the political and media classes of much of the West, which has developed – or rather revived – an obsession with Russia as The Enemy. Have they not turned it into an object of evil, determined to undermine and corrode the institutions of the West? Hence Russia is blamed for the bloodshed in Syria, despite the West's considerably larger role in the unravelling of the entire Middle East. It is condemned for the conflict in Ukraine, despite NATO and the EU's longstanding provocations. And, above all, it is held responsible, in some distant behind-the-scenes way, for the election of Trump, Brexit and every other Western popular revolt of recent years. That is why Russian meddling in the US presidential election has become such a crusade for the US political establishment. It explains away the very real estrangement of the political class from those they have for too long failed to represent. It explains away their failure to speak for the whole of society, rather than just a professional, middle-class coastal stratum. It explains away the domestic reasons for the erosion of the political establishment's grip on power.
Trump is no political visionary. But neither is he part of the political establishment. After all, he was the beneficiary of people's turn against the establishment. And, as such, he is not overdetermined to see Russia as the enemy, the baleful power upturning the world. He stands apart from almost everybody else in Washington DC and in Western foreign-policymaking circles in approaching Russia and Putin as a state entity that it might be possible to deal with.
And that is too much for too many to bear. Domestically it is too much for those politicians, and their cheerleaders, who have found in the spectre of Russian electoral meddling a readymade excuse for their own political fall. And internationally, it is too much to bear for those Western political elites, seeking refuge in NATO and the EU, which have found, in facing down the spectre of Russian military malignity, a raison d'être. The split in Trump's administration reflects the deeper split between those who have a need to conjure Russia up as an existential threat, and those who, in Trump's case, clearly do not.
Tim Black is a spiked columnist.
Picture by: Getty
To enquire about republishing spiked's content, a right to reply or to request a correction, please contact the managing editor, Viv Regan.