Days of middle-class rage
The Trump protests are more about therapy than politics.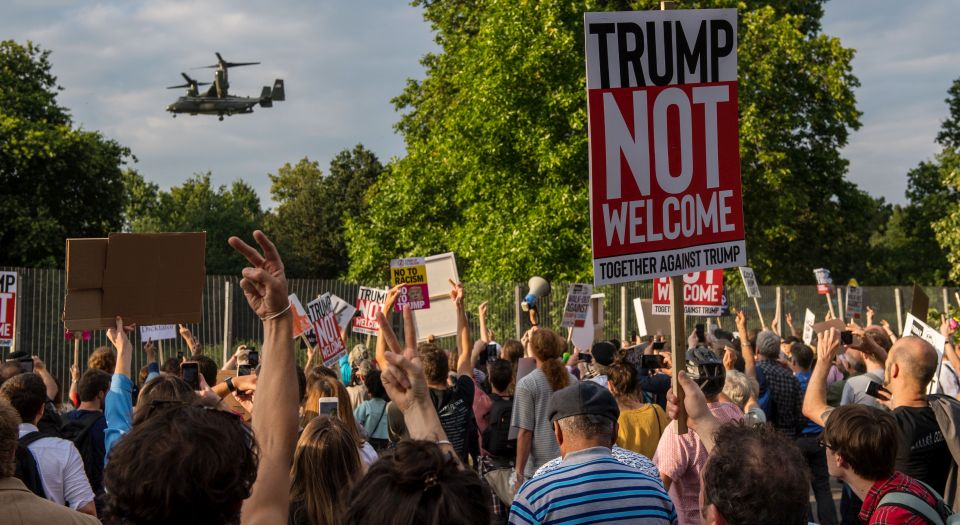 Why Trump? What is it about him that so riles the liberal-left? This seems obvious, right? He's anti-immigration, he's crude, unbothered by climate change, an alleged 'pussy-grabber', and at least a bit racist. But as the Trump baby blimp flies over Westminster today and thousands across the UK gear up to protest his visit, it is worth asking why his arrival has sparked such fury where others' haven't.
The Stop Trump Coalition, one of the main organisers of today's 'Carnival of Resistance', highlight Trump's brutal erstwhile border policy, whereby parents were separated from their children in detention centres. Protesters interviewed outside the US ambassador's residence in Regent's Park, where they were using pots, drums and vuvuzelas to 'keep Trump awake' last night, said it was the 'caging kids' that got them to turn out.
But what, then, about Obama? Despite his status as secular saint, he deported more migrants than any of his predecessors. And he himself kept kids in cages, albeit with their families rather than separated from them. Meanwhile, closer to home, the UK remains the only nation in Europe to operate indefinite detention for illegal migrants. The Windrush scandal – the harassment and deportation of British citizens – has sparked outrage, but it hasn't sparked nationwide protests.
'We [will] not allow the clock to be turned back to the darkest moments in history', a spokesman for the Stop Trump Coalition says of today's theatrics, in a less than subtle Nazi reference. But what makes Trump's border policies Hitlerian, and Obama's just regrettable? What makes Theresa May's 'hostile environment' policies sufficiently less scandalous that the great and good decided to take their outrage to Twitter rather than the streets?
By dint of Trump's own chaotic and undisciplined approach to policy, he hasn't even achieved some of his central migration pledges. The Wall remains unbuilt. And Barack Obama and Hillary Clinton did, let's not forget, vote for The Fence in 2006 – which though, not as extensive as Trump's proposed border wall, was, at least, actually erected. Trump is, in many areas, pursuing similar border policies as his predecessors only in a more blunt, unabashed and incompetent way.
It is hard to avoid the conclusion that this is more about bad manners than substance. Obama may have deported South and Central American migrants in their hundreds of thousands, but at least he wasn't mean about them. Trump's rhetoric on immigration is often ugly and grim. But are we really more concerned with words than actions? Does Obama get off the hook because he said the 'right' things rather than did the 'right' things?
Indeed, the tenor of today's protests give the lie to the idea that Trump is all that unique or fascistic. Guardian journalist Owen Jones says today's marches are the start of a 'decisive pushback against increasingly triumphalist right and far-right movements'. But if Trump really is crypto-Nazi, why depict him as an iPhone-clutching baby? If this is some last stand against the rallying forces of fascism, why are there 'family friendly' activities, offering 'placard-making (bring your pens!), face-painting, positive vibes and a carnival atmosphere'?
Trump is in many ways the perfect foil for a left that has become more moralistic than political, that sees protest as a means to express their own moral objections rather than to mobilise to achieve specific aims. This is what has made protests in recent decades so off-putting, even where one might agree with them. The rallying cry of the Iraq War marches wasn't Hands off Iraq, or Down with Western Imperialism. It was Not In My Name. The slogan of today might as well be I'm Better Than Him.
On some level, the protesters know this. To the charge that these protests are merely 'symbolic', a writer in Vice says that 'protests, at their best, can be moments of powerful catharsis for participants, and a lifeline for those who feel alone as the world slides out of shape'. What he's talking about is therapy, not politics. And if there's anything truly striking about political life today, it's not the illiberal blowhard that is Trump – it is how hysterical, disconnected and feeble the left has become.
Tom Slater is deputy editor at spiked. Follow him on Twitter: @Tom_Slater_
Picture by: Getty
To enquire about republishing spiked's content, a right to reply or to request a correction, please contact the managing editor, Viv Regan.