Russian football fans are human after all
The World Cup has exploded Russophobic prejudices.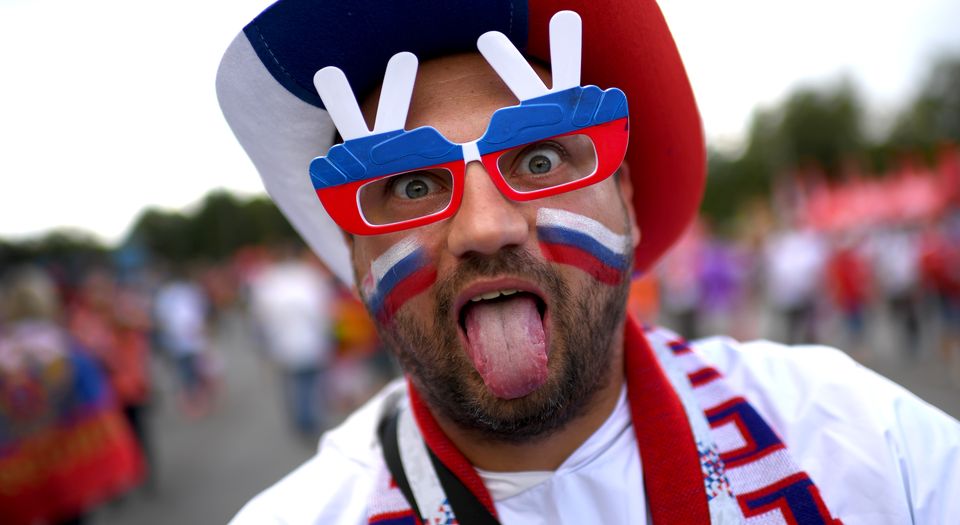 Barring some freak misfortune on or off the pitch, the 2018 World Cup in Russia will go down in history as a triumph. Alongside some magnificent games and the hilarious early departure of most of the big guns, it will be remembered as one of the friendliest World Cups. There are no end of reports, before and after games, of opposing fans mingling, revelling and commiserating with each other. Stories of fraternisation between Swedish and Swiss fans after Tuesday's clash was a case in point. But most of all, we have heard nothing but glowing reports of Russian hospitality and amiability.
'Russia's welcoming of England has been phenomenal', relates Sky News. A story in the Independent led with the headline, 'England fans praise welcome by Russian hosts as they celebrate first win'. The piece quotes an England supporter: 'I was speaking to a Russian ultra… all he wanted to do was hug me.' Elsewhere, in the Financial Times, we learn that 'those making the journey have found a country going out of its way to make them feel welcome'. 'It's been a total football carnival', says one England fan.
It wasn't meant to be this way. Russia 2018 was meant to be a disaster. The country was too big and morally unfit to host the tournament, we were told. It was run by a dissident-poisoning, Assad-supporting, Crimea-annexing president. Its people were bent oligarchs, neo-Nazi skinheads, television propagandists and homophobic xenophobes whose hooligans were so psychopathic that they didn't even need to get drunk to start a fight.
Thus went the horror narrative before the tournament – which explains the relative paucity of England fans in attendance compared to fans from other countries (a fact made visibly and audibly obvious on Tuesday night when they were vastly outnumbered by Colombians). Although a few England fans will have had nasty, first-hand memories of encounters with Russian ultras in France two years ago, many other England supporters will have been spooked by state and media scare stories about the Russians.
Such fears have proved unfounded. In some cases, the welcome by the Russians has turned out to be precisely the opposite, with ultras reputedly even buying England fans vodka shots and returning flags they stole in Euro 2016.
We really shouldn't be surprised. Russian hooligans of today are no more representative of their countrymen than English hooligans of the 1980s were of theirs. And, remember, we heard similar baseless scare stories before, when in Euro 2012 we were warned that the Ukrainians and Poles were dangerous, racist Neanderthals. In the end, it turned out they were nothing of the sort.
We have become accustomed to negative stories about the Russian regime of President Putin, most of which are justified. Yet by indulging ourselves for years in this anti-Russian narrative we have forgotten to draw the distinction between the Russian government and the Russian people. Anti-Russian rhetoric is much like anti-Americanism: a lazy, smug Mock The Week-style moralising and smirking has led us to conflate a foreign country's government with its populace, or a minor section of that populace.
This weekend is set to see thousands more England fans head to Russia. They're going not only because of the rare prospect of seeing their national side in a quarter-final. They're going because news is trickling down that the Russians are actually mostly nice people, human beings like us. Who would have thought it?
---
How radical movements turn reactionary
Many have been alarmed by the report that Sheffield University will next year be offering LGBT-only flats to provide a 'safe space for students to be themselves'. It seems like apartheid to some. Simon Thompson, director of Accommodation for Students, told The Times: 'I think it's a disadvantage if people close themselves off and don't socialise with straight people. It seems madness to me.'
Indeed. But the significant thing about this story is how it signifies the solidification of 'LGBT' into one, ostensibly coherent identity, rather than it being an acronym signifying the coming together of likeminded but not identical souls, ie, lesbians, gays, bisexuals and the transgendered. 'LGBT' was once a set of letters; it now signifies a real minority, an actual ersatz ethnicity.
This is inevitable. This is what happens to identities and tribal movements which begin life as vague, provisional, radical entities that question society's conventional taxonomies and paradigms. In the end, tribal identities always end up becoming essentialised and ossified.
The gay liberation movement of the 1960s, for instance, sought to challenge and subvert society's norms of morality. That's why contra-heterosexualists took up the label 'queer' with such relish. But eventually 'gay' became a label set in stone, merely another conventional category recognised by government and society.
A similar thing happened to the women's liberation movement, which, in the spirit of Simone de Beauvoir, sought to expose gender not as self-evident and natural, but as fabricated and plastic. But now feminists speak of men and women almost as if they were different species, each determined by biology – or in the case of men, condemned by it.
The anti-racist movement of 50 years also used to speak of the irrelevance of pigmentation and biology, but now 'anti-racists' speak of 'whiteness' in determinist, biological terms, and refer to 'white people' as a deviant, demonic branch of Homo sapiens.
They say that people get more conservative with age. It is worth remembering that, with age, radical movements also become more reactionary and intolerant.
---
The return of Gary Lineker
Another highlight of this World Cup has been watching Gary Lineker return to his incarnation as an affable football presenter. Like many a famous person, he has recently spent far too much time on Twitter, mouthing off on all sundry of matters – in his case, carrying on like a superannuated social justice warrior.
It has been awful to behold. For the generation that remembers and cherishes the Gary Lineker who put in a sterling performance in the 1986 World Cup, or the Gary Lineker who comforted a tearful Gazza in the same tournament four years later, the Twitter Lineker has been a source of great sadness and irritation. How beautiful to see him return to his natural métier.
To enquire about republishing spiked's content, a right to reply or to request a correction, please contact the managing editor, Viv Regan.