NATO is more dangerous than Trump
It is not only obsolete – it is a means for warmongering.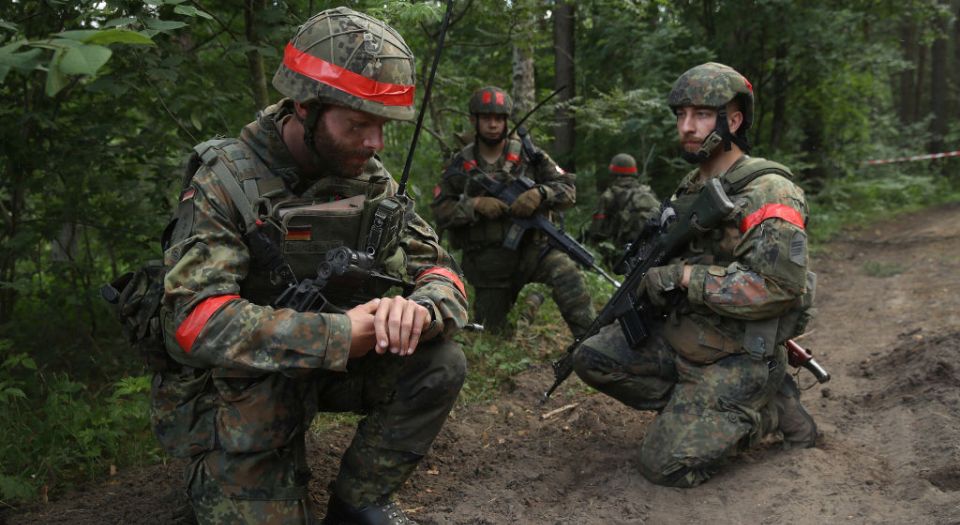 To some, Trump is undermining the foundations of the postwar world order. He is wilfully pulling at the institutional threads, woven over decades, that tie Western nations together. So we have seen him embark on a trade war with the EU and Canada, complete with swipes against the World Trade Organisation. We have seen him mock and disrupt the behind-closed-doors parleys of the G7, turning up late and unprepared before, in a typical coup de gracelessness, refusing to put the US's name to anything the six others agreed on. And now, ahead of next week's NATO summit, Trump's longstanding disregard for the West's military club, a club he has already called 'obsolete', has resurfaced.
It has now emerged that during last month's fractious G7 confab, Trump told those who were still listening that Russia's annexation of Crimea – the focus of so much EU and NATO ire – was legitimate because the majority of Crimeans spoke Russian, and that the US was tired of funding Europe's defence through NATO when other European NATO members, especially Germany, contributed relatively little. Just in case Merkel et al were of a mind to dismiss all this as Trump being Trump, he has now followed up his informal complaints with individual letters to the 29 members of NATO which, according to reports, reprimand them using the following template: '[It is] increasingly difficult to justify to American citizens why some countries do not share NATO's collective security. I, therefore, expect to see a strong recommitment by [the nation in question] to meet the goals to which we all agreed.' The goals in question being a NATO-funding increase of two per cent of GDP per NATO member.
Trump's cost-cutting attitude towards NATO, which Jim Mattis, the pro-NATO US defence secretary, is increasingly failing to muffle, is singularly lacking in sentiment. He treats the US's relations with its fellow NATO members as if they were mere parties to a real-estate deal. Costs and benefits seem to be the only criterion Trump has for evaluating the worth of NATO membership. And at the moment, as Trump sees it, it is a bad deal for the US. And we all know what happens when Trump sees an agreement as a bad deal: he scraps it. Just as he scrapped the Iran nuclear deal; just as he scrapped the Transatlantic Trade and Investment Partnership; and just as he scrapped the G7's communiqué.
Yet those seeking to paint Trump as a one-man demolition derby, smashing through decades-old international institutions, unravelling the postwar order, and destroying the West as a political and ideological entity in the process, miss the point. Trump is not an irresistable force here. He is not confronting a strong, coherent postwar world order. He is not failing to see the political, indeed moral, significance of NATO. Rather he is seeing NATO for what it is. He is confronting the military ties that bind the US to its postwar allies and seeing only old, frayed knots.
This is not because Trump is a visionary. It is simply because he is not of the US policymaking establishment. His predecessors, from Obama to Clinton, also complained, albeit largely in private, that the US contributed too much to NATO relative to the contributions of its other members. But they were too immersed in the ways of the political world, too wedded to the established ways of doing things, to contemplate abandoning NATO. Moreover, they felt that NATO's mission was also the US's mission, that NATO, a seeming force for good in the world, provided the legitimating framework for the exercise of US military power. The 1991 Gulf War was a NATO war; the 2011 Libyan intervention was a NATO war; the Afghanistan war was – and, miserably, still is – a NATO war. Trump, a political outsider, suffers from no such illusions. He sees what an establishment figure is unable to: that NATO lacks a substantial raison d'être. It doesn't so much constitute an alliance of shared political and moral interests for the US, as a set of financial and military burdens on the US.
Mike Pompeo, the US secretary of state, recognised as much when he pointed out last week that NATO was forged in a completely different historical era, and that today it needs a 'reset'. The first part is true. NATO was formed originally in 1949, when its 12 original members signed a treaty pledging 'to uphold peace and international law' among themselves. What underpinned the alliance, however, what provided the alliance with substance, beyond the bland platitudes about peace and international law, was, of course, a shared interest in opposing the seeming threat of the Soviet Union. Lord Hastings Ismay, NATO's first secretary general, is reported to have said the alliance had three purposes – 'to keep the Russians out, the Americans in, and the Germans down'. But it was the first purpose that had primacy, not least because it was only the imperative of 'keeping the Russians out' that kept the Americans in.
NATO was, then, an institutional embodiment of that which structured and informed the postwar order: an anti-Soviet animus. Take that away, which the fall of the Soviet Union did, and NATO was deprived of its purpose (and the postwar world order of its ordering principle). Or at least it ought to have been. Yet as we know, NATO did not fade away; instead it expanded. And it expanded, in the main, eastwards, towards Russia, hoovering up Hungary, Poland and the Czech Republic in 1999, and the likes of Romania, Bulgaria and Albania in 2004. As US president Bill Clinton insisted in 1997: 'The bottom line is clear: expanding NATO will enhance our security. It is the right thing to do.'
Yet NATO's post-Cold War enlargement was never the sign of strength, let alone ideological and political certainty, it seemed to be, despite the constant talk of enhancing 'peace' and 'security'. Quite the opposite. It was a sign of NATO's weakness, of the lack of ideological and political point to a miliary alliance founded on an opposition to a threat that no longer existed. It was expanding not because it knew what it was for, but because it did not. It was expanding in search of an elusive purpose – indeed, expanding became its purpose. And it was always directed towards Russia, as if it almost wanted to encounter an echo of that old Eastern Bloc resistance that would affirm its reason for being. Which has now come to pass, since 2014, in the ongoing conflict over Ukraine.
Today that conflict over Ukraine between the EU and NATO, and Russia, still rages, providing NATO with the political fuel to continue growing. So in a meeting last month, ahead of the NATO leaders' summit next week, NATO announced its '30-30-30-30 plan' to counter a Russian attack on its European neighbours – 30 land battalions, 30 air fighter squadrons and 30 ships ready to deploy within 30 days of being put on alert. And other NATO members, such as Poland, are pushing for even more: more troops, tanks, fighter planes and warships. All in the name of fighting Russia.
But Trump is simply not of this postwar mindset, despite being, ironically enough, one of the few NATO leaders old enough to have been alive when it was first formed. He was not inculcated into the ways of the post-Cold War policymaking establishment. And he was never caught up in the almost existential need for Russia to be the enemy from the east, in order to answer the needs of the West. And, as a result, he struggles to see NATO's point. Something he will parade when, a few days after the NATO summit, he flies off for a tête-à-tête with Vladimir Putin, Russian president and NATO's archenemy.
In doing so, however, he touches on something deeper: the fraying of the old postwar alliances. The shared interest in keeping the Russians out no longer binds the US to its Western European allies. Or at least it ought not to. But the need among Western elites for that shared interest, for that ideological and political purpose, is so great that they seem intent on resurrecting Cold War animosities. And so they commit themselves further to the militarisation of Europe-Russia relations, staging military manoeuvres in Lithuania one week, and amassing NATO forces in Poland the next.
It is difficult to avoid the impression that it is not Trump that is a threat to global peace and security, but those zombified remnants of the Cold War that will not die.
Tim Black is a spiked columnist.
To enquire about republishing spiked's content, a right to reply or to request a correction, please contact the managing editor, Viv Regan.