It's no wonder millennial women are down on sex
They've been taught from youth that sex is fraught with peril.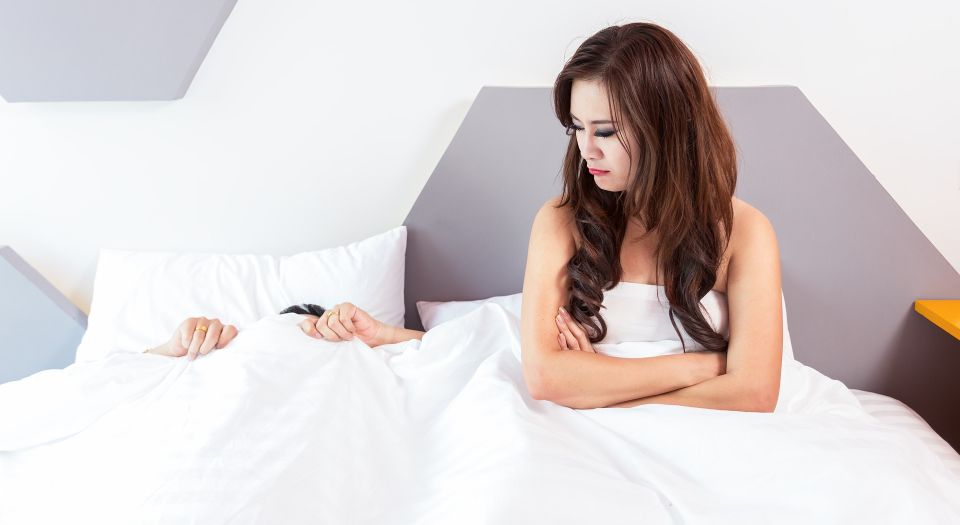 Millennials, eh? Rarely has a generation been so obsessed over. Every week a new peculiarity of people in their twenties and thirties is first discovered and then scrutinised, before finally being ridiculed. We know that millennials can't bear to touch raw chicken; they prefer to spend money on brunch and cleaners rather than houses; and they access news via social media rather than newspapers. Compared to older generations they drink less, take fewer drugs and are less likely to smoke. They are also more likely to suffer from mental-health problems. To some, they are more sensitive, more caring, generally more 'woke' than either Generation Xers or the much-maligned Baby Boomers. But to others they are snowflakes, a cohort of narcissists ready to virtue-signal outrage at the drop of a tweet.
This week we have a new millennial peculiarity to ponder. It turns out that women aged 25 to 34 are the least satisfied with their sex lives. Their mothers – even their grandmothers – are more likely to enjoy sex than millennials. Reports of sexual dissatisfaction come just weeks after research claiming this pored-over generation has less sex than older people. Apparently, one in eight 26-year-olds has never had sex, up from one in 20 a generation ago. If those who refused to answer the question are also virgins then the number of abstainers rises to one in six. And now we know that not only are millennials having less sex, but those who do venture between the sheets are also less likely to enjoy the experience. According to a report by Public Health England, based on a poll of 7,367 women aged 16 to 64, 49 per cent of millennial women said they lacked sexual enjoyment.
Before piling on with pity or puns, it is worth asking why this might be the case. That millennials consider sex too fraught to enjoy might be sad, but it is hardly surprising. Millennials came of age sandwiched between the tailend of AIDS awareness campaigns and the start of the campus rape-culture panic. At school they experienced sex education that went far beyond the biological. They were taught, year after year, that sex was risky. It didn't just lead to unwanted pregnancy or sexually transmitted infections, but – worse even than chlamydia – sex was emotionally dangerous terrain.
Most dangerous of all was casual sex. Again, the message shifted over time. Older millennials were taught that someone they know only casually would feel less moral obligation to guard against sexually transmitted infections and be honest about their health problems. For younger millennials, casual sex was already an oxymoron – sex outside of a loving relationship was less likely to be consensual and that carried a whole weight of psychological repercussions.
At university, millennials lived through the shift from 'no means no' campaigns and 'take back the night' marches to 'yes means yes' and sexual-consent classes. Women now in their early thirties danced along to the Spice Girls and 'girl power' feistiness as teenagers only to be told, as young adults, that they existed in a rape culture where women were routinely objectified and abused. Most recently, this message has been reinforced by the #MeToo movement, which tells women that men are potential rapists and women need to be constantly vigilant; that sex without explicit, enthusiastic, ongoing consent is rape; that if you are drunk you can't consent; and that if you can't remember consenting, then the chances are you were raped. From their first sex-education class to the latest HR missive, millennials have been told that sex is problematic, risky and damaging to their mental health.
For young adults today, sex has become imbued with risk and fear; it's no surprise that women are now too anxious to relax and enjoy the moment. Sadly, the Public Health England survey has not been taken as a sign that it is finally time to lighten up and leave millennials to work out how they feel about sex for themselves. Instead, the interfering messages just keep on coming. Millennial women, many now mothers themselves, still find their sex lives politicised.
For some commentators, the fact that almost half of millennial women don't enjoy sex is an opportunity to chastise them for not being feminist enough. Apparently women who are properly feminist insist on satisfaction. 'Unsatisfactory sex is a type of subjugation. By allowing yourself to lie back and think of England, you're adding sex to the litany of things women do as emotional labour, not because they want to but because they have to', writes Rebecca Reid in the Independent. According to this argument, bad sex is just another way in which the patriarchy oppresses women – and putting up with bad sex shows the extent of women's internalised misogyny. In response to the survey's findings, Jane Dickson, vice-president of the Royal College of Obstetricians and Gynaecologists, said: 'Society still relegates women's sexual pleasure to the background in comparison to the importance assigned to the gendered roles that women carry such as that of being mothers.' Turning women's sex lives into a feminist battleground is likely to add to the anxiety some already experience.
Women are told to work harder to enjoy sex – not just because it's feminist or even (whisper it) because it's fun – but because it is important for their mental health. Dickson continued: 'The importance of having a healthy, enjoyable sexual life cannot be overstated as this strongly contributes to general wellbeing.' Dr Sue Mann, a consultant in reproductive health, reinforced this message: 'Enjoying a fulfilling sex life is important for women's mental and emotional wellbeing.' So, forget yoga and mindfulness – it turns out it's good sex that is essential for mental health. After years of telling young women they risk damaging their mental health if they have casual sex, drunk sex, sex without a condom or sex they haven't explicitly consented to in advance, women are now told they must enjoy sex for the good of their mental health.
Berating women for having the wrong kind of sex, or not enjoying enough of the right kind of sex, clearly keeps an army of professionals in well-paid jobs. But it's time millennials were cut some slack. It's no surprise they are too anxious to have sex, or to enjoy it when they do – the older generation seems incapable of leaving them alone to work things out for themselves. Health professionals, consent-class teachers and feminist campaigners should keep out out of people's sex lives. Then more young women might finally be able to relax and enjoy sex, for no other reason than it's fun.
To enquire about republishing spiked's content, a right to reply or to request a correction, please contact the managing editor, Viv Regan.