This photo isn't what it seems – and that really matters
Anti-Trump hysteria means truth takes second place to moral showboating.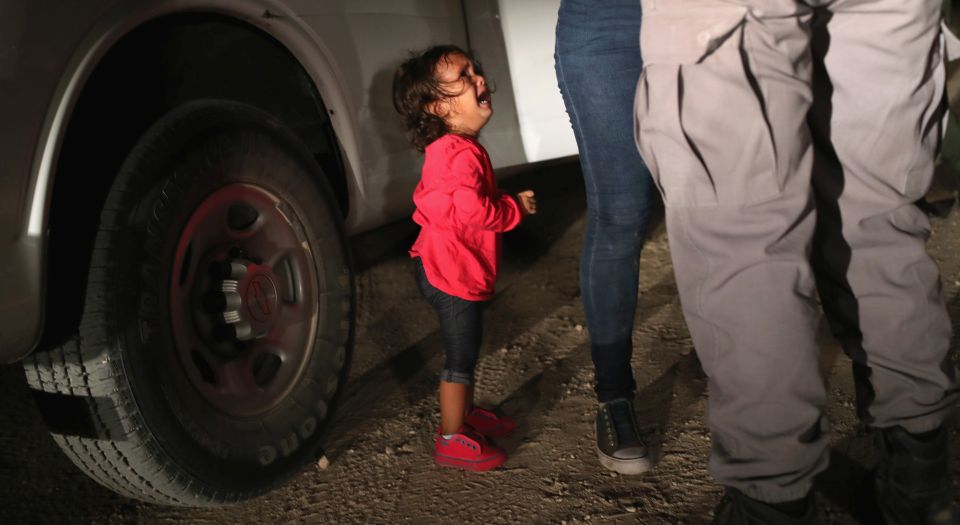 Time magazine published a lie last week, and no one seems very bothered about it. In relation to the viral photo of a two-year-old girl from Honduras crying next to her mother at the Mexico/America border, Time said the girl had been dragged, screaming and weeping, from her parents. We now know this isn't true. The girl was not separated from her mother. She was crying as her mother was searched by guards because, according to her father, she was tired, hungry and distressed. Time has now published a correction saying 'the girl was not carried away screaming…. her mother picked her up and the two were taken away together'.
More disturbing than the error – journalists often make errors, some honest, others less so – has been Time's ongoing defence of its use of the photo and the article that accompanied it. Editor-in-chief Edward Felsenthal said that even though Time made a factual error, still the magazine's cover – which featured the girl on her own looking up at Donald Trump – and its inside story helped to 'capture the stakes of this moment'.
This is the 'greater truth' defence, even the 'good lie' defence. Felsenthal is effectively saying that Time lied, yes, but that doesn't matter because the lie helped to tell a bigger story; it got to the stakes. Trump and his supporters have predictably referred to this affair as 'fake news', but it is actually something worse than that. It is evidence that a quasi-religious anti-Trump outlook is now so widespread in the mainstream media that some editors and reporters think even untruths can be justified as part of a broader mission to expose Trump's wickedness. In defending its misinformation as a means of revealing the broader stakes of a story, Time is sanctioning myth and propaganda as legitimate journalistic pursuits.
The speed with which the image of the Honduran girl went viral should have got people's alarm bells ringing. This was clearly a search for an image, the image, that might add substance to an already-existing feeling of emotionalist revulsion at Trump's family-separation policy at the border (which has now been scrapped by executive order). That is, the emotional reaction came first, and the search for evidence or colour came second. Consequently, both mainstream reporting and the social-media coverage of events at the border did not set out to discover what was happening there, but rather to discover the sounds and pictures that might back up people's emotionalist fury, give weight to their casual, distant revulsion.
As a result, misinformation has been widespread. One reporter fantastically said migrants were being kept in 'kennels'. Many people tweeted a photo of two detained migrants sleeping on the floor in what looked like a cage and said this was proof that Trump was behaving like a 21st-century Nazi. But the photo was from 2014, when Obama was president. Obama's former speechwriter, Jon Favreau, tweeted about the photo, 'This is happening right now' and we must 'force our government to get these kids back to their families as fast as humanly possible'. He deleted the tweet when it became clear that the thing in the photo wasn't 'happening right now' and in fact had happened four years ago, when his man was in the White House. Others claim that 1,500 migrant children had been lost by the Trump administration and could have fallen into the hands of traffickers. But as the New York Times pointed out, 'It wasn't true'.
The NYT writer said that some tweeters' and observers' views about what was happening at the border had been 'coloured… on a gut emotional level without many even realising it'. This is right, and it points to a serious problem with what some call 'Trump Derangement Syndrome', but what we might more accurately refer to as the transformation of Trump into a symbol of evil that all good liberals now morally distinguish themselves against. Which is that kneejerk emotionalism is a bad guide to world events. It distorts and misleads. The urge – the need, in fact – to prop up one's conviction that Trump is a New Nazi, and by extension one's own decency in contrast to this New Nazi, means that events are approached in a highly partisan, emotionalist fashion where facts count for less than the bigger moral story about us and Trump, good and evil, the nice people and the nasty people. Or 'the stakes', as Time refers to this moral narrative into which all events must be forced, even if they don't neatly fit.
The anti-Trump and anti-Brexit cultural elites often talk about our 'post-truth' society. They claim Trump and others have instituted lying and misinformation. Yet they play this game too, and often in a worse way. When Time says its story, its lie, is important because it revealed 'the stakes', it is in essence saying that truth no longer matters. All that matters is the morality tale. When the media, or politicians, think it is acceptable to spread misinformation in the name of pushing a 'greater truth', then it is clear they no longer understand what truth is, and no longer take us the public seriously as citizens. Instead we become children, deserving only fairytales to offer us moral guidance.
Brendan O'Neill is editor of spiked. Find him on Instagram: @burntoakboy
Picture by: Getty
To enquire about republishing spiked's content, a right to reply or to request a correction, please contact the managing editor, Viv Regan.