The 'people's vote' march: a middle-class joke
A few Ultra Remainers calling themselves the people was not even the funniest part.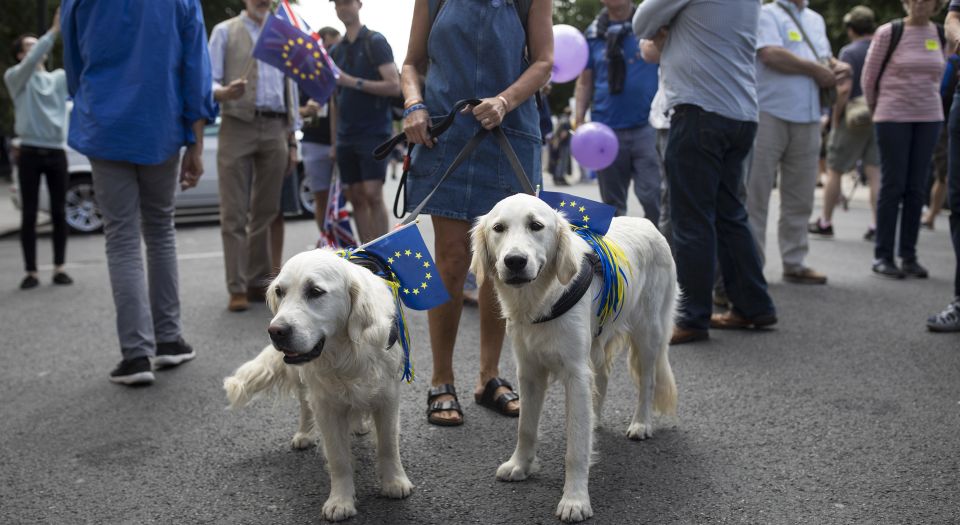 I often get asked how I get laughs from being a Brexit-voting comedian. The 'how' is couched with invisible italics as the questioners commonly make the mistake of presuming I would be getting the laughs out of my own support for Brexit, despite the fact no Remain-supporting comic ever draws laughs from their faith in the EU. Political comedy isn't about what you believe in; it's most commonly about the flaws and personalities circling the thing you oppose. The Ultra Remain camp is brimming with them.
In a way, I'd like to thank the people who went on this Saturday's 'people's vote' march in London. Firstly, for thinking that putting the word 'people' in front of it would be enough to sell it to plebs like me. They're like those businesses who think putting 'urban' in front of the word 'upholsterer' makes it palatable and groovy.
Secondly, I want to thank them for helping me clearly understand what London-centric really means. The 'people's vote' march was a clear example of it: a smaller crowd than attends your average Countryside Alliance march thinking they should shape the national discourse.
And then there is the sheer complacency of Ultra Remainers staging their biggest protest two years after the vote was decided. It was a case of, 'What do we want? To Remain in the EU. When should we have got this well organised? Probably before the vote.'
You would think, given the catastrophic dystopia Ultra Remainers think Brexit will usher in, that it might have kicked off at some point. It was a hot day and many of them were jacked up on strawberry bellinis, claiming their future had been 'destroyed'. But you got the impression that the closest it got to getting lairy was when Browns Covent Garden ran out of Hollandaise sauce.
Normally for big marches, the police cancel overtime. I wouldn't be surprised if on Saturday the Met were telling their officers it would be a great day to creosote their fences.
The truth is you don't throw stones at coppers when you already have a good life. If you work in PR and get seen doing that on telly you might lose your job. However, if you're called Darren and work on a building site, you'll only lose your job if you miss.
It was amazing to see the rose-tinted way the crowd spoke about the EU. This supranational political body was being eulogised like some kind of hippy slush fund, a view as daft as anything offered by bendy banana puritans.
I saw a photo of a dog wrapped in an EU flag (open Border Collie). I saw people doing sketches to the passing crowd, because a political rally is a great opportunity for the Marlow Players to do some improv.
I saw speeches where people referenced Airbus taking all their jobs away (no mention of the 'might' and 'if'). The problem the Ultra Remain camp have is they have cried wolf a lot. For the most part, the worst that has shown up has been a mangy dog. One day they could be right, but the Ultra Remainers so far have provided an object lesson in the problems of browbeating the electorate with fear. You lose intellectual credibility when you want to talk about 'possible' job losses versus the net 800,000 disparity between your predictions and the reality of employment since the vote.
However triggering some of the people on the march were, at least they got off their arses and attended. What's even less defensible are those friends who tweet about nothing other than stopping the dark dystopian calamity of Brexit, but who 'couldn't get a babysitter'.
Then there are the leading personalities of the Remain camp. I'm becoming increasingly convinced that Andrew Adonis isn't a real person at all, but a stroke of genius from the mind of Armando Iannucci. I always thought Iannucci would be too smart to waste his satirical acumen on something as obvious as high-profile Brexiteers, so he's come up with the preening patrician Adonis. Last week AA started a tweet with the messianic 'Followers'! After Saturday's decent turnout he tweeted a photo of the crowd with the hyperbolic, 'Is this the moment Brexit died?'. Short answer, no.
Then you have the likes of Richard Dawkins believing he sides with the 'decent half of the country'. For a supposedly bright bloke he seems to think it comes down to a matter of Jedi versus Sith. A prominent atheist subscribing to a reductive, binary view of good and evil is a great example of some Ultra Remainers' loss of objectivity.
So in a way I'd like to thank Saturday's marchers. Firstly, in genuine grudging respect, for anyone who puts down the keyboard to support something they believe in – however I strongly disagree.
But, secondly and more importantly, the optics of that predominantly middle-class throng demanding an end to something long since democratically decided gave me my strongest conviction yet that a meaningful Brexit has to happen. The political ramifications of the Ultra Remain lobby getting a second vote would be worse for this country than any horseman of Andrew Adonis's imagined apocalypse.
Geoff Norcott is a stand-up comedian. Follow him on Twitter: @GeoffNorcott
Geoff's Traditionalism tour has an additional, autumn leg starting in October.
Picture by: Getty
To enquire about republishing spiked's content, a right to reply or to request a correction, please contact the managing editor, Viv Regan.