Ocean's 8: A Feminist Flop
The 'gender-swap' trend is shielding tired remakes from criticism.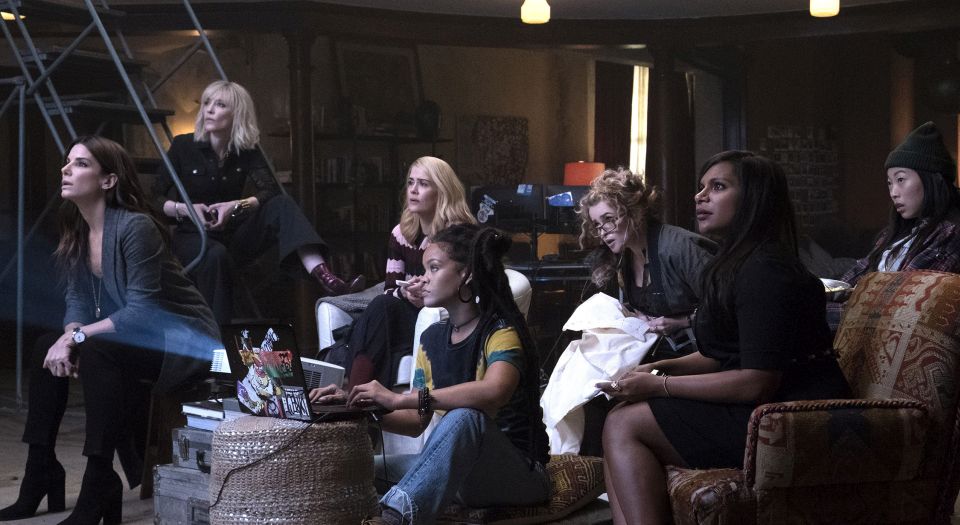 For a few years, Hollywood has been churning out reboots of its old franchises, repackaging old stories with a 'gender-swapped' cast. The latest is Ocean's 8, a spin-off of Steven Soderbergh's 2000s Ocean's trilogy – the first instalment was itself a remake of the 1960 Rat Pack movie, Ocean's 11. In the 2018 reboot, Debbie Ocean, played by Sandra Bullock, carries out an intricate jewellery heist with the help of a star-studded team that includes Cate Blanchett, Helena Bonham Carter and Rihanna.
There is an almost compulsive desire today to interpret throwaway blockbusters like Ocean's 8 through the lens of identity politics. Many commentators are keen to celebrate these gender-swap remakes as major breakthroughs for women. The pretence of progressive politics in middle-of-the-road movies has allowed the filmmakers to deflect a great deal of well-deserved criticism. As was notably the case with 2016's all-female Ghostbusters, anyone who dislikes these films can be dismissed as a misogynist.
As for Ocean's 8, the cast has even suggested that it is inappropriate for men to review the film. Blanchett claimed that male critics see the film through a 'prism of misunderstanding'. Mindy Kaling slammed white, male critics, 'who would enjoy it… but will damn it in a way because they don't understand it, because they come at it at a different point of view'. A classic tenet of identity politics is that the majority can never 'understand' anything about a minority, unless they identify as a part of it. But if Ocean's 8 is a film only for women, ironically this suggests that the male critics who praised it do so without any clear understanding of it, while the numerous female critics who have panned it do so with a superior insight.
Sandra Bullock went even further, making the bizarre suggestion that the demographics of reviewers should reflect who the film is for. She took this to its logical conclusion by arguing that 'children should review children's films, not a 60-year-old man'. This divisive approach would ghettoise film criticism entirely. Clearly there is an obvious difficulty in deciding who a movie is for – aren't blockbusters trying to appeal to as many people as possible? But imagine doing the reverse – telling a female critic that she can never understand a dumb sci-fi film like the new Predator because only men can understand it. Should we tell gay critics that they shouldn't review a boy-meets-girl rom-com because they don't understand heterosexuality? Shall we tell Asian critics they're incapable of comprehending Black Panther?
Ocean's 8 does well playing off the celebrity personas of its A-list cast. But its routine plot can't escape the shadow of its predecessors. It is even set in the same universe as Ocean's 11, where Sandra Bullock's Debbie is the sister of Danny Ocean, George Clooney's character from Soderbergh's trilogy. Like him, she just so happens to enjoy carrying out elaborates heists. Also, she happens to start the film coming out of parole, like Danny did at the beginning of Ocean's 11.
Ocean's 8 is arguably better cast then Ocean's 11. (Remember Don Cheadle's atrocious cockney accent?) And it doesn't suffer from the obnoxious indulgence of the sequels. But it will never be more than a serviceable replica of another movie. Much like the other gender-swap remakes, Ocean's 8 is neither complex nor original. But today's identity politics allows these films to disguise their lack of innovation with a veneer of feminist virtue-signalling.
Those wishing to champion the representation of women in cinema should promote original, challenging material, not the lazy co-option of tired old franchises that most of us thought had died long ago. We shouldn't put up with formulaic remakes from men, and we shouldn't tolerate it from women either. How's that for equality?
Christian Butler is a spiked columnist. Follow him on Twitter: @CPAButler.
Watch the trailer for Ocean's 8:
To enquire about republishing spiked's content, a right to reply or to request a correction, please contact the managing editor, Viv Regan.