Merkel's rule can't end soon enough
The latest migration row sums up her aloof, undemocratic style.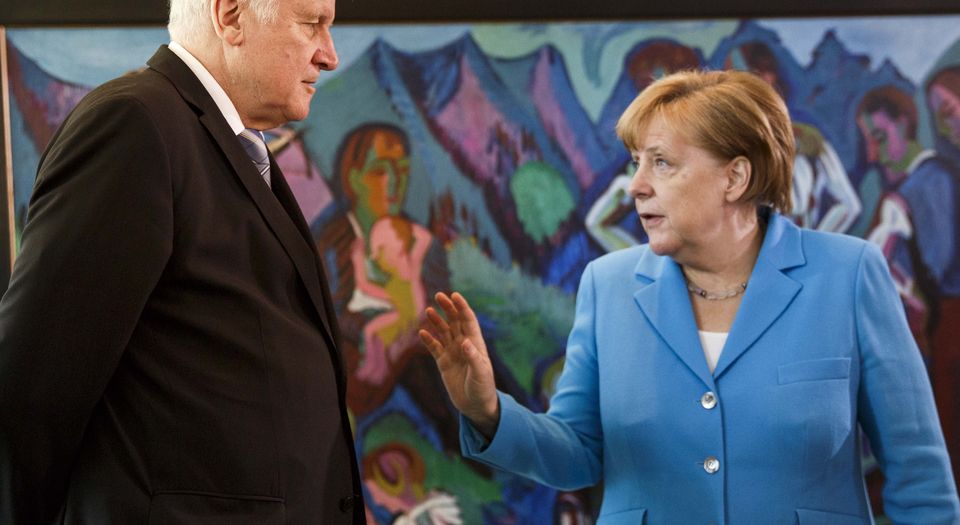 Angela Merkel's days may be numbered. 'She will never recover from this crisis', said an article in a German newspaper last week, about the rift within her government over immigration.
This latest crisis began after the interior minister, Horst Seehofer, announced that he wanted to introduce tougher rules for asylum seekers, including turning away those who have already been registered in another EU country. Merkel responded by saying that Europe needed a common solution to the refugee crisis, and that she would discuss it with French president Emmanuel Macron during his upcoming visit, and at the EU summit later this month. She blocked Seehofer from unveiling his immigration 'master plan', and he has insisted that a solution should be found by today. He has also threatened to sidestep Merkel and impose his plan regardless, leading to speculation about a government breakdown, and a confidence vote, little more than 100 days since the new ruling coalition, led by Merkel's Christian Democratic Union (CDU), was formed.
This odd showdown doesn't reflect well on either of the parties involved. But many commentators, especially those outside of Germany, are missing the full picture. 'German hardliners want to close borders, threatening Merkel coalition', says the New York Times. 'Rogue conservative interior minister planning to force through tough immigration policy', is the verdict of the Independent. In this simplified view, Germany is experiencing a fight between good and evil – with Merkel uncritically presented as a near-saintly defender of immigration rights. Few (if any) question the chancellor's motives in blocking the immigration plan.
Seehofer – who is chairman of the CDU's Bavarian sister party, the Christian Social Union (CSU) – hasn't helped matters with his deadline-setting grandstanding. He's keen to talk tough because there will be elections in Bavaria in October, and the CSU is set to lose votes to the anti-immigration Alternative für Deutschland. The NYT says the 'Bavarian revolt' provides a 'powerful glimpse of the groundswell of nativist anger that is building even in the richest parts of Europe's richest country'. But this kind of talk evades and obscures what is really driving this crisis: the lack of public accountability over migration policy.
Merkel's decision to put the brakes on Seehofer's 'master plan' reflects her evasive and anti-democratic style. No voter has yet been able to read this plan, let alone discuss it. Her concern about publishing it reflects the contempt in which she holds democratic debate. Meanwhile, her carefully prepared statements on the issue (mostly in the form of TV interviews with choice journalists or her own weekly podcast) rarely tell us very much at all. Despite opening Germany's doors to refugees in 2015, she has never made a proper public case for the benefits of immigration. Her inability, or unwillingness, to explain her politics to the electorate has contributed to the narrow and technical way in which immigration is being discussed in Germany these days, with a focus on numbers and deportation practices.
Taking an issue to the 'European level' has become Merkel's default solution to everything. 'This is a European challenge that also needs a European solution', she said in her latest podcast. Of course, a joint European solution would be preferable, but not if this means bypassing national electorates. Her original plan of imposing migrant quotas on other EU member states has failed completely. Excluding the public from the debate, and discussing politics behind closed doors, is simply not cutting it with voters. Whatever one thinks of Seehofer's 'master plan', he is right that immigration needs to be discussed and decided upon at the democratic, national level.
In a blog on Saturday, Merkel said that how the immigration issue is handled will be 'decisive' for keeping Europe together. But her style, a combination of executive action and muddling through, has actually led her to tear up EU agreements. When she opened the borders in 2015, she declared the Dublin Regulation on asylum – whereby asylum seekers can only apply for asylum in one member state, usually the one they first enter – dead. She closed the borders again a short time later. Three years later, Germans no longer trust her to take these kinds of decisions.
Whether or not Merkel clings on this week, her aloof rule is coming to an end. The sooner she goes, the better.
Sabine Beppler-Spahl is head of the board of the liberal thinktank Freiblickinstitut e.V., which has published the Freedom Manifesto. She is also the organiser of the Berlin Salon.
Picture by: Getty
To enquire about republishing spiked's content, a right to reply or to request a correction, please contact the managing editor, Viv Regan.