The Trump-Kim summit: kitsch or progress?
There are reasons both to cheer and worry about this strangest of meetings.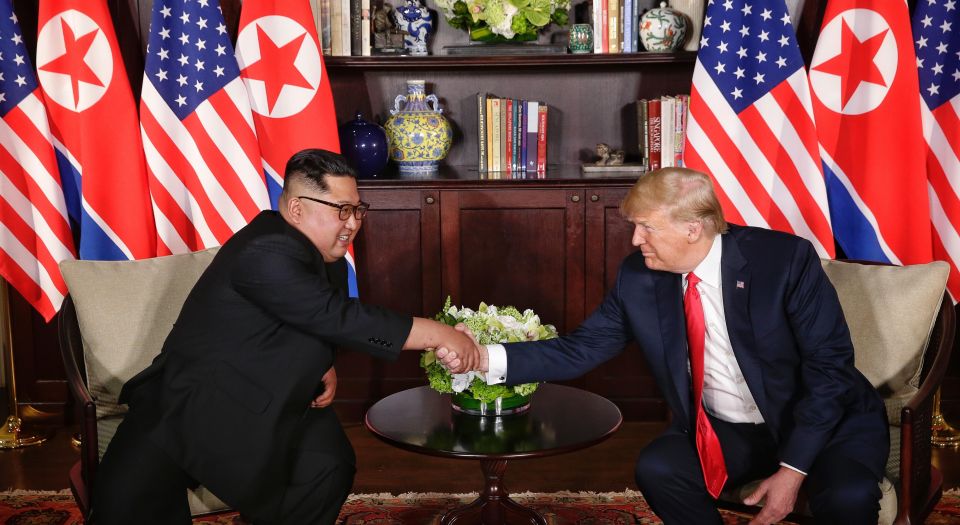 'We had a really fantastic meeting. A lot of progress', said President Trump, fresh from his summit with North Korean leader Kim Jong-un. 'Really very positive. I think better than anybody could have expected. Top of the line. Really good.'
Indeed, the Trump lexicon, full of 'beautifuls' and 'greats', accompanied by camp hand gestures, was in full flow during the post-summit press conference. Yet while Trump's hyperbole invites scepticism, in a sense it was justified. Because there is no doubt that this strange, almost unreal bout of Trump-style diplomacy, represented a positive step in the reintegration of North Korea into the world. That, after all, is what international negotiation with Kim and his isolated nation ought to be working towards. Not denuclearisation – nukes were always only a bargaining chip for Kim – but the relaxation of the stringent international sanctions regime, and thus the opening out of North Korea towards other nations, beyond China.
That is what those obsessed with the North Korean regime's brutality, exemplified by a 2014 UN report in which Australian High Court justice Michael Kirby compared the DPRK to Nazi Germany, do not seem to get. Economically isolating and impoverishing North Korea, and then justifying this treatment on the grounds that it routinely abuses human rights, will do nothing but damage to its people. Their suffering is bound up with the international community's economic and social isolation of North Korea, not alleviated by it. So the very fact that Trump has started what is effectively an international rapprochement with North Korea can only be positive. The North Korean people will be the 'big winners', as Trump put it.
But at the same time, the summit was troubling, too. It almost seemed to elude observers' judgement, reducing some to commentary on body language, presidential car cavalcades and, all too predictably given the shockers on show, hairdos. And that was because there was a huge lack, a void even, at the summit's centre – namely, a commitment to something concrete.
This is why commentators' struggles actually to offer commentary was significant. It reflected the difficulty of judging the summit a success or failure when there was so little to judge. Yes, there was a really short, jointly agreed document. But its substance consisted of four short sentences: '1) The United States and the DPRK commit to establish new US-DPRK relations in accordance with the desire of the peoples of the two countries for peace and prosperity; 2) The US and the DPRK will join their efforts to build a lasting and stable peace regime on the Korean Peninsula; 3) Reaffirming the 27 April 2018 Panmunjom Declaration, the DPRK commits to work towards complete denuclearisation of the Korean Peninsula; 4) The United States and the DPRK commit to recovering POW/MIA remains, including the immediate repatriation of those already identified.'
To establish a relationship based on a mutual desire for peace and prosperity? To build a lasting peace? To work towards the complete denuclearisation of the Korean Peninsula? These aren't clear, discernible commitments; they are the vague slogans of a Powerpoint presentation prepared last thing at night. Apparently US secretary of state Mike Pompeo is now working on the detail, but why on Earth wouldn't the detail have been worked on before the summit? And if it was not, what exactly do Trump and Kim think they are agreeing to – because, let's be honest, who doesn't desire peace and prosperity? As for the pledge to 'work towards the complete denuclearisation of the Korean peninsula', that is very different to, and far more nebulous than, Team Trump's insistence that North Korea (note: not 'the Korean peninsula') commit to complete and verifiable denuclearisation of North Korea. It makes Obama's Iran deal look draconian.
But then that is what is peculiar and novel about Trump-style diplomacy. Its political content is not to be found in clauses and caveats, but in its style, its mode of presentation. This is why the meaning of this summit was always going to be the sheer spectacle of the summit itself, rather than a flimsy document. With the will-they-won't-they titillation of the run-up, followed by the pre-match build-up, it had the feel of Event TV. It was dramatised as something important. It was scripted to be significant. It was staged as something momentous – the document itself even described the summit that had produced it as 'epochal'. Trump, with Kim at his side, was effectively abrogating to himself the judgement of posterity, asserting what only subsequent events can demonstrate: that this was a world-changing moment.
Of course, all summits are spectacles. Yet their substance, their significance, is always informed by the extent to which competing national interests can really be reconciled. Hence the in-depth preparation beforehand, as points of conflict are batted to and fro between and among diplomats and officials. Yet here, in Singapore, Trump seemed almost proud that he was breaking with diplomatic convention, and going in to meet Kim virtually blind, save for a few preliminary phone calls. It was almost posed as a meeting of personalities, not nations.
This approach is born of the distinctive narcissism of Trump's presidency, his desire to be seen to be a great, singular president – a president, that is, without precedent (has a US president ever denigrated his predecessors so frequently?). So he avowedly follows his 'feel', his 'instinct', rather than the rules and conventions of international diplomacy. Because he wants to be seen to be doing it his way. He wants to be seen to be, well, of epochal significance.
The result approaches a form of a political kitsch. The concerns and rhetoric seem grave – nuclear war, economic sanctions and so on – yet in Trump's hands they lack gravity. It is as if, in his overweening concern with self-presentation and spectacle, he lends what ought to be of political substance an ironic quality, as if we are not meant to take documents, commitments, treaties and so on quite seriously. In this, Trump really is unprecedented. The common criticism that used to be levelled at New Labour and Tony Blair was that their politics was soundbitten, a triumph of style over substance. Trump goes further: his is a politics of style as substance, of spectacle as meaning.
Still, his decision, prompted, it should be remembered, by South Korea, to engage with North Korea will hopefully presage a new era of international relations. And there is little doubt this most bizarre of summits is a start. But whether this potential new era will arrive because of Trump or in spite of him remains unclear.
Tim Black is a spiked columnist.
Picture by: Getty
To enquire about republishing spiked's content, a right to reply or to request a correction, please contact the managing editor, Viv Regan.