Neville Southall: the Homo Sovieticus of the Corbyn era
Why Momentum can't get enough of the former footballer.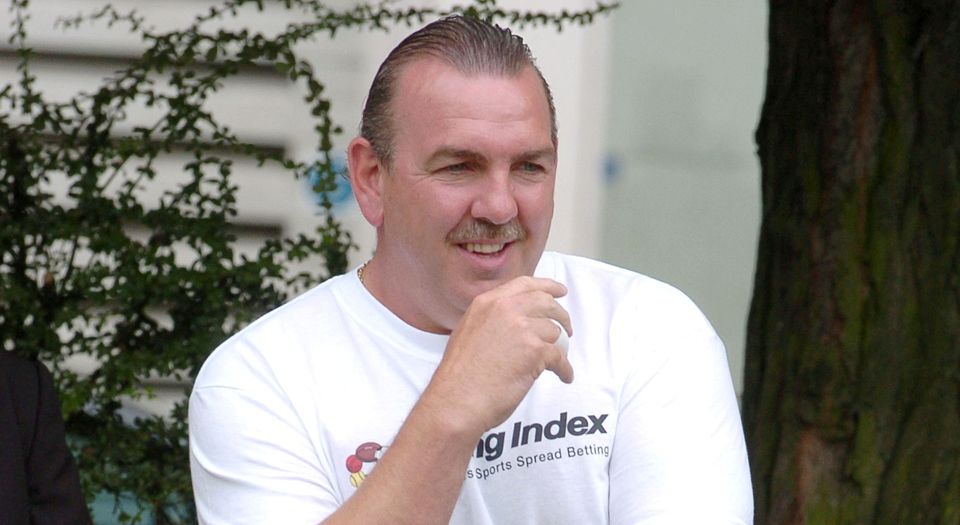 From Barry Gardiner to Ken Livingstone, Jeremy Corbyn's much-hyped youthquake has brought a surprising number of middle-aged and even pension-aged men back into the spotlight. And among these yesteryear types enjoying Corbyn-fuelled career revivals, none could be more curious than Neville Southall.
Over the past year, the 59-year-old former goalkeeper – who last played top-flight football when Manchester City were relegated to the Second Division – has been elevated from obscurity to become one of Twitter's most high-profile left-wingers. If you don't believe me, just look at this week's Guardian profile, which paints the Welshman as a new breed of revolutionary: sensitive, unselfish, and inscrutably egalitarian.
Yet the depiction of Southall as a working-class hero doesn't ring true. Instead, the undoubtedly kind-hearted football man – he does wonderful work at a special-needs school in Brexit-backing South Wales – has embraced the clichéd philosophy that has come to define today's elitist left. Think of him as a Homo Sovieticus for the Corbyn era.
So for all his Twitter posturing, Southall has had virtually nothing to say about Brexit: the once-in-a-lifetime event which has given the working class an unparalleled opportunity to reclaim their economic destiny by casting out technocratic elites and industry-crushing regulations (a vision which has been trashed by the Corbyn clique with its cowardly u-turn on Customs Union membership and links with the Single Market).
Instead, Southall heralds the fashionable and fetishistic causes that have come to define the trendy, Twitter-dwelling left – such as the deregulation of sex work (an admirably libertarian position but hardly a vote-winner on the doorsteps of Doncaster), open-door immigration, and the baffling politics of gender self-ID.
Looking through Southall's columns at Huck magazine – the mundane house journal of fake revolutionaries – the only concern of his that would likely resonate with working-class communities is the call for more NHS funding.
How did Southall become so popular with Corbynistas? My theory is that it's not so much about what he thinks, but rather how he thinks. Southall is now best known for his intense devotion to identity politics – a cultish faux-leftism where ideas are valued according to who's saying them; where all criticism can be deflected through childish appeals to ideological purity; and where free speech is replaced by a convoluted system of competing 'platforms', obliging anyone with a public profile to surrender their own voice in order to 'signal boost' the views of unrepresented minorities.
Read through Southall's Guardian interview and you will cringe at the praise for the man's supposed martyrdom, for his occasional sacrificing of his own right to an opinion in order to accommodate the whims of the postmodernist left. 'He would prefer I speak first to some of the groups he is trying to help rather than have the attention focus on him', swoons the interviewer as he discusses his difficulties in setting up the meeting.
And who are these vulnerable minorities for whom Neville has tossed his metaphorical coat over the puddle of privilege? The only one quoted by the Guardian is the jet-setting sex worker Jessa Jones, whose glamorous lifestyle would seem more at home in Cannes than Caithness. It is all a far cry from the days of Robbie Fowler risking his livelihood to raise the plight of sacked Liverpool dockers.
Neville plays another vital role for the faux-radical elite: a mustachioed 1980s (pre-Sky and Nick Hornby) footballer with an unmistakably proletarian backstory (he worked as a binman before making it big), Southall lends working-class credibility to a movement virtually defined by its affluence. Led by the likes of Seumas Milne, James Schneider and Matt Zarb-Cousin (the combined family wealth of whom could probably have purchased Southall's Everton in its heyday), class has always been the Momentum crew's Achilles' heel. Southall shakes that up, and they love him for it.
None of this is to say that Southall should be quiet. On the contrary. To my mind, it's refreshing to see a former sports star break with the orthodoxy of dreary corporate speeches and radio punditry. Likewise, Southall's work with excluded and bullied children in Wales is genuinely admirable. But let's not devalue the term 'radical'. When Southall hands over his Twitter account to the Corbynistas, he isn't a crusading maverick: he comes off more like a footsoldier of the Twittering classes.
Henry Jacobson is a writer.
Picture by: Getty
To enquire about republishing spiked's content, a right to reply or to request a correction, please contact the managing editor, Viv Regan.