Vanity Von Glow: the left eats its own
Meet the drag queen banned for defending free speech.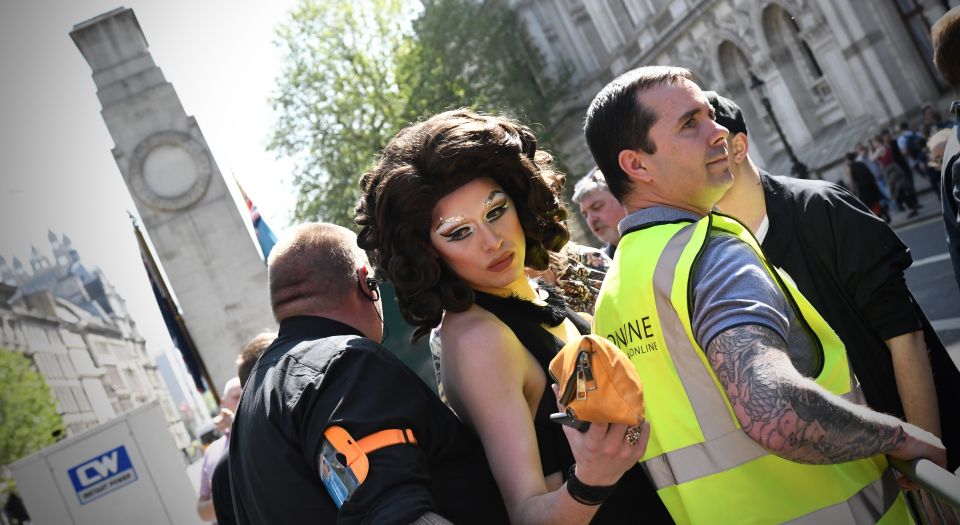 The ever-escalating intolerance of the liberal-left is one of the more peculiar aspects of the culture wars. By now we are familiar with the spectacle of self-proclaimed radicals who demand ideological conformity, who wield the hatchet of identity politics in order to divide humanity into increasingly segregated groups. Through social media, this powerful minority regularly penalises dissent. Often the most venomous campaigns are directed not at political opponents, but at those within the tribe who have deviated from the righteous path.
Just ask Vanity Von Glow, the drag queen played by Thom Glow, who has recently been banned from various London venues for appearing at the 'Day for Freedom' in May. This free-speech rally had been organised by Tommy Robinson, former head of the English Defence League. Because of the link to Robinson, the event was inaccurately branded a 'far-right rally' by many in the mainstream media. Von Glow took the view that free speech is not a partisan issue and made the courageous decision to perform. The backlash was as intense as it was predictable.
'The problem is that the far left don't just go for calling you names', Von Glow told Sky News after the boycott began. 'Their party trick at the moment is to go for your source of income. At the moment they've been making sure that my shows are cancelled. They want to see me unemployed, possibly they want to see me homeless. It's quite an aggressive tactic.' One cabaret venue, Her Upstairs, claimed that 'her alignment with such an event calls into question her motives'. Not content with cancelling all future bookings, it sought to smear her reputation through the fallacy of guilt by association.
Von Glow will break her London-wide ban next week at Comedy Unleashed, a monthly free-thinking comedy night that I run with Andy Shaw. When we spoke to her about the reaction from her peers, she said that she had anticipated some flak, but the extent of the vitriol had taken her by surprise. 'I'm still taking some fire from this, including from some friends', she says. 'I welcome their criticism. I prefer not to have the moral condemnation but at the same time they're entitled to that, too.'
Von Glow has even been branded a 'fascist'. It goes without saying that anyone who uses this label is either being dishonest or is ignorant of the word's true meaning. To her credit, Von Glow has remained conciliatory in the face of such slurs. 'Some groups have a heightened sensitivity around the discussion of free speech because they've been historically damaged by the effects of prejudice', she says. That conceded, she is adamant that 'free speech is the ladder we climb to get to enlightenment'.
That the 'Day for Freedom' was dominated by figures from the right is largely a symptom of the left's growing hostility towards the principle of free expression. When we first set up Comedy Unleashed, our press release emphasised our commitment to free speech. A writer for the Sunday Telegraph took this to mean that we had established a 'right-wing' comedy night. In truth, we have always been keen to represent a broad range of political views. Next week's show will not only feature Von Glow, a lifelong Labour voter, but also the Tory-supporting comedian, Geoff Norcott, and the pro-Brexit libertarian, Dominic Frisby.
But this automatic association of free speech with the political right now seems to be ubiquitous, causing many on the left to abandon the principle altogether. One columnist for the Guardian goes so far as to argue that free speech is 'not a value' but 'a loophole exploited with impunity by trolls, racists and ethnic-cleansing advocates'. To defend the right of unpleasant people to speak their minds is frequently, often wilfully, misinterpreted as a defence of the sentiments expressed.
This is why Von Glow's appearance at the 'Day for Freedom' was such a welcome counterweight to the right-leaning tendencies of the majority of the speakers. The crowd represented a diverse range of views, which would have been better served by a more eclectic line-up. As it was, Von Glow was stigmatised for sharing a stage with those who do not share her political outlook. 'People couldn't conceive that there could be a reason for attending, unless I agreed with everyone', she says. 'Does shaking someone's hand mean you are now polluted with the toxins of their ideology?'
Von Glow says a particular Bertrand Russell quotation has been on her mind since this controversy began. In The Problems of Philosophy, Russell cautions against the 'arrogant dogmatism of those who have never travelled into the region of liberating doubt'. Von Glow believes that part of being a socially responsible individual is to remain open-minded. 'But for that to happen', she says, 'I need everything to be on the table, including the things I find offensive. The truth is, there are a great many people who are not sitting at the table right now, and if you take a combative approach, they'll never break bread with you.' This seems as good a reason as any to perform at an event like the 'Day for Freedom'.
That Von Glow has been pilloried for standing up for her convictions reveals a great deal about the kind of crude political tribalism that she is attempting to resist. Many would have succumbed to the pressure and issued the expected apology. But Von Glow has remained true to her principles: 'I'm nearly 30 now and I'm more aware than ever of the limits of my own knowledge… I'm prepared to listen to people's concerns. But if I'm trying to work out my worldview, it'll be through free speech that I discover it.'
Andrew Doyle is a stand-up comedian and spiked columnist. He is also the co-founder of Comedy Unleashed, London's free-thinking comedy club. Follow Andrew on Twitter: @andrewdoyle_com
Vanity Von Glow will be appearing at Comedy Unleashed at the Backyard Comedy Club in Bethnal Green, London, on Tuesday 12 June. Tickets are available here.
Picture by: Monocle Inc.
To enquire about republishing spiked's content, a right to reply or to request a correction, please contact the managing editor, Viv Regan.