Veganism and the politics of purity
The rise of militant veganism reflects our misanthropic age.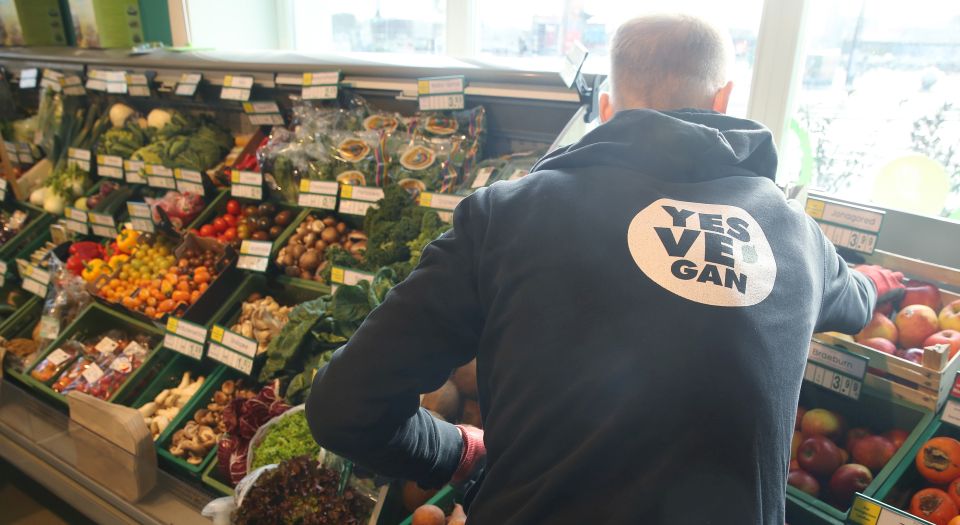 The modern-day cult of veganism has been making its mark again. On Tuesday, it was reported that a family butchers in Kent has been threatened with petrol bombs in a campaign of intimidation by animal-rights activists. Demonstrators have been spraying 'Stop Killing Animals. Go Vegan' and daubing the logo of the Animal Liberation Front on the front of Marlow Butchers in Ashford.
The business has received dozens of threats, with one reading: 'Chopping up the corpses of innocent animals and using their flesh for food is barbaric.' This is no isolated incident. Attacks by vegan activists on small businesses are on the rise, according to the Countryside Alliance.
Elsewhere we read that 'influencer' vegan chefs and social-media stars, such as Ella Woodward and Stella Rae, have been bullied online by fundamentalist vegans who demand 'perfect veganism'. Woodward's 'dirty' transgression, for instance, has been to offer non-vegan food at her new restaurant, while the activist and chef Jack Monroe has been abused for letting her eight-year-old son cook a sausage casserole. When a photo of a paella dish from one of Monroe's old cookbooks was posted online, Monroe's Facebook page was 'flooded with death threats and harassment within minutes', according to Monroe.
Despite the fact that these celebrity names introduce and promote veganism as a viable lifestyle, this clearly isn't enough for perfect vegans. They demand total purity above any long-term effectiveness of these chefs in spreading veganism.
You will recognise this peculiar set of priorities. In putting ideological purity above the goal of transforming society, perfect veganism resembles the Momentum movement. For both, purging the unclean is more important than changing the outside world. In many respects, perfect veganism epitomises the spirit of our times.
Perfect veganism's demand for unswerving adherence to a belief system is fitting for an age in which the middle, in which the grey areas of doubt, ambiguity and non-committal reflection, are vanishing. Perfect veganism is perfect for an era of religious and political extremism, of polarised judgements, in which everyone is completely spot on or utterly wrong, everything terrible or brilliant. Perfect veganism is perfect for an age of competitive moralising, for people who deem themselves better than vegans, who themselves are better than vegetarians, who are in turn superior to us wishy-washy pescetarians. At the bottom sit omnivores. Scum. Sub-human scum.
Ours is a time of righteous intolerance and indignation, a mood that finds a natural home in perfect veganism, as the opening story about the butchers in Kent tells us. Those vegan 'influencers' who have dared to sit in the middle, to be liberal, to have the temerity to allow others to eat meat, have indeed been subject to online vitriol; online hatred will be deemed the defining phenomenon of the 2010s.
Online hatred reflects an age of envy and malice, in which people feel they can spew nastiness towards fellow humans just because they have right on their side. Or even worse: when they have right and compassion on their side. This is why those with the most ostentatiously caring politics are the most spiteful and rancorous when it comes to online discourse. This is how animal-rights campaigners and perfect vegans justify their intemperate behaviour: because they care more than you.
Veganism, perfect or not, epitomises the zeitgeist. It is an ideology based on the self – the self being a representative of a touchy, morally superior herd. Offend my beliefs and you offend me — so goes today's thinking. You are what you eat, especially for fundamentalist vegans.
Veganism is befitting of an era of vanity and solipsism, of a time of intolerant, malicious, self-important, Not In My Name, #MeToo, 21st-century identity politics taken to the extreme. Because these days everything is taken to the extreme.
---
On Gammon, again
Some readers took to Twitter last week to object to my use of the word 'gammon', responding that it wasn't a slur on working-class people. Instead it refers to middle-aged white men who go red in the face when voicing opinions on Brexit, they say.
This is true, but my point was that among the wealthy liberal-left it has become acceptable to laugh at people poorer than you. Some 'gammon' types who voice unfashionable opinions about 'too many immigrants' may be middle class, but they also might be that type of squeezed middle class, that sizeable demographic of families in the south-east who moved out of their native London because they could no longer afford it.
Other 'gammon' types may also be lower-middle class. There are working-class types, too, remember, who have also felt the negative effects of EU membership. Whatever the case, those doing the mocking by using the term 'gammon' are invariably richer and more powerful than their targets. Some 'left-wing' commentators who have used that term this month are millionaires.
'Gammon' hit such a raw nerve because ordinary middle-class and working-class Brexit-type people with real-life stories to tell are sick of being disparaged and called ignorant morons by aloof commentators with second homes in Tuscany. So my point stands: it is not a good look to mock the weak. Especially if you call yourself a socialist.
---
In defence of the French
What with France trying to make Brexit as expensive and as difficult as possible – The Times reported yesterday that it is blocking Britain's attempt to remain part of a European Union security system – one could be forgiven for thinking that France is in the grip of an Anglophobic frenzy.
Nothing could be further from the truth. At least, this is how it strikes me in Dunkirk, where I am writing these words.
Whereas we Brits like to think of the French as rude and snivelling, this stereotype applies mainly to Parisiens. In my experience, in recent years in towns in the Pas-de-Calais and French Flanders, I have found northerners by contrast to be extremely friendly. In tabacs, bookstores, libraries, galleries and even large chain stores such as Furet du Nord I have always been met with smiles, courtesy and infinite patience with my 'good moaning' French.
So don't be hasty to judge the French by their politicians, or by the inhabitants of the capital. Indeed, in our post-EU future, I hope we can become good neighbours. Because, after all, as De Gaulle wisely foresaw, we were never going to make good housemates.
To enquire about republishing spiked's content, a right to reply or to request a correction, please contact the managing editor, Viv Regan.