Blue Waves and Impeachment? Dream on, Democrats
The Democrats' mistake: embracing an elitist politics of identity.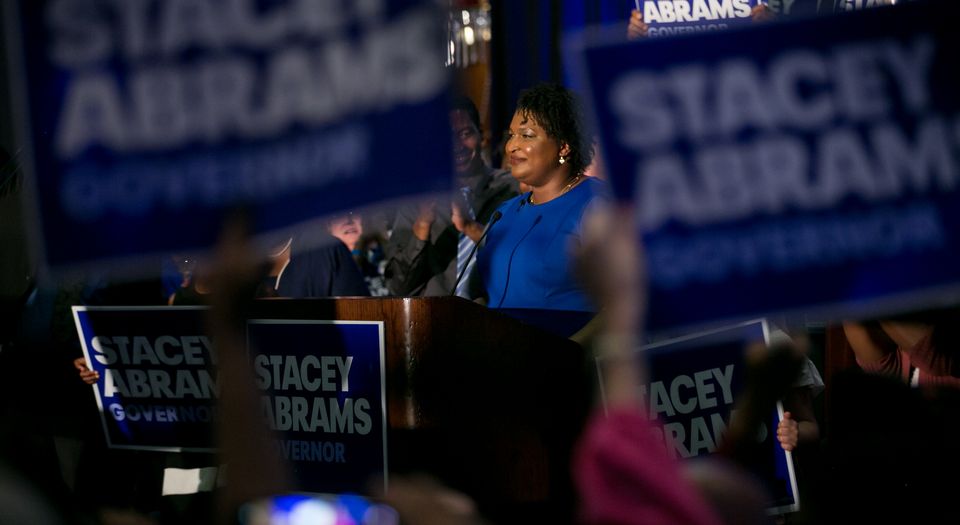 With her victory in the Georgia Democratic Party primary, Stacey Abrams has made history by becoming the first black woman to win a major party's nomination for governor of a state. Abrams' triumph thrilled many Democrats. Some saw her win as a sign that the Democrats were transforming into a new, 'progressive' party, ready to stand up to President Trump.
Abrams is just one example that optimistic Democrats point to as evidence that the party's prospects are looking up. There has been a lot of talk about a 'blue wave' coming in November, with the Democrats potentially making big gains and overturning the Republicans' majority in the House of Representatives, and maybe in the Senate, too. Winning either chamber would likely lead to investigations of Trump, even possibly his impeachment – and nothing gets Democrats more excited than the prospect of flooring Trump.
We have certainly seen favourable signs for the Democrats. The party has won some high-profile special elections over the past year, including a Senate seat in conservative Alabama, and a House district in Pennsylvania that Trump carried by 19 percentage points. Democratic turnout has been high in recent elections, energised by opposition to Trump. At the same time, many leading Republicans, like House speaker Paul Ryan, are throwing in the towel and retiring from politics. In fact, 39 House Republicans say they are leaving instead of running for re-election – the highest number of departures since 1930. And then there is some history on the Democrats' side: in a president's first term, the opposition party usually makes gains in the first set of mid-term elections.
While these are genuinely positive indicators for the party, 'blue wave'-predicting Democrats are looking too much on the bright side of life. Polls of generic party support show Democrats' once-large lead over Republicans has evaporated in recent weeks, down to three to four percentage points according to the Real Clear Politics average. Over the same period, Trump's job approval rating has steadily improved.
This has left some scratching their heads: why aren't the Democrats doing better? Trump is widely seen as a bumbling idiot (and provided lots of evidence for that impression); he's been under investigation for much of his presidency; and he has very few accomplishments to his name. Just as many thought it impossible that Hillary Clinton could lose to Trump in 2016, many today are still flummoxed by the man with the orange combover.
The easy answer is the economy. Unemployment is at an historic low (if you ignore the historically high numbers who have quit looking for work), and stock markets are up since Trump's inauguration. Rightly or wrongly, Trump is getting credit (wrongly, I'd argue: economic trends precede him and are beyond his control).
But there's more to it than temporary economic contentment. The most immediate cause of the Democrats' inability to make significant, lasting gains has been their lack of any positive message, beyond hating Trump. The public image of the Democrats is a party in perpetual outrage over Trump, desperately hoping that the Mueller investigation will lead to his downfall. Many liberals continually overreach, talking about Trump's 'fascism' and the incipient 'fall of the republic', and fashioning themselves as the 'Resistance'. (I have to say, this has got to be the laziest Resistance in history; forgoing clandestine cells and gun-running, this one prefers screaming at their TVs and the occasional women's march.)
The 2016 election threw the Democrats for a loop, and they still haven't figured out how to move forward. Thousands of former Democrat voters chose Trump over Hillary, and the party became a smaller minority in congress and state houses – these realities should have led to soul-searching, but there hasn't been much evidence of that. Instead, the leadership assumed that the Mueller investigation and Russia collusion allegations would pave the way for their success in the midterms. But now, as some leaders realise the 'blue wave' may be a mirage, they have been grasping for a new answer. The latest trial-balloon has been to criticise Trump for higher gasoline (petrol) pricings, but there is only one problem with it: as most voters recall, the Democrats have spent years arguing in favour of higher prices at the pump, in the name of fighting climate change.
The more fundamental problem facing the Democrats is that their support among the working class, especially the white working class, continues to erode. Whites without a college degree (a proxy for the working class) cast 44 per cent of the votes in the 2016 election, the largest single segment. It is difficult to establish a majority of voters without that support. Yet the Democratic Party's strategy is to focus on policies and cultural stances that are designed to appeal to voters with college degrees.
Summarising his research in the Washington Post, Professor Joshua Zingher finds working-class whites have fled the Democrats. 'The Democratic Party is increasingly a coalition of professional-class whites and members of ethnic and racial minority groups', according to Zingher. And in this coalition, it is the affluent elites who are calling the shots. Democrats, says Lee Drutman of the New America Foundation, are becoming 'the party of urban cosmopolitan business liberalism'.
The Democrats' support for black and Latino minority groups, along with the Republicans' hostility or tone-deafness towards those groups, has enabled the Democrats to continue to win their support. But this 'upstairs-downstairs' Democratic coalition is not as stable as it might seem, and, from time to time, class conflicts emerge. In California, a proposed bill (SB 827) that would have relaxed zoning laws to allow more affordable housing near transit stations was nixed by elected Democrats in affluent areas. In New York's Upper West Side, white parents resisted a proposal that would have required a quarter of places in local middle schools to be allocated to (largely black) students who score poorly on state tests.
The political divide between white workers (increasingly drawn to the Republican Party) and non-white workers (who tend to stick with the Democratic Party) is a problem neither party is able to address. In theory, Democrats could try to craft policies that appeal universally, to all irrespective of skin colour. After all, the issues that Trump's victory among white workers highlighted, and Trump was able to exploit – such as lower life expectancy, economic insecurity, and declining status – also affect sections of the non-white working class. But that's not what the Democratic leadership cares about. Instead of a unifying platform around broader working-class interests, the Democrats are doubling-down on divisive identity politics. The buzz around the latest crop of Democratic candidates has been about biological features rather than political positions. The celebration of Stacey Abrams' nomination victory was focused more on her race and gender than her views. And Abrams' political approach embraced identity politics: she played up her African-American background, emphasised her ability to mobilise the non-white electorate, and dismissed the idea of trying to win over 'very middle-of-the-road' voters.
From the Democrats' identity-politics perspective, all groups are petitioned on a narrow, group-specific basis, with one exception – white workers. Any attempt to win back the white working class, especially those who voted for Trump, is deemed a concession to the 'privileged' and 'racist', and an abandonment of the 'marginalised' (women, blacks, Latinos, gays and lesbians, and so on).
The emergence of Trump is forcing the Democrats to choose where they stand. The major dynamic in politics is the emergence of a new populism, in the US and globally, and it is a movement that is bigger than an individual political figure like Trump. Like all political actors, the Democrats will have to define themselves vis-à-vis that populism. Right now, it seems pretty clear they are positioning themselves to rally the US elite around opposition to Trump and the broader populist tendency.
It is this anti-populist context which explains the Democrats' unwillingness to abandon the particularism of identity politics in favour of something more universal and unifying. As an established political elite, and one that has retained more coherence than the Republicans, leading Democrats are instinctively appalled by Trump and his voters, and seek to restore the old order. Furthermore, the liberal elite long ago threw itself wholeheartedly into diversity ideology to give itself a sense of moral purpose, and that ideology is built on the differentiation from, and denunciation of, its opposite – a 'deplorable' group of lower-class whites.
The Democratic Party is too far along the path of identity politics to turn back now. Besides, identity politics provides a gloss of radicalism and 'caring' to a party that would otherwise be exposed as a thoroughly elite project.
Of course, it is too early to write off the possibility of Democratic Party electoral gains in the short term, including potentially taking control of congress in the midterms in November. Polls, as we know, can be wrong. Trump remains volatile and prone to error, and, despite improving recently, more still view him unfavourably than favourably. Who knows, maybe Mueller will drop a bombshell.
And, if it so happens that the Democrats fare poorly in November, you know they can always blame the Russians. Anything to avoid facing up to their own weaknesses.
Sean Collins is a writer based in New York. Visit his blog, The American Situation.
Picture by: Getty Images.
To enquire about republishing spiked's content, a right to reply or to request a correction, please contact the managing editor, Viv Regan.