Abortion in Northern Ireland: let the people decide
Northern Irish women's rights can't be won by Westminster.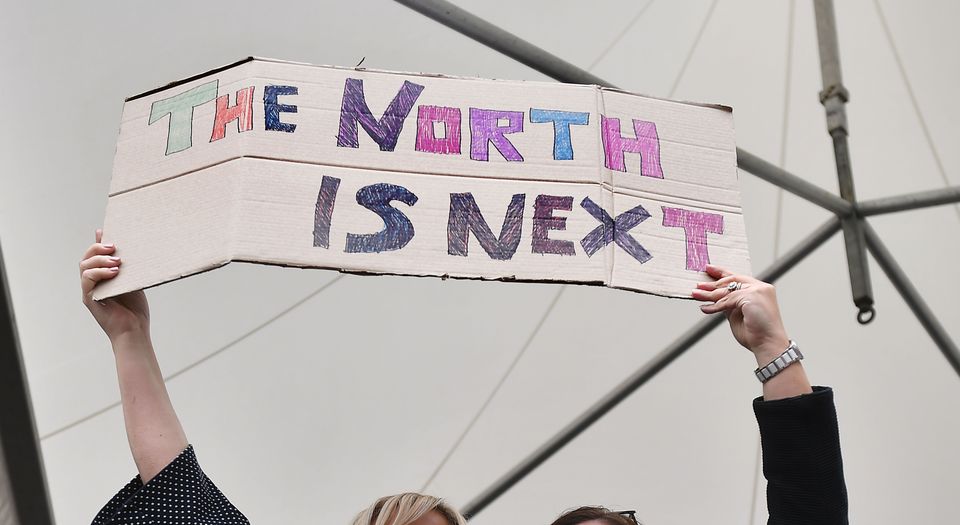 Women in the Republic of Ireland will soon be able to access (limited) abortion services in their own country, thanks to the historic win in last week's referendum. But for Irish women living an hour up the road in County Down, abortion is still illegal.
Thanks to the long history of British colonisation, women living in the six counties of Northern Ireland are subject to different laws than their sisters down south. While the celebrations in Dublin and across the Republic of Ireland mark a historic win for women's bodily autonomy, Northern Irish women are still forbidden from accessing abortion services, even in cases of fatal fetal abnormality, rape and incest.
This is because Northern Ireland is not subject to the UK 1967 Abortion Act. Northern Irish politicians have devolved legislative powers, meaning that abortion is outlawed under the 1861 Offences Against the Person Act, which states that any woman seeking to 'procure her own miscarriage' will be 'guilty of a felony, and being convicted thereof shall be liable… to be kept in penal servitude for life'. Police in Northern Ireland have been known to raid women's homes in search of illegal abortion pills. One young woman made headlines in 2016 when she was handed a suspended jail sentence after being reported by her housemates for taking abortion pills that she purchased online.
Inspired by the win for abortion rights in the south, many are now calling for change in Northern Ireland. The problem is that the Stormont assembly has been inactive for over a year, following the breakdown in relations between Sinn Fein and the Democratic Unionist Party (DUP). And so some British MPs and commentators seem to think it's a good idea to force reform on Northern Ireland from Westminster. Instead of encouraging Northern Irish politicians to call a referendum, both Labour and Tory MPs are pushing for Theresa May to take action.
On BBC Radio 4's Today programme, Labour's shadow attorney general, Baroness Chakrabarti, said this was Theresa May's 'feminist test', insisting the PM should 'legislat[e] without further delay'. She also blithely dismissed the idea that this issue should be put to the people at all: 'This is one of these great big existential debates: democracy or the rule of law. You can't have democracy without fundamental human rights, and the women of Northern Ireland have suffered long enough.'
Chakrabarti isn't the only one calling for May to sidestep democracy in the name of suffering women. 'They will spout stuff about devolution', Labour MP Jess Phillips said, but 'political will is what it takes'. 'The government must act', tweeted Labour MP Dawn Butler, adding that Labour was ready to draw up legislation to make it happen.
No doubt, some of the pressure from Labour is driven by a desire to bring May into conflict with the pro-life DUP, which currently props up her government. But there is a strong whiff of anti-democracy to the demand that May act. After all, Butler, Chakrabarti and Phillips are among those politicians who have spent the past three days celebrating the triumph of democracy in Ireland after spending over two years raging against the Brexit vote.
What these politicians seem to miss is that attitudes to abortion rights are changing. The landslide Irish vote for the repeal of the Eighth Amendment, which banned abortion, reminds us that, for too long, politicians have underestimated Irish citizens' appetite for change. Indeed, the DUP continues to downplay the desire for change in Northern Ireland. But if the referendum in the south was anything to go by, there's every chance that those in the north would vote for legalisation if the question was put to them. It might just prove how out of step the likes of the DUP and Labourites in Westminster are with public opinion on this issue.
Northern Irish women have been demanding a referendum on abortion rights for years. It's now time for pro-choice activists across the world to stand in solidarity with them and push for a vote as soon as possible. Politicians in Westminster can play their part, and encourage Northern Irish politicians, once Stormont is back up and running, to give their voters a say on this profound political and moral issue. But Irish rights are a question for Irish voters, and Irish women don't need the help of the British prime minister or British peers to win their freedom. This is a question for the people.
To enquire about republishing spiked's content, a right to reply or to request a correction, please contact the managing editor, Viv Regan.