Turning monsters into victims
Saying school shooters are the products of a warped society lets them off the hook.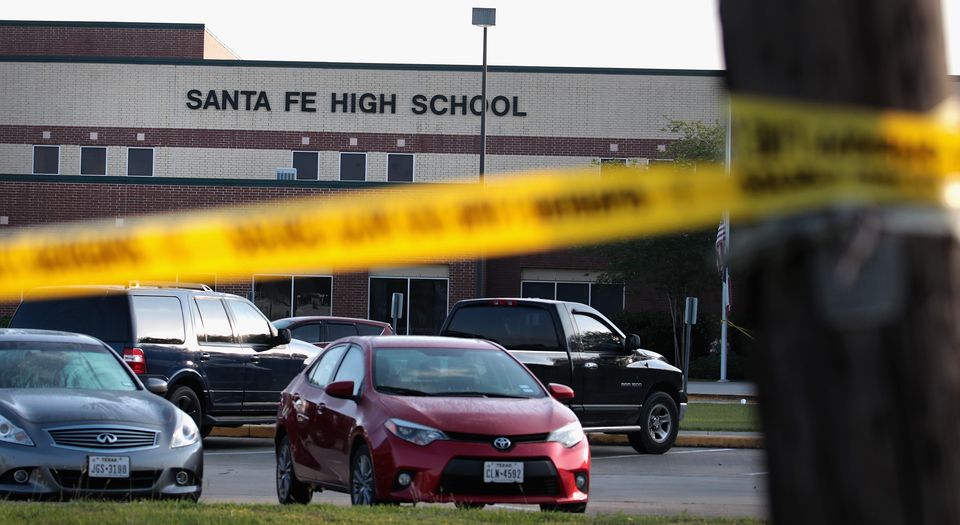 The scene seemed eerily familiar. Yellow police tape in front of a school. Inside – broken glass and door handles that have been ripped off, posters hung halfway off the walls, pulled down in the rush to escape. The echoes of voices moving from casual chatting to concerned questions to screams, all in the space of a minute. Now, just horrible silence.
Santa Fe High School in Texas is stuck in the big spaces between Houston and Galveston. Many of the students would have complained that little ever happened there, though it did suffer under Hurricane Harvey. Diversions for its 12,000 people might be football games and barbecues on the edges of Highway 6. But last Friday, Dimitrios Pagourtzis, carrying a shotgun and a 38-calibre pistol, opened fire on an art class, killing eight students and two teachers, and injuring 13 others.
When the Parkland shooting occurred, only a few protesters in Santa Fe waved pro-gun-control placards in solidarity. This is not an upper-middle-class area of Florida. This is Texas. In the 2016 election, an overwhelming majority of voters in the Santa Fe precinct supported Donald Trump. Concealed carry is allowed and many openly display holsters on their belts at Whataburger.
What can be said about this horrific incident? There were heroes. Christian 'Riley' Garcia, 15, reportedly held the door shut as the shooter tried to gain access to the art classroom. He died when he was shot through the door.
And there was resilience. Rome Shubert, pitcher for the school baseball team, was shot in the back of the head. He returned to the field the next day for their regional playoff game. These are tough people.
But why did it happen? Santa Fe High School had a shooting plan and armed officers. Many outsiders were of course quick to blame guns and the ultimate force for evil in liberal eyes, the National Rifle Association. Talkshow host Jimmy Kimmel, who can afford armed guards, immediately lectured Texans about guns.
But the 17-year-old shooter stole legally owned guns from his father. How would these weapons have been 'controlled'? Perhaps the father could be prosecuted for not keeping his guns out of his son's hands. But what of the (already illegal!) pipe bombs the shooter had? Make another law against them? The emotive, irrational and now repetitive blaming of the weapons used, or the NRA, which has faced more than one accusation that it could have somehow prevented the attack, is feeling tired, and Texans are having none of it.
That said, the conservative responses to this attack weren't sensible either. The shooter's father, in disbelief about what his son had done, blamed bullying. Hugh Hewitt, a conservative commentator and author, suggested that trenchcoats signified 'creepy' behaviour. Oliver North, the president-elect of the National Rifle Association, suggested Ritalin could be causing boys to carry out school shootings. These ideas felt just as desperate.
A new claim is that misogyny is at the heart of this problem. Commentators have tied the Santa Fe shooting in with the deadly van attack in Toronto a few weeks ago. As reports surfaced suggesting that the shooter had unsuccessfully asked a girl out on a date prior to the shooting, British pundit Gary Younge wrote: 'Nearly every mass killer is a man. We should all be talking more about that.' The Guardian's Jessica Valenti wrote: 'How many more tragedies have to happen before we recognise that misogyny kills? The longer we ignore the toxic masculinity that underlies so many of these crimes, the more violence we're enabling.'
The posturing of these new moral crusaders was somewhat punctured when others at the school suggested this was all just a rumour.
At Santa Fe, as happened at Parkland, the shooter was captured alive. And yet no one seems to blame him for pulling the trigger. Pagourtzis is presented as either a victim of bullying or Ritalin, or as warped by the patriarchy, or video games, or something. In a society where everyone is helpless and adrift, no one even seems to notice the inhuman monster who committed these enormously destructive murders. Who talks about Nikolas Cruz, the shooter at Parkland, who lives? In the debate that rages after each school shooting, there is little recognition that someone – rather than something – is responsible.
In our therapeutic culture, these killings are seen almost as cries for help. And if that's the case, then we should expect more of them. We need to insist that the moral responsibility for school shootings lies not with misogyny or Ritalin or the NRA, but with the horrific monsters who commit them. Otherwise we risk validating their own warped perceptions.
As Dylan Mittelsted, a 17-year-old sophomore at Santa Fe High, put it: 'All I can really say is that it's not the gun that shot those people, it's the one behind it.'
Kevin Yuill teaches American studies at the University of Sunderland. With Joe Street, he is the editor of The Second Amendment and Gun Control: Freedom, Fear, and the American Constitution. Buy it here.
To enquire about republishing spiked's content, a right to reply or to request a correction, please contact the managing editor, Viv Regan.