The siege of Israel
The demonisation of Israel is nurturing a new kind of conflict.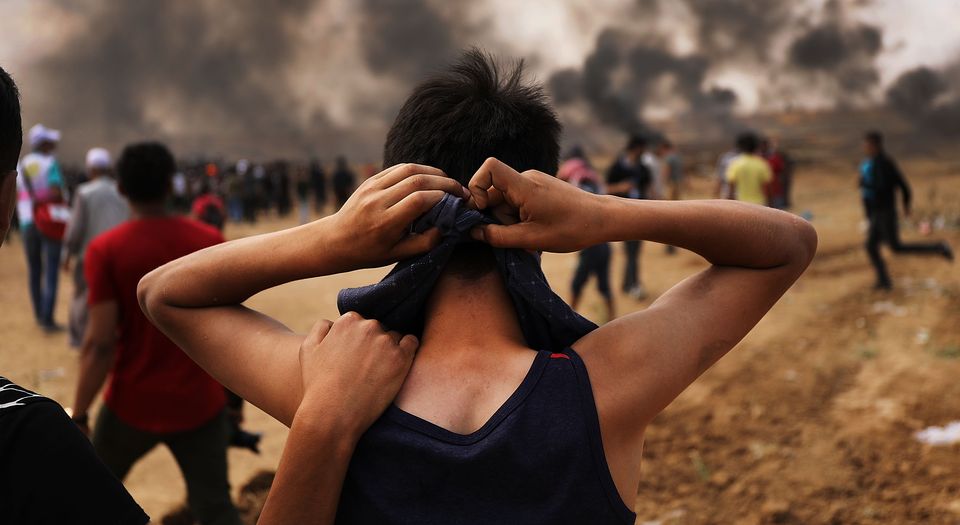 There is a grim irony to the florid condemnations of Israel being made by Western observers and politicians following the killing of 60 Palestinians at the Gaza border yesterday. Many of these people who are so disgusted by Israel's behaviour, so agitated by what it has done that they plan to take to the streets later today to register their fury, have played a significant role in the great beleaguering of Israel in recent years. In the transformation of Israel into an illegitimate entity. In the reduction of it to a uniquely 'rogue' state. In the treatment of it as fair game for isolation, boycotting, attack, and possibly destruction: Israel is the only nation on Earth whose erasure can casually become a topic for dinner-party chatter.
And you cannot beleaguer a state like this and then feign surprise when said state feels beleaguered. You cannot contribute to the moral isolation of Israel and then be shocked to discover that Israel feels isolated, and fragile, and possibly on edge, and consequently deeply concerned with defending its borders – borders that so much of the world hates or at least contests – from a hostile incursion. At least, if you are a serious person you cannot do this.
There are two ways to look at the awful events that unfolded at the Gaza-Israel border yesterday, in which 60 Palestinians were killed and more than 1,000 injured. The first is to view them in isolation, as a simple case of wicked Israelis assaulting good Palestinians. A story of a nasty military force laying waste to human life because that is what it always does, and what it likes to do, judging by some of the commentary about the 'hatred' exhibited by IDF soldiers and their taking aim at anyone 'born to non-Jewish mothers'. This is what much of the reportage and commentary have done: rent yesterday's events from a broader story and treated them as simply a case of evil and good. If these observers add any context, it is only President Trump's opening of a US embassy in Jerusalem, which they cite as the trigger of this latest episode of Israeli wickedness. Beyond that, all we have on the Gaza-Israel border, apparently, is a state that is especially barbarous and a people that is uniquely victimised: Goliath and David.
But the second way to view yesterday's tragic events is as the bloody offspring of the siege of Israel. As the latest, quite easy-to-predict consequence of the beleaguering of Israel both physically, in the region itself, and morally, by much of the Western intellectual elites who in recent years have come to view Israel as the key source of the world's troubles, and even to question its validity as a nation. Every nation can be expected to defend its borders against a threatened and attempted hostile incursion; a nation whose existence is continually called into question, by everyone from extreme Islamists to Western thinkers, might be anticipated to defend its borders with a particular concern.
Recent political shifts in the Middle East, in particular the growing influence of Iran through both the vacuum of post-war Iraq and in the civil war in Syria, have contributed to a situation where Israel senses much hostility around it. From Hezbollah in Lebanon, emboldened by the key role it has been called on to play by Iran and Assad in the Syrian conflict, to Turkey, where President Erdogan has publicly regretted Turkey's peace deal with Israel in 2016 and now frequently refers to Israel as a 'terror state' and practitioner of 'genocide', to Hamas in Gaza, also backed by Iran and which has become increasingly willing to confront Israel on its border over the past two months, Israel isn't imagining things when it says it has enemies at its doorstep. A key problem has been the relentless internationalisation of the Middle Eastern region, which has caused quakes and shifts that have led to Israel sensing the rise of those who do not only oppose it politically, but existentially, too.
On top of this latest dynamic of regional isolation there is also the global isolation, or at least global problematisation, of Israel. Israel is frequently singled out by Western observers, academics and activists as uniquely destabilising and destructive. They harangue the UN to condemn Israel, which it does, and they call on their own political leaders – some of whom, in particular in the US and the UK, have caused far more instability in the Middle East than Israel has – to distance themselves from Israel, to reprimand it, to punish it in some way. Through BDS, Israel is subjected to a form of cultural apartheid no other nation has to suffer. All of this adds up to a quite serious campaign of moral delegitimisation; an influential effort to question the very nationhood of Israel. Around its borders, a physical siege; in many parts of the world, a moral siege; this is the siege of Israel, and it is one that is undeniably disproportionate to the reality of what Israel does in comparison with certain other states around the world.
In many ways, the Gaza protests at the Israeli border, which have been going on for weeks now, represent a physical manifestation of a broader moral effort to erase Israel's claims to moral authority or even territorial integrity. Hamas's sending of large numbers of protesters to tear down the border fences with Israel is in a sense green-lit by influential outsiders' depiction of Israel as a singularly evil entity whose political processes ('apartheid') and origins (a 'racist' assault on Palestinian statehood) make it ripe for opposition, even assault. The tragedy of yesterday's Palestinian deaths is that these individuals are largely collateral damage in an anti-Israel spectacle that is incentivised by today's fact-lite, highly moralistic anti-Israel sentiment – a sentiment that finds as much expression in trendy campuses and cafés in the West as it does on the Hamas-ruled streets of Gaza.
Should Israel have let the protesters tear down the fences? And enter Israeli territory? And in the process call into question the very integrity of the state of Israel? If people's answer to these questions is 'Yes', then they are asking of Israel something they are unlikely to ask of any other state on Earth. And that is to judge Israel by a double standard, by the ultimate double standard.
Brendan O'Neill is editor of spiked. Follow him on Instagram: @burntoakboy
To enquire about republishing spiked's content, a right to reply or to request a correction, please contact the managing editor, Viv Regan.