Shaming service staff goes viral
Some millennials think little of hectoring low-paid workers.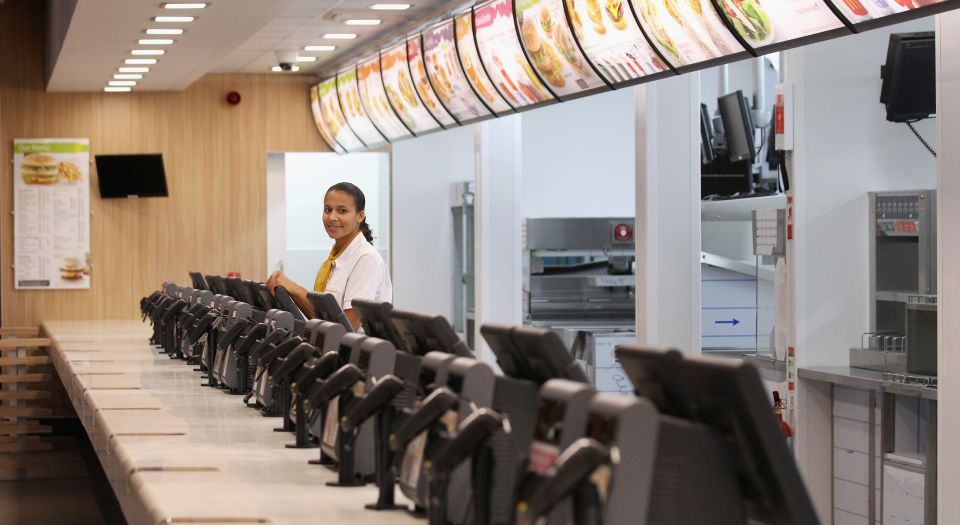 Judging by reports in the press last week, happy slapping is making a slight return. Or should that be McHappy Slapping? An uploaded clip of a young customer in McDonald's embroiled in a heated argument with a McDonald's worker went viral. It's one of those daft clickbait videos we can all feel smug about because at least we're not behaving like that. There was some queasy class voyeurism at play: bad behaviour in McDonald's confirms middle-class prejudices about the sort of people who eat in such places. In the grand scheme of things, the behaviour in the clip could be viewed as a case of minor aggravation for McDonald's staff; just the young acting foolish.
And yet, on another level, the incident was quite extraordinary. It consisted of a young female customer going behind the counter to harangue staff for being late with her order. The woman flicks a member of staff's hair and then there is a brief push-and-shove retaliation. It is a brief outburst, yes, but it also seems to indicate how basic social solidarities have eroded in recent years.
Publicly shouting at workers as if they are lowly serfs is designed to humiliate someone earning a crust. There has traditionally been a strong moral code in society regarding treatment of staff in the service sector. It has long been considered bad form to act rudely and aggressively to staff in cafés and restaurants. It was considered even worse form when individuals from similar backgrounds talked to other wage workers with derision and contempt. Wealthy entertainers from humble backgrounds, like Liam Gallagher and Jim Davidson, often find themselves being criticised for getting stroppy with service staff. There is a sense that such behaviour breaks social solidarities, and class ones, too.
It is for this reason that the McDonald's incident struck a chord online. In the past, through their shared experience of pay, conditions and trying to maintain a livelihood, wage earners felt they had something in common. That common interest once acted as a powerful social glue, across the generational divide. It also ensured that, more often than not, ordinary people would seek to make other people's working lives easier rather than more difficult. Has this changed?
It would be nice to think the McHappy Slapping was a one-off, a rare moment of madness. If only. Increasingly, young people seem quick to kick off against adults in work roles. I've witnessed numerous 'how dare you!' rants against bus drivers, shop workers, ticket inspectors and takeaway staff. Oddly, workers in the lowest paid jobs now seem to be viewed by some as authority figures to be shouted down and disrespected. One of the most disturbing features of the 2011 English riots was how youngsters were physically destructive to people and businesses within their own communities, whether it was a cornershop or the local barber. These were extreme incidents, yes, but they burst to the surface because social solidarities have been weakened.
The demise of social solidarities has gone hand-in-hand with a rise in therapeutic norms and the promotion of self-esteem in schools. The outcome is the encouragement of emotional incontinence and an infantilised view of the self. Young people have been socialised into a culture where it is considered unacceptable that adults or anyone else should constrain their immediate wants and demands. There is a pervasive grievance culture that insists nobody should be in a position of authority over someone else, whether that be a teacher in a classroom or a McDonald's staff member asking you to wait for an order. The obsession with self-esteem, the centrality of 'individual needs' in pastoral care, has had a very damaging impact on some young people. It has robbed them of the norms required to constrain their behaviour, especially when dealing with adults in public.
It isn't only young people who see others as authority figures ready to be challenged and shouted down. Many adults also seem to lack basic solidarities when it comes to other people's jobs. As Jon Ronson observed in So You've Been Publicly Shamed, there is this new trend where people are sometimes destroyed, not by the government or big businesses, but by other people. Whether it is the Twitterati hounding out government officials or newspaper columnists, middle-class parents demanding headteachers get the push, or journalists setting up petitions to get other journalists fired, demanding that others get the chop, often just because they have said something you disapprove of, has become a nasty spectator sport. Too many social-media activists seem unaware of basic workplace solidarity: that many people are one pay cheque away from penury. This is why encouraging someone else's sacking is one of the worst things you can do. Tragically, many perma-outraged millennials consider it the first thing you should do.
This me-first grievance-mongering, this 'how dare you' pantomime ritual, is a sign of bad faith. It is a narcissistic display at the expense of others. The obsession with individual needs, so central to therapeutic norms, continues to have a corrupting influence. It needs to be slapped down.
Neil Davenport is a writer based in London.
Picture by: Getty
To enquire about republishing spiked's content, a right to reply or to request a correction, please contact the managing editor, Viv Regan.