Arsene Wenger: a reign of two halves
The Arsenal manager was a revolutionary who became stuck in his ways.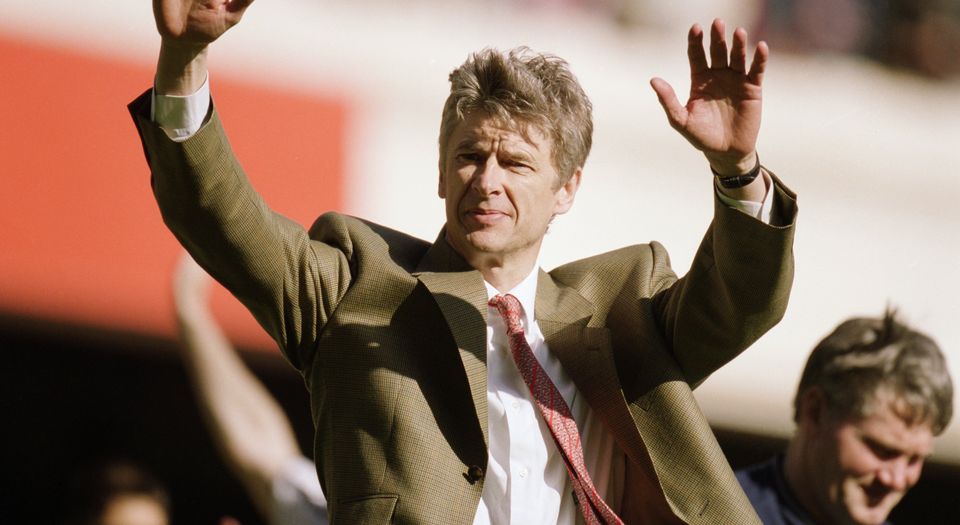 It's time to retire the Wenger Out placards and stand down the attack dogs of Arsenal Fan TV; time for the frothing tirades of Troopz, Claude and Mr DT to be 'put beyond use'. The 22-year tenure of Arsene Wenger is over. But will he be remembered as a football revolutionary or, as Jose Mourinho put it, a 'specialist in failure'?
Now that Wenger's departure has been confirmed, the frustration and bile expressed by many Arsenal fans has given way to gushing valediction. David Dein, the former Arsenal vice-chairman, has said it's like 'a star has dropped out of the sky'. Martin Keown, the former Arsenal central defender, said Wenger would be 'seen as a great visionary'. Personally, I never swallowed the myth that Wenger's style was the 'right way' to play football, cut from the same cloth as Ajax's totaalvoetbal or Barcelona's tiki-taka. The right way to play football is to score more goals than the other lot. The point is to win; there are no prizes for artistic merit.
However, even I would concede that, when he first arrived in England, Wenger was a trailblazer. He introduced the English game to sport science, performance analytics and grilled broccoli, all of which was considered exotic and revolutionary at the time. Wenger won a generation of English acolytes with his footballing philosophy, a desire to play entertaining, passing football combined with an almost zealous disdain for pragmatism, ie roughing up the opposition or launching long balls 'into the mixer'.
Although his first Arsenal team was built on the solid defensive foundations of George Graham's English back four of Adams, Keown, Dixon and Winterburn, Wenger broke the mould by mining the continent for relatively unknown talent, not least from France. His undefeated title-winning side of 2003-4 was bestowed with a Gallic nickname, 'Les Invincibles', because the core of the team was French-speaking. English football had hitherto been a very insular game, rarely recruiting players from outside the UK and impervious to the influence of foreign coaches. Although sceptical at first, the cynical English press pack was to fall under the spell of the thoughtful, urbane French 'professor'. His football was not only pleasing on the eye, it brought success. Between 1996-7 and 2004-5 Arsenal won three Premier League titles and four FA Cups. Throughout that period, the Premier League was largely a two-horse race, dominated by Arsenal and Manchester United.
However, although friends and former foes alike have, this week, been lauding Wenger for broadening English football's narrow horizons, we can't ignore his persistent failings. The early years produced silverware but the last decade has been a period of relative underachievement. Arsenal have not won a league title since 2005. Wenger's team went eight seasons without a trophy between 2005-6 and 2012-3, prompting Mourinho's 'specialist in failure' jibe. For all their pretty football, Arsenal have become perennial also-rans.
For such a thoughtful man, it's hard to fathom why Wenger is so stubbornly unwilling to acknowledge or rectify Arsenal's conspicuous weaknesses. Firstly, there is a lack of leadership on the pitch. The success of the early Wenger teams was, in no small part, down to leaders like Tony Adams, Martin Keown and Patrick Vieira: men who would take responsibility on and off the pitch, who would do the shouting and organising, who could rally the team and drag them back into games. Now, when things go wrong, heads drop and influential players, like Mesut Ozil, go missing.
Secondly, there are the notorious defensive frailties. All opposing teams know that Arsenal have a soft centre, that they're vulnerable at the back. Wenger has singularly failed to assemble a defensive unit as solid as the 2003-4 team, which boasted a back four of Sol Campbell, Kolo Toure, Ashley Cole and Lauren as well as the protective shield of holding midfielder Gilberto Silva. Although they cannot match the financial muscle of Manchester City, Arsenal are hardly paupers. For a club that has splashed the cash on attacking players like Mesut Ozil, Alexandre Lacazette and Pierre-Emerick Aubameyang, it is criminal that they haven't invested in world-class centre backs or defensive midfielders. Wenger, as a manager who has had a big say in transfer strategy, must bear a portion of the blame.
Arguably, Wenger's biggest flaw is his inability to evolve tactically. The competitive advantage that his coaching methods gave Arsenal in his early years has disappeared. Every Premiership club now employs a backroom team of nutritionists, sports scientists and performance analysts. All the top teams have ditched 'route one' football and know how to retain and pass the ball. Moreover, Arsenal's rivals have not only caught up — they've overtaken Arsenal. Manchester City, Spurs and Liverpool all play a high-pressing game, which requires discipline and higher levels of fitness. Arsenal simply don't work hard enough to win back the ball when out of possession. In that respect, they are now lagging behind the teams at the cutting edge of tactical development.
Wenger's legacy as a moderniser has been tarnished by his failure to continue innovating. His tenure as Arsenal manager has been a reign of two halves. The first period was groundbreaking, but his inability to keep pace with the evolution of tactics allowed Arsenal to stagnate. A visionary, but one who was blind to his team's shortcomings. A revolutionary, but one who became stuck in his ways.
Duleep Allirajah is spiked's sports columnist. Follow him on Twitter: @DuleepOffside
Picture by: Getty Images.
To enquire about republishing spiked's content, a right to reply or to request a correction, please contact the managing editor, Viv Regan.