Buffer zones are not an attack on free speech
Protests outside abortion clinics are about intimidation, not debate.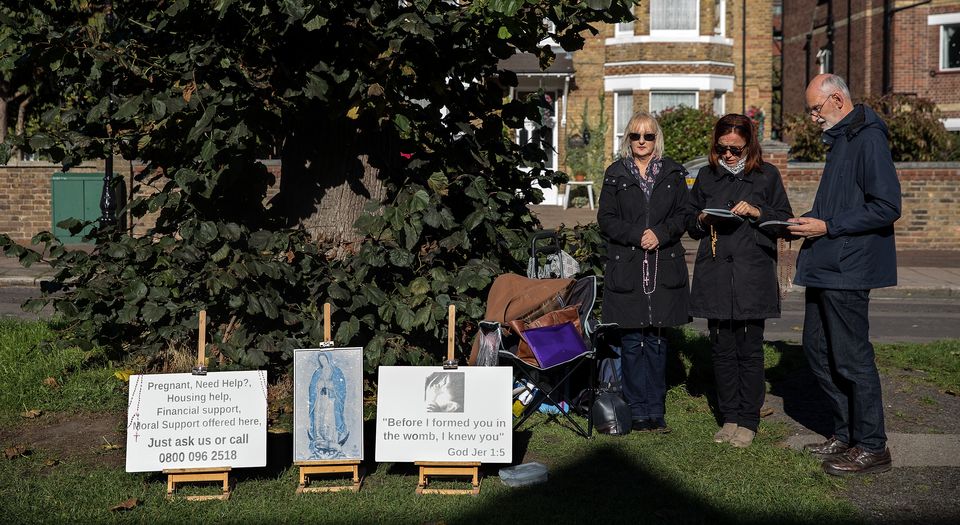 The decision by Ealing Council in London to introduce a buffer zone around a local abortion clinic feels like a bitter-sweet victory. Since launching the Back Off campaign, bpas has worked long and hard to help win this victory, submitting 150 accounts from women and local residents of their experience of anti-abortion activists trying to 'change women's minds' outside the clinic. We support the right of patients to receive, and of clinic staff to deliver, legal, NHS-funded care, free of interference from outsiders driven by their belief that abortion is wrong. The indignity of being pestered to account for your personal, moral decision to a stranger as you enter a medical clinic is an unmeasurable burden. But we also support free speech and the right to protest. We understand the concerns of civil-rights groups such as Liberty, who object that Public Space Protection Orders (PSPOs) are increasingly used to criminalise non-criminal activity and to victimise the homeless.
Abortion-clinic actions result from a clash of values. Although the law allows, and public opinion supports, our highly regulated and not-for-profit abortion service, some people genuinely believe that clinics are 'abortion factories' run by people who profit from the slaughter of the unborn. As bpas CEO, I am proud of my job, our staff, service and reputation; I believe our work, which allows women to decide about pregnancy, is 'good'. However, I know from their tweets that some people see me as a combination of Herod, Hitler, Mengele and Myra Hindley. They are entitled to their opinion and their protest – but they are not entitled to pose a threat to women seeking medical care. And that is what these actions at clinics do. People who use the entrance of a clinic as a venue for street theatre, with patients and staff as unwilling actors, must be driven away. Our patients are not advocates of a political or moral position. They don't come to a medical centre looking for a discussion. They come to receive treatment.
Activists have said themselves that they are not trying to protest against abortion, they are trying to stop it – one woman at a time. That is why the location of the protest matters so much to them. Having to stand 150 metres from the clinic makes no difference if you want to engage a member of the public. But it does if you want to accost a specific person, identified as a patient because of her intention to enter a doorway.
The location of the action matters to the activist, and it matters to us. It is unreasonable to expect a doctor to operate distracted by a chorus from the street. Patients identified as attending an appointment should not be told lies (that abortion will make them infertile, or that the clinic won't let them change their minds). They should not have to jostle through people thrusting leaflets, offering rosaries or baby clothes, or pass campaigners wearing GoPro cameras to film them. This behaviour is unreasonable and wrong, and it is reasonable and right that Ealing Council has used what powers it has to prevent it to defend access to abortion
The right of freedom of speech does not mean the right to say anything, at any time, to any person, in any place. The freedoms to argue one's ideas and to protest in support of one's views are an important legacy of the Enlightenment. But so is the value of tolerance, the importance of allowing people to believe and behave as you would not. For the 30 years I have been involved with abortion services, providers have tolerated protests. For years, the few nuns that turned out to offer prayers at bpas clinic gates were given tea by the staff, clinic sessions were reorganised around occasional planned demonstrations. Only now has intolerance of abortion access, by those who seek to deny women moral autonomy and self-determination, escalated to a state where it has required institutional intervention.
Anti-abortion activists have brought restrictions upon themselves. Perhaps they were even looking for this outcome: they will appeal the PSPO, they will play the victim card and appeal to upholders of liberty and freedom to support them against the intolerant liberal establishment. But when you consider their claims, just consider this: they decided to pick this battle. Rather than fight for their ideas in the arena of public opinion, they decided to victimise individuals making decisions about their private family lives and personal wellbeing.
That is why they should back off! And those of us who seek to defend the freedom and liberty both of those opposing and seeking abortion might consider allowing lies about abortion to be told just 150 metres from our doorway. It's a reasonable show of toleration.
To enquire about republishing spiked's content, a right to reply or to request a correction, please contact the managing editor, Viv Regan.