Orban's victory: another blow to the EU oligarchy
The demonisation of Hungary is the real threat to democracy.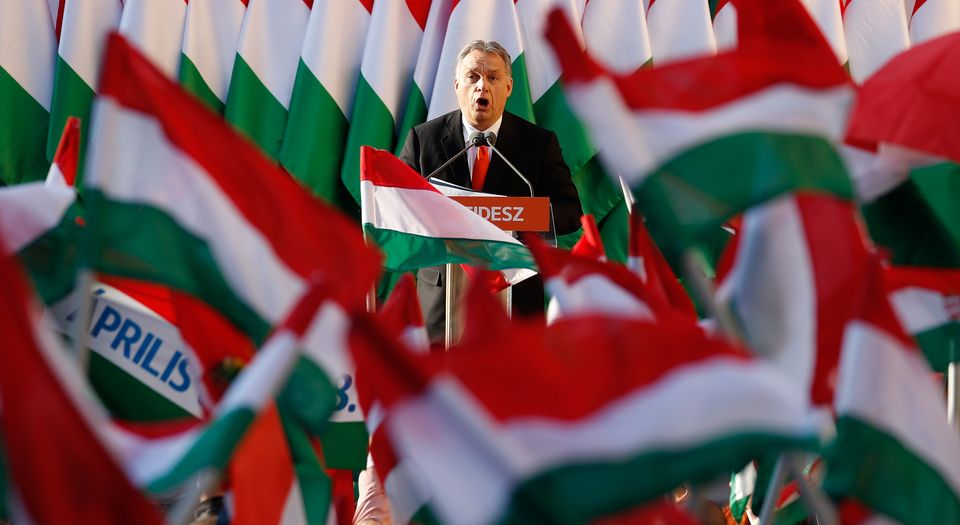 After his landslide victory in yesterday's Hungarian parliamentary election, the leader of the Fidesz party, and Hungary's prime minister, Viktor Orban, simply stated, 'We have won'. For Orban and his supporters their victory is not merely electoral. It is also a vindication of their prizing of national independence, which is regularly condemned by the Western media and political establishment.
If you listened only to Western media, you would think Hungary had become the heartland of fascism. In numerous media outlets it was darkly suggested that the re-election of Orban would constitute a threat akin to Hitler gaining power in the 1930s. Lurid headlines warned of the imminent collapse of Hungary into authoritarian rule. Canadian Michael Ignatieff, the president and rector of Budapest's Western-financed Central European University (CEU), warned that the election would determine whether 'Hungary consolidates itself as a democracy or whether it aligns with Putin and the ascendant authoritarians of the 21st century'.
When I talk to a couple of Western students from the CEU, it is clear that they believe Ignatieff's warning. They warn me about the unprecedented prevalence of anti-Jewish sentiment in Budapest. They don't believe me when I point out that if you understand Hungarian, you will find that such sentiments are probably weaker in Budapest than they are in Paris or many other Western European cities. When I tell them that I have seen armed guards protecting Jewish restaurants in France and Belgium but not in Budapest, they look uncomfortable and change the subject.
Whatever one thinks of the Orban regime, this was a fair democratic election. There was near record turnout – 70 per cent. Anyone possessing a measure of objectivity would recognise that this was democracy in action, and the landslide victory of Fidesz provides the government with a genuine political mandate. This point was even recognised by the leader of the Hungarian Socialist Party, Gyula Molnar, who in his resignation speech stated, 'We regard ourselves as responsible for what happened [and] we have acknowledged the decision of voters'.
Western critics of Orban, meanwhile, have been loath to accept the decision of the Hungarian voters. They complain that the electoral system is unfair, that 103 seats out of 199 are decided by a winner-takes-all contest in parliamentary constituencies rather than by proportional representation. Such critics conveniently forget the winner-takes-all political culture in the UK and the US, where none of the seats is distributed in accordance with the proportion of the votes gained by the different parties.
The Western media, with hysterical overtones, have referred to Orban's government as far right. The implication here is that it is in the same ballpark as the fascist movements of the 1930s. In reality, his is a conservative government that stands in the same tradition as Christian Democrats in Germany and Italy or the former Gaullists in France.
Yet Western critics of Hungary have also been selective in their application of the term far right. In recent weeks they stopped referring to the opposition Jobbik party as far right. Jobbik, which genuinely possesses classical fascist ideas, ceased being labelled 'far right' for the very simple reason that it quietly accepted a tactical-voting alliance with so-called left-wing opposition parties. Consequently, it is now regarded as 'our far-right party' by the EU oligarchy, and was given a free pass to try to defeat the Orban regime.
In the weeks leading up to yesterday's election, sections of the Western media invested their hopes in the anti-Fidesz tactical alliance. This was supported by former 'radical' dissidents, and even by a small coterie of so-called left-wing intellectuals, who insisted that voting for hardcore Jobbik candidates was a small price to pay for defeating Fidesz. The result of this opportunistic alliance has been to undermine the credibility of all its members. This is why the leader of Jobbik, Gabor Vona, resigned from his post in the aftermath of the election result.
Opponents of Fidesz – both inside and outside of Hungary – predicted that if there was a high voter turnout it could lead either to Orban's defeat or the loss of his two-thirds supermajority. Instead the high turnout reinforced his political authority. Unsurprisingly, Orban's critics have now shifted their focus from Budapest to warning other European societies about the need to ensure that the example of Hungary is not repeated.
Hungary – of course – is not without its problems. And I often feel that democracy in Hungary in under threat. But the real threat to Hungarian democracy is not the Fidesz government, but the absence of a serious and responsible political opposition. A democratic society requires an able, grown-up political opposition that is able to offer a coherent alternative and speak on behalf of those who feel ignored and marginalised. A government becomes genuinely effective if it is kept on its toes by credible critics. But the Hungarian opposition finds it difficult to give voice to the sentiments of the people. It is totally alienated from the lifestyle and culture of people living outside of Budapest. It resembles a group of self-centred children who blame their failures on their opponents rather than on their own incompetence, and this is reinforced by their Western allies.
The emergence of Hungary as the bad boy of Europe has little to do with its supposed plunge into authoritarianism. As I argued in my book, Populism and the European Culture Wars, the pathologisation of the Orban regime is largely due to its promotion of national sovereignty and its willingness to uphold traditions and values, including those of Christianity. It is hostile to those who would dismiss the legacy of Europe's past as the 'bad old days'. Hungary is hated by the Western political oligarchy for the simple reason that it dares to challenge post-traditionalism, identity politics and anti-humanism.
One does not have to agree with Orban's policies to understand that Fidesz's victory represents a significant blow to the authority of the EU oligarchy. It demonstrates that, contrary to Brussels dictum, there is an alternative to its worldview. Politics is alive and well in Europe.
Frank Furedi is a sociologist and commentator. His latest book, Populism and the European Culture Wars: The Conflict Of Values Between Hungary and the EU, is published by Routledge. (Buy this book from Amazon(UK).)
To enquire about republishing spiked's content, a right to reply or to request a correction, please contact the managing editor, Viv Regan.