Let Tommy tweet
The problem with Twitter's ban on Tommy Robinson.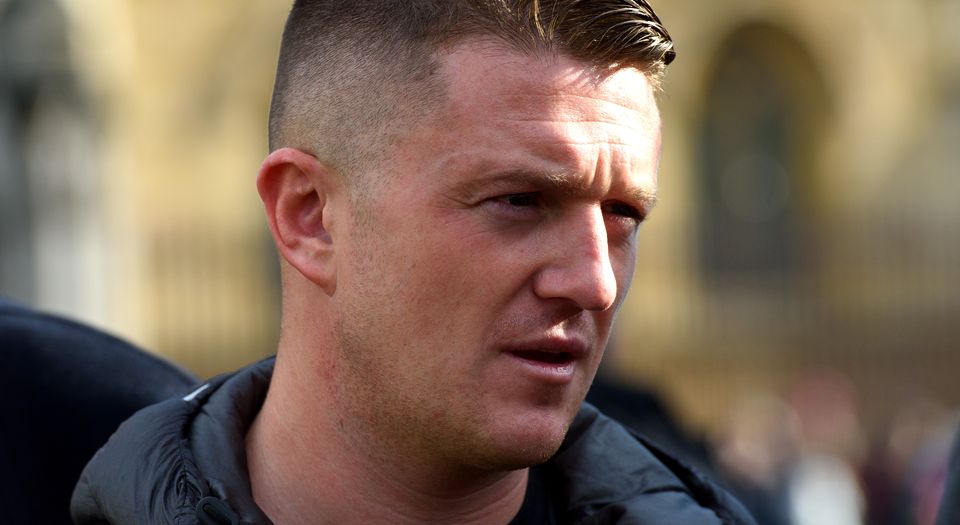 Britain's broadsheet press has recently gone into meltdown over the easily debunked Cambridge Analytica conspiracy theory, in which shady data-miners are alleged to have manipulated the political views of the masses via Facebook. Yet a recent attempt to control political discussion by another social-media giant was met largely with a shrug. Yes, when it came to Twitter's permanent ban on right-wing rabble-rouser and ex-English Defence League frontman Tommy Robinson, these worriers about the political power of Silicon Valley didn't protest; if anything, they cheered.
Twitter once declared itself to be on 'the free-speech wing of the free-speech party'. But it now decrees that tweets by certain individuals are so dangerous and 'hateful' that Twitter-users must be shielded from them. How's that for social-media manipulation?
You don't have to agree with a single word Tommy Robinson says, or buy into his attempts to rebrand himself as a journalist or an expert on the Koran, to defend his right to speak and tweet freely. It doesn't matter that he is an ex-con, jailed for mortgage fraud and for attempting to enter the US with someone else's passport. Nor does it matter that Robinson is himself not really a fan of unfettered speech – his branding of the Koran as inherently dangerous betrays his own censorious instincts. I can certainly think of more deserving free-speech martyrs. But free speech must be an indivisible right if it is to have any meaning. It must apply equally to Tommy Robinson as to the Islamists he has made his name railing against.
Yet those who are indifferent to, or who are celebrating, Robinson's Twitter ban argue that free speech doesn't apply in this case. Free speech relates only to government censorship, they say. Twitter, as a private enterprise, has every right to host or eject any tweeter it wishes, they say. The right to free speech, says anti-extremist charity Hope Not Hate, is not the same as 'the right to voice one's opinions on every social-media platform'. After all, even post-Twitter you can carry on speaking somewhere else. Writer and broadcaster Mike Stuchbery says Robinson's Twitter ban is no different to him 'getting bounced from his local'.
There are two problems with this argument, with this idea that when private companies silence people it is not a free-speech matter. The first is that these social-media bans don't happen in a vacuum. It is clear that state censorship, particularly that directed at so-called hate speech and Islamophobia, informs the actions of platforms like Facebook and Twitter. Robinson has many times been censured by the British state for his views on Islam. Former counter-terrorism police chief Mark Rowley compared Robinson to Anjem Choudary, the Islamist who was jailed not for any violent act, but for declaring support for ISIS. Recently, three right-wing activists, including one of Robinson's former colleagues, Lauren Southern, were detained under anti-terror laws and denied entry to the UK on the basis that their political views are not 'conducive to the public good'. When YouTuber Count Dankula was found guilty recently of being 'grossly offensive' for producing a video of a Nazi pug, some comedians defended the conviction on the grounds that Dankula has associated with Robinson. Just having links with Robinson apparently justifies state heavy-handedness. The British state has made clear its intention to censor far-right content and to make it harder for people like Robinson to say certain things. In banning Robinson, Twitter is in essence doing the state's bidding. This isn't a simple private decision; it's the outsourcing of state authoritarianism to a private company.
And secondly, there's the fact that social-media platforms like Facebook and Twitter are now so large that they are central to public discussion and debate. In the US, the president regularly conducts state business on Twitter. Aside from hurling abuse at the media, Trump announces policies, appointments and sackings on social media. Twitter's status as a de facto public forum is reflected in the fact that a Manhattan federal court is currently assessing whether Trump has the right to block Twitter users or whether that would be a violation of their First Amendment rights. In the UK, too, Twitter and Facebook are often where political statements are made, big issues discussed, and where everyone can have a say. Millions of people are there. These forums are arguably the 'public square'.
Banishment from a major social-media platform seriously limits one's ability to operate politically in the modern world. That is an act of censorship. Yes, Facebook and Twitter are private companies, but they are hugely influential ones, and the fact that they are cleansing their newsfeeds of problematic, controversial or 'hateful' voices should worry anyone who cares about free and open debate. Entrusting huge private companies to dictate which ideas are palatable and which are not is a deeply illiberal and foolish thing to do. It would be far better for Twitter users to push back and tell the company's owners to stop being so patronising and chilling towards their users.
Fraser Myers is a writer. Follow him on Twitter @FraserMyers
Picture by: Getty
To enquire about republishing spiked's content, a right to reply or to request a correction, please contact the managing editor, Viv Regan.