The problem with this children's crusade
The Parkland activists are impressive, yes, but let's not lionise them.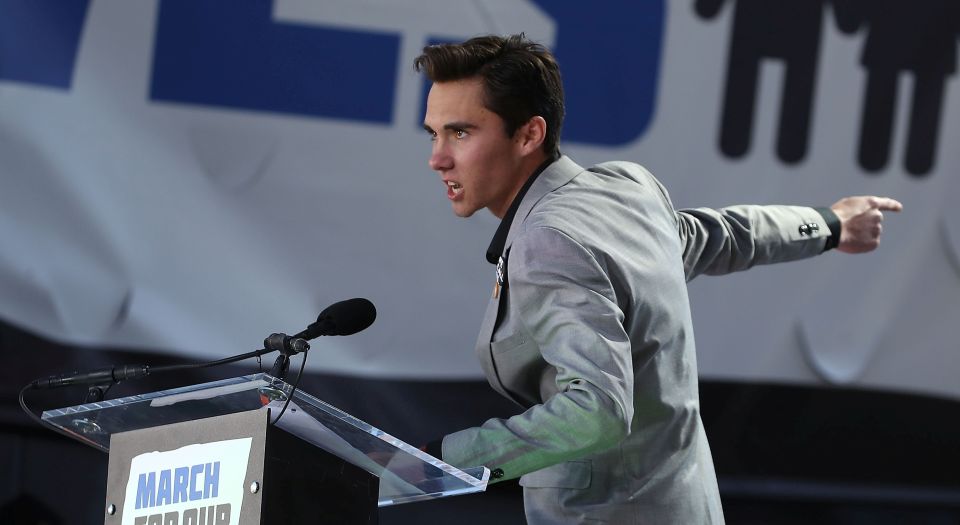 Do the teenage leaders of the revivalist anti-gun movement sparked by the Parkland shooting speak for their generation? Some assume so. Parkland student and confident movement spokesman David Hogg dismisses gun-rights opponents because they're destined for 'the wrong side of the history textbooks that we write'. Interviewed on NPR the day of the massive Washington DC rally, Hogg asserted, 'We can and we will outlive our opponents because they're old, and they are stuck in their old ways. We will change the face of America with or without our opponents.'
Maybe not. Put aside the folly of boasting that you'll win an argument by outliving your opponents. It might be wise to try changing their minds instead, especially since some of Hogg's opponents (who a teen might deem old-aged at 45) may still be around and voting when he's middle-aged. But put that aside.
Consider the greater folly of assuming that everyone under 30 agrees with you. Collectively, younger Americans don't consistently fall on either side of the gun debate. Eighteen- to 29-year-olds are less supportive of assault weapons bans than older adults: 49 per cent of 18- to 29-year-olds surveyed supported the ban as opposed to 63 per cent of people over 65 and 57 per cent of all adults. Eighteen- to 29-year-olds are also significantly more supportive of concealed carry laws. At the same time, as Politico reports, they are the 'least likely demographic in America to own a gun, and they give the country's lowest favorability ratings to the NRA, at 19 per cent'. And they're strongly supportive of a federal gun database.
The clearest divides in the gun debate are not generational: they're between Republicans and Democrats and rural and urban residents.
Perhaps tomorrow's young adults, teens and children now under 18, will collectively embrace stronger gun regulations. Perhaps not. No one knows, not even David Hogg, who combines the poise of an adult with the social-media savvy of a digital native and the innocent arrogance of youth.
When I was 16 I knew everything, too. I know a lot less now that I understand the difference between knowledge and belief. But looking back, I recognise the teenage leaders of the post-Parkland movement and sympathise with their impassioned, sanctimonious certainties – not just because they survived a massacre. Members of my generation also took to the streets expecting to change the world, armed with moral superiority and unburdened by self-doubt.
I usually refrained from marching, although I shared the marcher's concerns. I don't like crowds, especially crowds of people who are all in agreement. But that's a personal preference, not a political criticism. Protest movements, so essential to democracy, are inherently, necessarily self-righteous, whether led by teenagers or adults. Absent a belief in the urgent, indisputable justice and virtue of their cause, few protesters would bother showing up. Whether embracing political apathy or pondering political nuances, they'd remain on the sidelines.
Nuances, however, are often absent from the gun debate. While the NRA hysterically opposes virtually every proposed regulation of the sale and ownership of firearms as a terminal assault on freedom, some gun-control advocates resist learning about guns and resent being told, for example, that 'assault weapon' is an imprecise, if not meaningless term, or that the effect of the 1990s 'assault weapons' ban was highly debatable.
The new children's crusade for gun regulation is, like many protest movements, a moral crusade, reflecting unbending convictions about the immorality (as well as the dangers) of an absolutist approach to gun rights. But these young activists, and their parents, still need to educate themselves about guns, gun owners, civil liberties, and the intricacies of regulation.
So far, teenage leaders, like David Hogg, have been lionised by the left, satirised by the right, and viciously trolled. But like all advocates, they should be vigorously debated and asked to defend the merits of their positions, with reason as well as emotion. When Hogg made the questionable, unsubstantiated claim on NPR that he and his cohort speak for an entire generation, he should have been challenged, queried about evidence to the contrary. Instead, his deferential interviewer asked him if he found time to be a teenager. The teens at the forefront of this movement demand and deserve to be taken seriously. It's time to do so.
Wendy Kaminer is a lawyer and writer, and a former national board member of the American Civil Liberties Union. She is the author of several books, including: I'm Dysfunctional, You're Dysfunctional (1992); and Worst Instincts: Cowardice, Conformity and the ACLU (2009).
Picture by: Getty
To enquire about republishing spiked's content, a right to reply or to request a correction, please contact the managing editor, Viv Regan.