A victory for freedom and football fans
The end of the Offensive Behaviour at Football Act is a great day for liberty.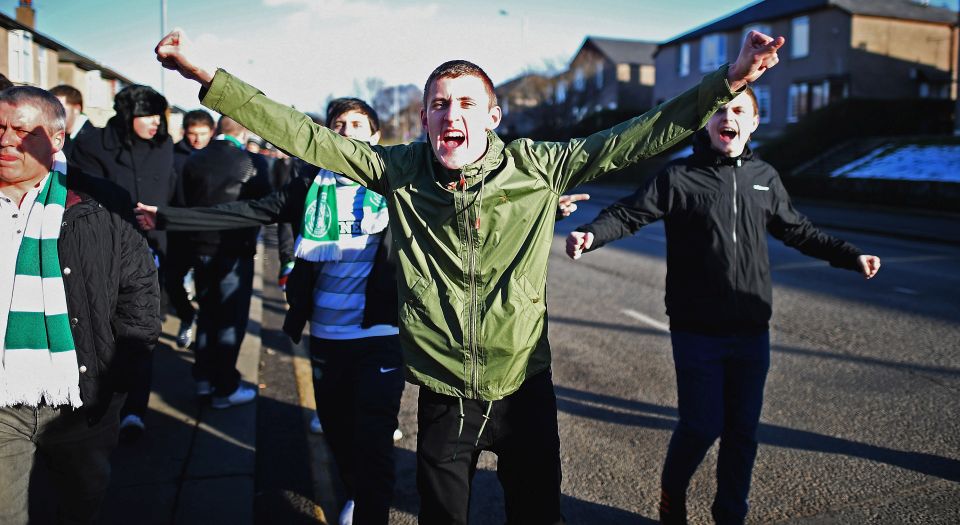 A little bit of history was made last week. For the first time since the introduction of devolution in the UK a law introduced by the Scottish Parliament was repealed. And for those of you with a strong commitment to civil liberties, it was good news. The Offensive Behaviour at Football Act, which was passed by an SNP-led majority in 2011, has been voted down by 62 votes to 60, meaning it will be taken off the statute book in April. This law was an outrageous piece of legislation that criminalised football fans for singing songs or shouting slogans that the SNP judged to be distasteful. The world will be a much better place without it.
The law was introduced six years ago after a touchline spat at a Scottish Cup game between then Celtic manager Neil Lennon and Rangers manager Ally McCoist. It was a banal incident. But the following day then first minister Alex Salmond summoned the media to announce that sectarianism was 'Scotland's shame', and that 'something must be done' to lance the boil. What a touchline row between rival managers had to do with sectarianism was anyone's guess. Much to the bemusement of the 60,000 of us who had attended the game, the SNP called it a 'game of shame' and a 'cauldron of sectarianism'.
As various commentators pointed out at the time, legislation already existed to combat sectarianism. But Celtic and Rangers supporters were now to be targeted and criminalised. The fact that sectarianism had long since ceased to be a social force in Scottish society seemed not to phase the SNP and its supporters in the press, who decided that songs and slogans sung once a week at the football were just the latest form of a deep-seated evil. The SNP had found a new folk devil. Football supporters were scapegoated, with small incidents at games blown up into major media stories supposedly reflective of the bigotry that was threatening to engulf Scottish society.
The law introduced a maximum sentence of up to five years in jail for singing songs at the football which were deemed offensive. There was no common or objective criteria as to what constituted 'offensive'. It was entirely subjective, to be decided by police officers or by any rival fan who reported an incident. When ministers were pressed for clarification, they agreed that 'Celtic supporters making the sign of the cross in an aggressive fashion', or 'Rangers supporters singing "Rule Britannia"' could be deemed a criminal offence in certain circumstances. They also said wearing a Yes or No badge, relating to Scottish Independence, at football games could fall foul of the law.
This all led to the ludicrous situation of police officers being issued with song sheets and sent to special classes to study football-chant lyrics in order to work out which songs should or could be criminalised. No wonder one judge, when hearing a case under the Act, described it as 'mince'. The application of the law led to some farcical situations. On the centenary of the 1916 Irish Easter Rising, SNP ministers attended the Irish consulate in Edinburgh to toast the Irish freedom fighters who stormed the GPO in Dublin 100 years earlier. Yet, in the same week, police in Glasgow were trying to arrest supporters at Celtic Park for singing a well-known song, 'The Boys of the Old Brigade', commemorating the Easter Rising.
The draconian nature of this law was soon felt. Hundreds of fans were arrested, kettled, manhandled and stopped from freely assembling or travelling to games together. Supporters were ordered not to sing certain songs, display certain banners, or wear t-shirts that were deemed offensive. Police declared that they would use 'shock and awe' tactics to break fans and force them to conform. Supporters of Celtic, Rangers, Aberdeen, Hibs. Motherwell, St Johnstone and others recorded accounts of police attacks on their freedom of assembly and expression. The crackdown completely poisoned relations between police and supporters.
Countless young fans were arrested in their homes in dawn raids for the grievous crime of singing a song. On occasion, young men were denied bail and remanded in custody. The majority of supporters who pleaded not guilty were forced to attend court five, 10 or sometimes more than a dozen times before having their cases thrown out. Some lost their jobs, others lost promotions, and many lost large sums of money to fighting their cases. Police would, on occasion, deliberately visit these young men's place of work and stop them at airports when they were travelling on holiday with their families. The overwhelming majority of these young men had never been in trouble with the law before.
But while police harassment increased so, too, did resistance from supporters who refused to roll over and comply. Fans Against Criminalisation (FAC), a grassroots campaign against the Act, was soon founded. Though initially set up by Celtic supporters, FAC quickly opened itself up to all football fans, and it took off. It logged incidents of police harassment and mistreatment. It demanded fans' right to freedom of expression and equality before the law. It gathered expert witnesses, organised for solicitors to defend fans in court, and organised collections for those denied legal aid. It contacted human rights and civil liberties groups to widen the campaign and made contact with groups overseas. Fans of foreign teams unfurled banners at games in solidarity.
The ingenuity and persistence of FAC supporters has been an absolute pleasure to observe. They have been spirited, quick-witted and utterly relentless in opposing what they consider an injustice perpetrated against football fans. They brought out thousands at protests, organised countless meetings and petitions, and produced major reports and publications. Those dismissed as thugs turned out to be brilliant, media-savvy operators. As Paul Quigley, spokesperson for FAC, put it, 'supporters were lining up to volunteer'. Fans who, initially, just wanted to go to the football and maybe have a few beers ended up getting involved in the fight against this law, and used their skills to bring us to the point of repeal.
The official demise of the Offensive Behaviour at Football Act will be a sweet moment. But while we should enjoy this victory, we should still be on our guard. Some of the opposition MSPs who combined to vote down this law were no doubt motivated as much by party-political opportunism as by a principled defence of civil liberties. A few of them are already making noises about the need for new anti-sectarian legislation, which is unnecessary and will likely infringe further on liberty. Later this year, Lord Bracadale will present his SNP-commissioned review into hate crime, which will likely herald another assault on free speech.
For now, though, we should bask in the glow of victory and enjoy being, for once, on the winning side of a free-speech battle.
Kevin Rooney is a teacher, writer and a member of the Institute of Ideas Education Forum.
To enquire about republishing spiked's content, a right to reply or to request a correction, please contact the managing editor, Viv Regan.