This strike reminds us what universities are for
Striking lecturers and their students are raising big questions.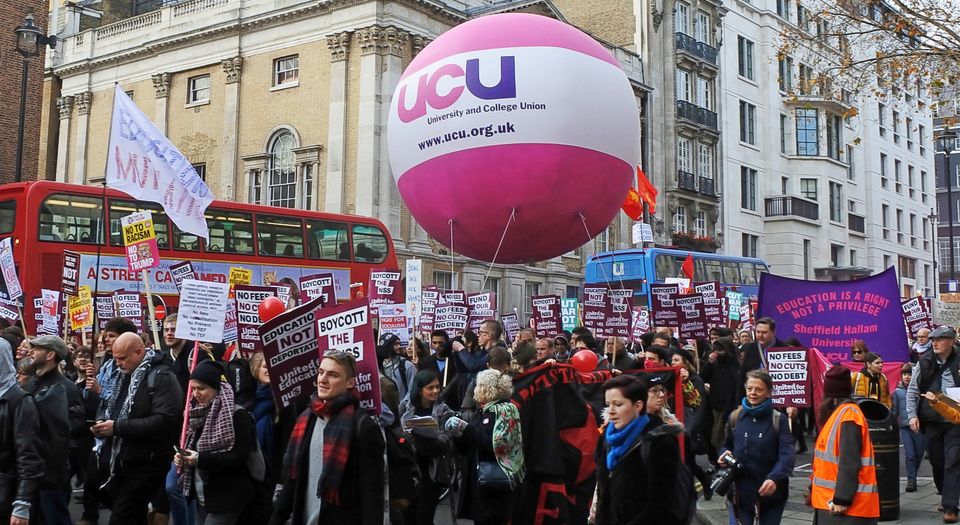 Britain's university leaders might feel that they had been through an 'annus horribilis', said universities minister Sam Gyimah at last week's official launch of the Office for Students. With scandalised reports of vice-chancellors' pay, ongoing wrangles over university funding and student tuition fees, and now a large, sustained and well-organised lecturers' strike paralysing dozens of pre-1992 universities, more and more angry questions are being raised over the mission and organisation of British higher education.
On every count, there is a serious case to answer. The strike, which was called over proposed changes to the USS pension scheme, has brought to a head much deeper anxieties among academic staff across the sector, to do with the security of their own positions, the insecurity facing increasing numbers of newer colleagues on temporary or sessional contracts, and the way academic work is regarded and rewarded.
For several years now, a particular construction of 'the student' has been marshalled to justify increasing scrutiny and regulation of academic life, with its demands that nobody ever gets upset by difficult ideas or unsatisfactory grades. This is a conceit designed to set lecturers and students against each other, despite the fact that 'the student' of the policy and media imagination is a cipher for other agendas, a caricature that bears little relation to the thousands of young people filling lecture halls and seminar rooms.
The spiralling despond of student debt, accrued by young people who are simultaneously told that they have to go to university to get a job and that they should be grateful for the privilege of paying for this 'experience', is prompting students and academics alike to ask, as the Cambridge academic Stefan Collini eloquently put it in 2012: 'What are universities for?' As Joanna Williams recently argued on spiked, it often seems that those in charge of higher-education policy know the price of everything, and the value of nothing.
But while the eruption of disquiet around staff pensions on one hand, and student fees on the other, has brought to the fore many of the problems confronting the university sector, it has also revealed something very positive. The debate about what universities should be for is raising some important questions about education and the pursuit of knowledge – questions that have been sidelined by the imperative of expansion and the promotion of 'employability'. And as students and academic staff have come together in raising these questions, they have revealed what a university continues to be for: a conversation and collaboration between the generations.
The displays of student support for their striking lecturers have taken some by surprise. Whatever way you cut it, weeks of cancelled lectures do not serve the immediate self-interest of current undergraduates. But rather than turning on their lecturers, many students have voiced support for the action, and hit back instead at what they see as higher education's view of students as a source of revenue, and staff an undervalued resource.
Some students have demanded compensation for missed lectures – a demand that could be seen as confirmation that students are individualistic, entitled consumers who want their 'value for money'. But it has also been powerfully used as an expression of solidarity with academic staff: an attempt to subvert the student-as-consumer model to hit institutions where it hurts. Students are acutely sensitive to the way that higher-education policy now presents them as units of funding, and they know that this is at odds both with the way that lecturers see them, and the way they see themselves.
Of all the things that students have been told to expect and demand from their university experience – a job, a good time, a swanky hall of residence – they know, deep down, that what they are there to get is an education. Facilities, processes, or marketing material do not provide this education – it is academics and students, and the relationship between them, that do. One outcome of this recent turmoil is the sharp reminder that the heart of the university is education, embodied in the academic community and the ideas that are discussed day in, day out, as part of this collaboration. Far from being an 'annus horribilis', this is a heartening reminder to all those engaged in higher education about why we do what we do.
Many students are cross and anxious about the effects of the strikes on their courses, but they know that the staff are not striking to get out of teaching or avoid doing their jobs. The strike has come about as a last-resort attempt to preserve some sense of security in their retirement, and at considerable expense to their pay packets in the here and now. And here again, the events of recent weeks have revealed a degree of solidarity between the generations that runs against the assumptions of the official imagination.
Policymakers increasingly promote the idea that it is in young people's interest to reduce the 'burden' of pensions. There have been shameless attempts to whip up animosity against so-called wealthy, entitled pensioners, on the basis that younger generations will have to shoulder the cost of their cruises and golf-club memberships. Tight-fisted proposals to end the 'triple lock' guarantee on the state pension have provided the official backdrop to wider attempts by pension funds to reduce entitlements on the grounds of 'unaffordability'.
The university lecturers' strike has made clear what has for a long time been obvious to those with a basic grasp of mathematics – that those hardest hit by attacks on pensions and pensioners will be the younger generations, when they themselves come to retire. It has also stripped away the self-serving myth that a pension is some kind of nice-to-have benefit, by pointing out that a pension is part of a salary. It is something we earn through our years of work, not a gift kindly bestowed by employers at their own discretion. And very few pensioners live in anything approaching luxury.
The battle for pensions has brought fresh-faced academics out in opposition to the idea that attacking 'unaffordable' pensions somehow serves the cause of the young, and senior academics – who in practical terms will lose least from the USS reforms – out in support of their younger colleagues' demand for decent provision in retirement. In exposing the mean-spiritedness of attempts to pit young and old against each other, the effects of this dispute are likely to resonate way beyond the ivory towers.
Jennie Bristow is senior lecturer in sociology at Canterbury Christ Church University and an associate of the Centre for Parenting Culture Studies. Her new book, The Sociology of Generations: New Directions and Challenges, is published by Palgrave Macmillan.
Picture by: Dun.can, published under a creative-commons license.
To enquire about republishing spiked's content, a right to reply or to request a correction, please contact the managing editor, Viv Regan.