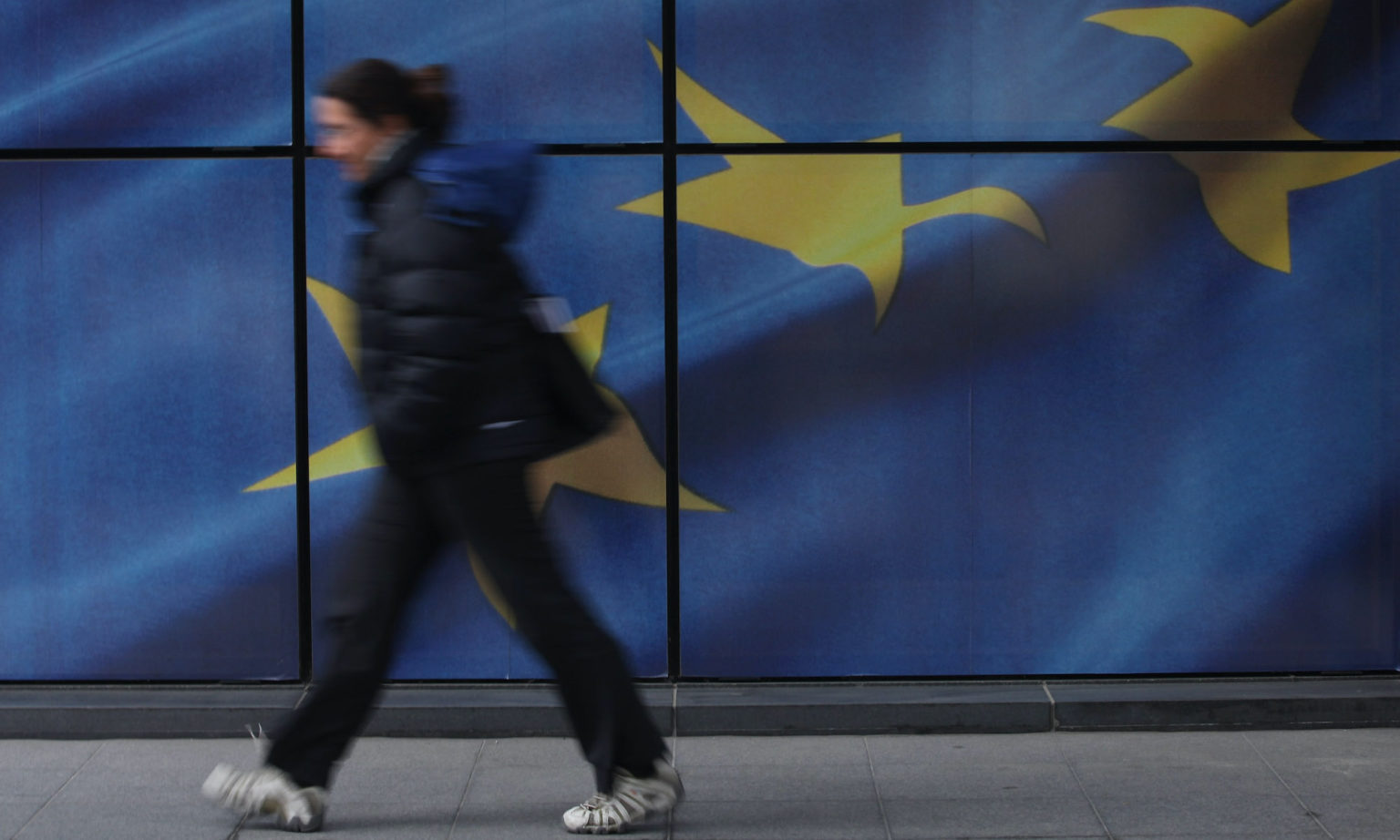 Long-read
The EU: where did it all go wrong?
Ivan Krastev's After Europe reveals the anti-democratic rot at the heart of the EU.
'Had I been cryogenically frozen in January 2005 I would have gone to my provisional rest as a happy European…Madrid, Warsaw, Athens, Lisbon, and Dublin felt as if they were bathed in sunlight from windows newly opened in ancient dark places…cryogenically reanimated in January 2017, I would have immediately died from shock. For now there is crisis and disintegration wherever I look…'
(Timothy Garton Ash, New York Review of Books, January 2017)
In 2002, political scientist Ian Manners argued that the European Union (EU) was a 'normative power', a facilitator helping other states to govern through the rule of law and democracy with 'a commitment to placing universal norms and principles at the centre of its relations with its member states and the world' (1). The discussion of normative power came at a time when the EU was riding high. It was seemingly attractive, and expanding, with the internal transformation of several states, including former Warsaw Pact and ex-Yugoslav states, meaning that they now met EU membership criteria (the so-called 'big bang' expansion in 2004). It was also burnished with a seeming moral lustre thanks to the EU's support of the NATO bombing of Serbia in support of Kosovo's independence in 1999, an episode widely seen as a model of 'humanitarian intervention'. Robert Cooper, a British diplomat, confidently asserted that the EU was a 'postmodern' power in which questions of nationality and sovereignty were mere historical memories in a system designed to allow interference right down to member states' 'beer and sausages'. Little wonder author Mark Leonard confidently asserted in 2005 that the EU would run the 21st century.
And so to 2018. If you now wrote and submitted a manuscript entitled 'Why the EU will run the 21st Century', it would likely head straight into a publisher's shredder. The list of the EU's travails is now a very long one: The financial crash; Greece under what Varoufakis has called 'debt serfdom' until 2060; the EU's soft coup against Italy's Silvio Berlusconi; debt crises in Ireland, Spain, Portugal and Cyprus; the Syrian refugee crisis; Brexit; Le Pen's near shot at the French Presidency; crushing levels of youth employment in Italy, Spain and many new member states; Poland and Hungary under special measures from the EU…
So where did it all go wrong? Ivan Krastev's short but excellent new book, After Europe, takes a hard look at the current state of the EU and considers what has happened to this liberal cosmopolitan project that seemed so unstoppable just over a decade ago. Krastev paints a picture of two EUs; the liberal, cosmopolitan, post-national EU of the political elites; and the distant, estranging, controlling EU experienced by European peoples. And these two EUs have been brought crashing into each other, argues Krastev, by the migration crisis.
Krastev explains that the European Union, founded with the 1992 Maastricht treaty, is rooted in what Francis Fukuyama called the 'end of history'. Fukuyma argued not that events and conflicts would stop, but that, after the failure of Communism, there would be no more political and ideological contestation. So it was as a post-ideological, post-political institution that the EU emerged.
The EU's post-Maastricht policymaking reflects this post-political impetus, as more and more policy areas, from budget deficit control to migration were moved out of the realm of domestic political contestation. So aspects of domestic financial and economic policy are now governed through legal and technical processes and dictated by inter-governmental agreements. National electorates have been thoroughly disempowered.
Krastev argues that the migration crisis in the EU has pulled national politics or, perhaps to be more precise, the national electorates, back into the picture, as the borderless, cosmopolitan ideal is forced to confront the reality and impact of migration, and attendant concerns over welfare, identity and rights. Not that EU's elites are facing up to this reality, as Krastev readily concedes:
'The inability and unwillingness of liberal elites to discuss migration and contend with its consequences and the insistence that existing policies are always positive sum (ie, win-win) are what make liberalism for so many synonymous with hypocrisy.'
Yet these are real political questions that must be engaged with. These are real states, with real people in them, who need to pay the tax that the state uses to build real things such as hospitals and schools and universities – all the infrastructure that gives a material content to rights and duties.
Moreover, questions around identity and values do need to be discussed freely. It is certainly reasonable to ask if significant migration of other religious groups will impact on post-liberal or conservative values in Europe. Yet such debate is considered unacceptable by the EU, leaving the resentments to be expressed by right-wing populist groups. So in some Western European states we have the interesting phenomena of gay voters, for example, supporting anti-immigration populist parties out of fear that Muslim immigration will affect taken-for-granted European freedoms around same-sex relations. Equally, in some of the EU's more conservative and religious member states, such as Hungary and Poland, there are entirely legitimate national arguments to be had about the impact of post-liberal values, such as gay marriage, for example.
Krastev also points out that some new member states, such as Bulgaria, are facing potential national collapse, as so many young people leave to work and live abroad (this is also true of Croatia). These aren't confident thriving societies that feel happy to welcome and absorb people of different ethnic and religious groups; they are societies that feel themselves to be on the road to becoming, like the Khazars, a mere historical memory in Europe.
Krastev does, however, seem to take the EU's own flattering narrative of itself too much at face value. The migration crisis did not, I would argue, bring about the clash of the two EUs as such, and one needs to consider the EU's policies post-Maastricht in more detail, as this changes the picture somewhat. For example, while the EU may have preached a cosmopolitan borderless doctrine, the borderless EU always had very hard edges, something to which the thousands upon thousands of migrants who have perished in the Mediterranean can grimly attest.
Moreover, each time states that had a constitutional obligation to vote on any major constitutional changes voted on further integration treaties, their national electorates rejected the EU. Denmark (Maastricht Treaty), Ireland (Nice and Lisbon Treaty), Holland (Constitutional Treaty) and France (Constitutional Treaty) all voted against further and deeper integration. Moreover, as was the case with Denmark and Ireland, several of those electorates were told to vote again and vote 'correctly' this time. So it's not as if the EU can say it wasn't told that the people in its member states were unhappy with it. The EU might have convinced itself it was a post-political idyll, but when the electorates were asked if it really was an idyll, they constantly issued a resounding No.
This leads also to the (justified) feeling among many people within EU member states that, as Krastev argues, they have little political control. In 2012, a Future of Europe survey revealed that only 18 per cent of Italians and 15 per cent of Greeks believed that their votes count, even within in their own country. And after the EU deposed Italian prime minister Berlusconi and replaced him with its own EU technocrat, Mario Monti, and the Greek people were told in no uncertain terms that while they could vote on a government they could no longer vote on the future of their economy, it would be surprising if any Italians or Greeks believed their votes counted. As Krastev says of the EU's response to the Greek crisis:
'It was the most powerful restatement that the governing formula of the EU – namely, policies without politics in Brussels and politics without policies on the national level – had been enforced by the crisis.'
The EU, having fully embraced the TINA doctrine, has, like so many so-called progressives, abandoned the workers, adopted the perspective of transnational capital and focused on identity (within carefully controlled parameters around gender and race rather than religion and ethnicity) and 'soft' issues. But it doesn't work. For most people, the important issues aren't gender-neutral loos but jobs and prospects, and building a future for their children or families. Again to quote Krastev, we have ended up 'with democracy without choice, sovereignty without meaning, and globalisation without legitimacy'.
So what's the answer for Krastev? He hopes the EU will survive the next few years and, by simply carrying on, increasingly legitimise itself. Given all the serious problems with the EU that Krastev has explored here, I am not sure that just limping on and hoping the centre holds will do anything other than postpone the EU's now chronic crisis of legitimacy. No one seems to have the answers about where we go from here, but one thing is for sure: national electorates do need to begin to be able to have proper political contestations about the direction and future of their societies. Politics needs to come back into European public life.
Tara McCormack is a lecturer in international politics at the University of Leicester. She is author of Critique, Security and Power: The Political Limits to Critical and Emancipatory Approaches to Security, published by Routledge. (Buy this book from Amazon(UK).)
After Europe, by Ivan Krastev, is published by University of Pennsylvania Press. (Buy this book from Amazon(UK).)
(1) 'Normative Power Europe Reconsidered: Beyond the Crossroads', by Ian Manners, included in Journal of European Public Policy, Vol 13, No 2, pp 182-183
Picture by: Getty.
To enquire about republishing spiked's content, a right to reply or to request a correction, please contact the managing editor, Viv Regan.