Close down Yarl's Wood – and all the other centres
It isn't only female migrants whose rights we should defend.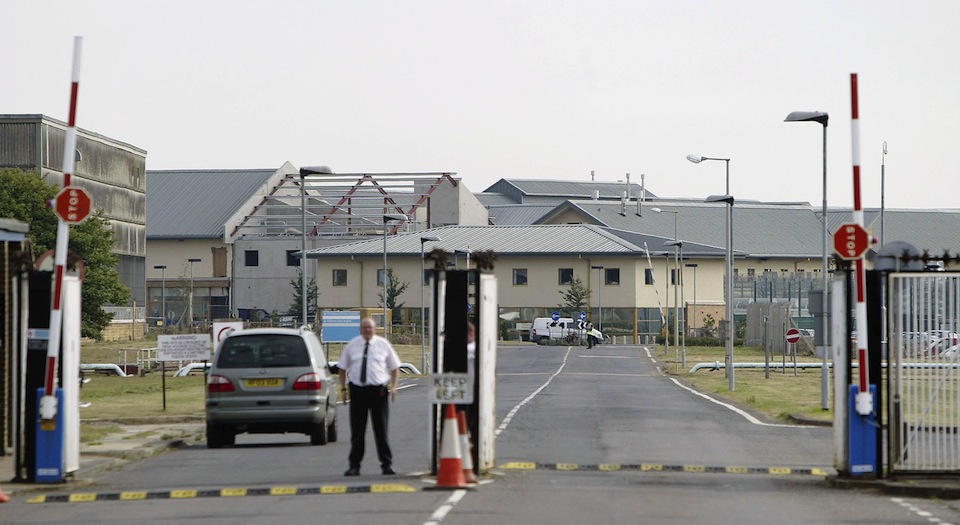 Yarl's Wood detention centre in Bedfordshire, England has hit the headlines again after it was revealed that some detainees have gone on hunger strike over their treatment.
Labour MP Diane Abbott finally got to visit Yarl's Wood last week after requesting access for more than a year. What she found was not surprising – detainees are miserable. They are often left in the dark about their cases, and even about why they are being detained in the first place.
When it opened in 2001, Yarl's Wood was the biggest detention centre of its kind in Europe. Today, there are nine such centres in the UK, all holding illegal immigrants and asylum seekers in prison-like conditions until the government decides whether they should be deported. Yarl's Wood is one of the most notorious. Over the past 17 years it has been hit by scandal after scandal, from staff locking detainees inside during a fire to several allegations of sexual abuse.
Do we need Yarl's Wood? Even on a practical level it seems obvious that we don't. Such detention centres are a waste of time and money. A majority of the people held here end up being allowed back into the community. The idea that places like Yarl's Wood help to control dangerous and illegal immigrants is a fantasy. In Yarl's Wood the majority of detainees are women who have been living in Britain for years, with families, homes, jobs. They are a threat to no one, and the fact they are being kept in bad conditions against their will is a travesty.
But even if conditions were good, even if Yarl's Wood were a lovely place with flatscreen TVs and king-sized beds, it should still be shut down. Because restricting an individual's freedom simply because they are from a foreign country is wrong.
But why stop at Yarl's Wood? Opposing this centre has become a cause célèbre in recent years. However, under UK law all detention centres can detain individuals indefinitely, even when the countries they come from are deemed too dangerous to be deported to – meaning they end up living in these centres. This authoritarian state of affairs ignores that the majority of migrants who come to Britain want to start a new life and live here legally. Allowing these people to live and work in the community while their cases are reviewed is not only more practical – it is also morally right. To detain someone as a criminal even though they have not committed a crime in the community is wrong.
This is a matter of principle – and it is also why the myopic concern over Yarl's Wood, and over female immigrants, is wrong, too. It's good that Abbott, and the shadow attorney general Shami Chakrabarti, visited Yarl's Wood – more people must know about the conditions in this place. But we mustn't forget that women are not the only ones suffering under UK immigration laws. In fetishising the detention of female migrants, campaigners present the issue of immigration as a gendered one – and it is anything but.
A quick look at other centres demonstrates this. Brook House, the centre made famous by a BBC Panorama investigation into its abuse of male detainees, is now keeping three men in each cell. Last week, the Guardian reported on the case of Anthony Bryan, a 60-year-old man kept in several detention centres for weeks on end and threatened with deportation to Jamaica, even though he hasn't been there since he was eight. Both men and women suffer under the UK's impractical and often immoral immigration law.
Campaigns against Yarl's Wood frame women as vulnerable and in need of special measures. In 2016, the Home Office responded to calls to liberalise the treatment of 'vulnerable women' by promising that female migrants who had suffered so-called gender-based violence – rape, FGM, forced marriage or forced prostitution – would no longer be detained. But what about the men – and women, for that matter – who haven't suffered gender-based violence? What about those running from bombs, or even those who are just coming here to start a better life? Is their freedom worth less than those migrants we deem to be 'vulnerable'?
The hunger strikers in Yarl's Wood don't want better food or more lenient visiting hours or patronising help from feminist campaigners – they want out. Brexit is often slammed as an expression of prejudice against migrants. In truth, Brexit is a great opportunity to discuss, democratically, how we deal with people coming to our country. If we really believe that Britain should be a beacon of freedom and tolerance, then let's democratise the debate about immigration and make the case for closing down all centres that hold migrants, male or female, who have done nothing wrong.
Ella Whelan is a spiked columnist. Her new book, What Women Want: Fun, Freedom and an End to Feminism, is published by Connor Court. Buy it on Amazon UK and Amazon US.
To enquire about republishing spiked's content, a right to reply or to request a correction, please contact the managing editor, Viv Regan.