Why these red scares help Corbyn
Calling him a communist flatters Corbynistas' radical pretensions.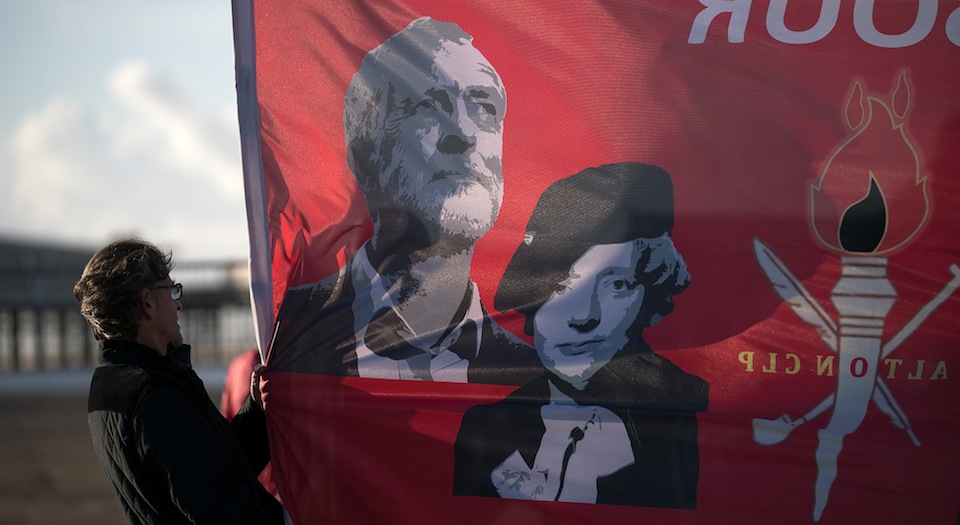 British politics has found itself in the grip of the world's weakest red scare, after files seen by the Sun revealed that in the late 1980s Jeremy Corbyn held a number of meetings with a Czech spy who was posing as a diplomat.
Defence secretary and rampant Cold Warrior Gavin Williamson frothed that the meetings meant that Corbyn 'could not be trusted', as 'time and time again he has sided with those who want to destroy everything that is great about this country'. Tory MP Ben Bradley, prone to online outbursts, alleged that 'Corbyn sold state secrets to communist spies'. He deleted the tweet after being threatened with legal action by Corbyn's team.
Thankfully, the Czech Security Forces Archive has come out to state the obvious, that 'Mr Corbyn was not a secret collaborator working for the Czechoslovak intelligence service'. The files which have so excited the fevered imagination of the right actually make for rather dull reading. Notes from a meeting in 1986 reveal that Corbyn 'was negative towards the USA, as well as the current policies of the Conservative government'. That Corbyn was no fan of Thatcher or Reagan is hardly a high-level state secret. Another of the meetings was written off as useless in terms of information-gathering, as the discussions were too general.
In his Telegraph column, Conservative MEP Daniel Hannan rightly acknowledges that Corbyn probably couldn't have sold state secrets or 'privileged information', because 'who would have given him any?'. But unable to pass up the opportunity to paint Corbyn as a dangerous, treasonous radical, Hannan tells us that 'over the years, he has formed effective alliances with such monsters as Slobodan Milosevic, Vladimir Putin, Fidel Castro, Hugo Chavez, the IRA, the Iranian ayatollahs, Hamas, Hezbollah and even a gang of Somali pirates'.
Hannan and other right-wingers conjure up an image of the Labour leader as operating some kind of shadow foreign policy over the last three decades, with Putin, Milosevic and others on speed-dial. But prior to his surprise rise to the Labour leadership, Corbyn was known only as Tony Benn's bag-carrier, having never held a significant role in the party or in public office. The idea that he was even a marginal player in geopolitics is ridiculous.
The main beneficiary of theses incessant red scares is not the Conservatives, but Corbyn himself. After all, the Tories lost seats to Corbyn's Labour at the last election, despite the relentless attacks on him and his supposed 'comrades' in the IRA and Hezbollah. Every headline about 'Commie Corbyn' merely persuades Labour's Corbynista wing that he must be doing something right for 'the establishment' to want to bring him down so badly.
These stories also help Corbyn because they flatter the radical pretensions of Corbynistas, who derive great energy and zeal from the delusion that they are involved in some radical, transformative project, when in reality their Dear Leader is a pretty bog-standard social democrat. His proposals for nationalised utilities, some tax rises here and there, reducing (not reversing) cuts to welfare, and scrapping tuition fees, are more Miliband than Marx. At the same time, everything that was once more interesting about Corbyn, such as his opposition to the monarchy, NATO and the EU, has been quietly shelved.
Worst of all, these red scares have become ammunition in Labour's war on press freedom. In response to the recent spy allegations, Corbyn posted a video, refuting the claims and promising to 'change' the media. Given his party backs press regulation, this would mean shackling the press. Where Marx declared press freedom to be 'something which I love truly, whose existence I feel to be essential, to be necessary to me so that without it I cannot live at peace, or live a full life', Corbyn, the so-called radical, wants to tame the troublesome tabloids.
So, no, Corbyn is not a commie spy, or a treasonous radical with 'effective alliances' with terrorists and dictators. But he certainly benefits from being described as such.
To enquire about republishing spiked's content, a right to reply or to request a correction, please contact the managing editor, Viv Regan.