After Florida: why gun control isn't the answer
Mass school shootings are awful, but they're also very rare.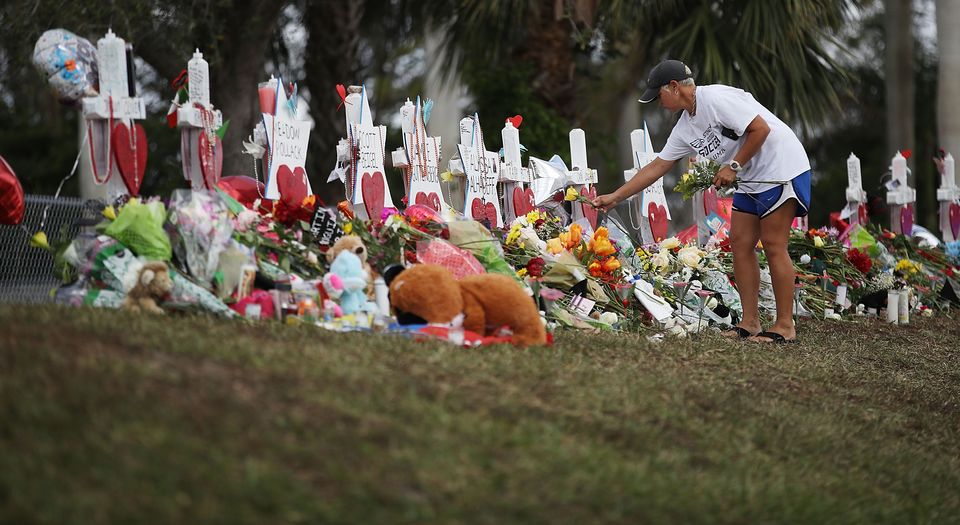 There are some signs that the debate on gun control in the US is shifting after last week's killing of 17 people at Marjory Stoneman Douglas high school in Florida. This seems to be down to the efforts of some of the school's students, who staged a vigil at the White House and who have been vocal in support of new gun-control laws. But in truth, the shift is less a case of the power of students than it is of the faltering resolve of Republican politicians and the National Rifle Association (NRA).
President Trump initially responded to the massacre by questioning why the FBI had failed to investigate a tip-off that Nikolas Cruz, the 19-year-old alleged shooter, might be planning an attack. He suggested the FBI was too focused on the investigation into collusion between Russia and the Trump campaign at the 2016 election. But since then, he has said he is 'supportive' of efforts in Congress to improve background checks for gun purchases, as has the NRA.
Florida Republican Senator Marco Rubio said, in the wake of the shooting, that he supports gun violence restraining orders (GVROs), which allow firearms to be seized before a person commits a violent act. An article in the conservative National Review concurred. Five states – California, Washington, Oregon, Indiana and Connecticut – have passed GVRO laws, and 18 more have pending legislation.
Despite appearances, Trump has always been a fairweather friend to those who resist gun controls. As Marco Rubio has pointed out, Trump wrote in his 2000 book, The America We Deserve, that he supported a ban on assault weapons and a slightly longer waiting period to buy a gun. In an interview with Larry King in 1999, Trump expressed his wish that no one in the United States would have a gun.
So, should some gun controls be considered? There is little evidence that any of the measures being proposed would have prevented Cruz from committing his murderous spree. He had no previous convictions and no reported mental-health problems. The FBI, not blessed with Trump's hindsight, would have been hard-pressed to justify taking away his weapons because of one anonymous complaint, nor would a GVRO have applied.
Then there's the debate about the Colt AR-15-style rifle which Cruz used. Such weapons were also used in Las Vegas and in Sandy Hook, where 20 children and six adults were shot to death by Adam Lanza. Discussion has turned once again to banning these 'assault rifles' outright. There was a law that banned assault weapons between 1994 and 2004, which also prevented the use of clips with more than 10 bullets.
But the Columbine shooters, Eric Harris and Dylan Klebold, got around this problem by carrying multiple clips. What's more, the assault-rifle ban had no effect on homicide rates. This is unsurprising: rifles are used for fewer homicides than shotguns, and count for less than a quarter of the number of homicides committed using feet and fists, though semi-automatic rifles are the preferred weapon for spectacular shootings like that in Florida.
There is an air of irrationality to the responses from both the left and the right. The proposals from conservatives include putting armed drones in schools; employing hi-tech Homeland Security machinery to detect shooters; arming retired police and military personnel and putting them in classrooms; introducing airport-style security measures; and permitting teachers to carry concealed weapons. But while these measures might make some people feel better, they would not prevent someone determined to take the lives of human beings. Stoneman Douglas had an armed guard who did not encounter Cruz.
More importantly, proposals from both sides wildly overestimate the danger posed to students from rogue shooters. Thirty people died in 2015/16 in what partisan anti-gun websites describe as 'school shootings', meaning any shooting at or near a school. This is about the same number that died during the same period from gun homicides in the UK, which has a smaller total population than that of US schools. In 2014, only seven people died in school shootings in the US.
The problem underlying this debate, and reflected on both sides, is a sense of insecurity and the collapse of the concept of the citizenry. Today's citizens distrust their fellows and wish either to disarm them or to arm themselves to deal with the purported threat. The divide, unsurprisingly, is between the elite – who wish to use the authorities to disarm their fellow citizens – and ordinary Americans, who feel they need to arm themselves against their fellows.
When a calamity like that in Florida occurs, it is too easy to respond emotionally and to fetishise the object used to kill, to endow it with the very moral qualities – good or bad – that we have now stripped from our fellow citizens. It is worth remembering, of course, that America's deadliest ever school massacre, which left 44 dead, was accomplished with dynamite in 1927. More recently, the Nice massacre – accomplished with a truck – killed 86 and injured a horrifying 458. No one blamed the truck.
Kevin Yuill teaches American studies at the University of Sunderland. With Joe Street, he is the editor of The Second Amendment and Gun Control: Freedom, Fear, and the American Constitution. Buy it here.
To enquire about republishing spiked's content, a right to reply or to request a correction, please contact the managing editor, Viv Regan.