No, abortion on grounds of disability is not eugenics
These choices are personal, not a matter of public policy.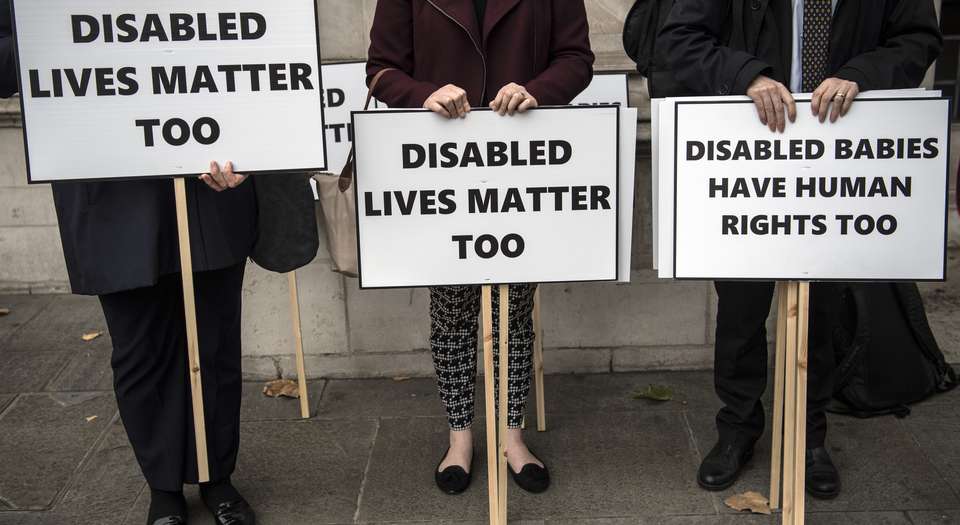 Antenatal screening followed by abortion on grounds of anomaly is often described as a form of discrimination against disabled people. Even as a kind eugenics. But it is neither, for two clear reasons.
First, there is the question of the purpose of such screening and, in some cases, termination.
Eugenics is a wrongheaded attempt to apply evolutionary biological principles to improve society. Put simply, it is about improving 'the stock' of people in a country through good breeding practices, much as a farmer might seek to improve a herd of cows.
Typically, it involves encouraging strong, healthy children to be born into strong, healthy families, while discouraging (or preventing) the birth of unhealthy children into unhealthy families.
In the 1920s and 30s, as a matter of public policy, countries throughout Western Europe, and in North America too, sterilised whole categories of people: ethnic minorities, the disabled, people with mental illnesses. The more coercive practises lost credibility following the Nazi experience, when it was shown that that regime went a step further with its extermination programmes.
Antenatal screening sometimes appears to share elements of 'soft eugenics' in that it helps the state avoid the costs of caring for children born with disabilities. But the huge difference is this: women choose to have antenatal screening because they want to know as much as possible about their future child. When a woman takes a decision to end the pregnancy, it is for her personal reasons; it has nothing to do with 'the stock' and nor is it a coerced decision justified as being for 'the good of society'.
A woman's decision to end a pregnancy affected by Down's syndrome is down to the fact that she feels the decision is right for her in her circumstances – it is not an endorsement of abortion for Down's Syndrome as a matter of public policy. Indeed, on this issue the public policy is that abortion following screening for anomaly is a matter of personal choice, supported by counselling and as much information as a woman wants about the condition, as well as the offer to put her in touch with support groups, and so on.
And secondly, there is the question of who is deciding when it comes to abortion for anomaly. 'Who decides' is at the heart of the discussion. In Britain today, it is accepted that when fetal anomaly is diagnosed, the decision to end or continue the pregnancy lies with the pregnant woman.
Most diagnoses result in a termination, which is not surprising: typically, women planning their family don't envisage the life that comes with managing a serious clinical disability. But women who do want to progress with their pregnancy can access more state support and affirmation for their decision than at any time in our history. Women who give birth to children with disabilities are often admired for their selflessness.
In the 1960s, a later gestational limit for abortion was set for women who discovered their pregnancy was affected by the profoundly disabling effects of the drug Thalidomide. It was seen as unfair to women to not allow abortions in these circumstances. Now, abortion for fetal anomaly is condemned by some feminists as discriminatory against disabled people.
But our pregnancies are not markers for our political views. We make our choices according to our own lives and personal circumstances. The fact that I chose to marry a white Jew and not a black Muslim does not mean I think other white women should make similar marital decisions. It's personal.
And the personal is not always political. Paradoxically, the most important protection we have against eugenics is the defence of individual choice, including on whether to have tests and terminations in relation to pregnancy. Respect for personal autonomy is what protects us from institutional laws and pressures to have 'the right sort of babies'. For some, the right sort of babies will be uniformly healthy; for others the right sort of babies will be 'diverse'. But what matters is that when it comes to your pregnancy, you should decide.
Ann Furedi is chief executive of the British Pregnancy Advisory Service (bpas) and the author of The Moral Case for Abortion, published by Palgrave Macmillan. Follow her on Twitter: @AnnFuredi
Picture by: Getty Images.
To enquire about republishing spiked's content, a right to reply or to request a correction, please contact the managing editor, Viv Regan.