Revolt of the modern-day 'slaves'
Migrants in Cornwall just dealt a blow to the elite's 'slavery' obsession.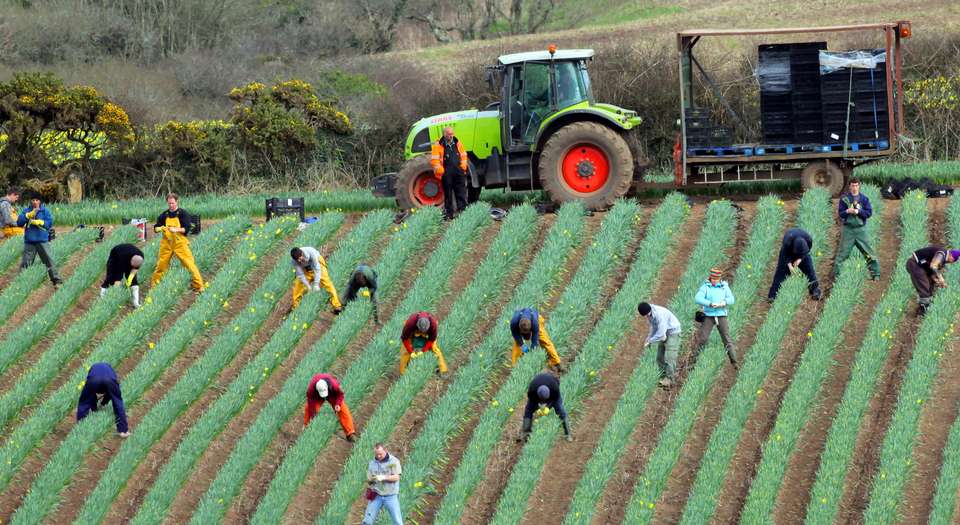 It was a remarkable protest. A crowd of 100-or-so migrant workers gathered outside a police station in Cornwall last week to demonstrate, to give vent to their views, and make sure their three bosses being held inside on modern-slavery charges knew exactly what their employees thought of them. But incredibly, the workers weren't there to condemn their bosses; they were there to support them.
There can't be many cases where workers – in this case largely Eastern European workers at a daffodil farm in Cornwall – come together in solidarity to fight for their bosses. But that's what happened here. They came together to say they were not being ill-treated, and they wanted to keep working for their bosses. As Marin Alina-Florentina, from Romania, explained from outside the police station: 'Our boss has been arrested and we think he has done nothing wrong. We have very good conditions. I've been working here for four years. If it was bad I wouldn't work here, we wouldn't bring our friends and families here.'
It was a protest that did two things. First, it exploded the myth of migrant workers as victims of unscrupulous employers. It blew apart the image of the migrant as a passive object, wilfully abused by evil capitalists, and protected only by the warm, caring embrace of the British state and its long arm of anti-modern slavery NGOs. Instead it showed that migrant workers, as the long history of British workers' struggles shows, are capable of seizing control of their own destinies, of exercising their own agency and pursuing their own ends – as Alina-Florentina said, 'If it was bad I wouldn't work here'. Indeed, it is only when workers organise together in their own interests that they can actually achieve their own objectives – in this case, to keep their jobs.
And, second, it was a protest that exposed the farce of the official campaign against modern slavery. Indeed, the arrest of the daffodil farm bosses was carried out by no lesser figure than Chief Constable Shaun Sawyer, the National Police Chiefs Council's lead for modern slavery. 'There were reports into police of alleged offences of modern slavery', he said to justify the arrests. 'There comes a point where we have to intervene.' But it seems Sawyer faces the same problem as others have had in trying to prosecute the campaign against modern slavery: its object doesn't exist, at least certainly not in the way it is has been talked about by the British state for the past four to five years.
And hasn't it been talked about. Modern slavery is that rarest of issues: one that seems to get UK prime minister Theresa May burning with something approximating conviction. It was May who, as home secretary, pushed through the Modern Slavery Act in 2015; it was May who, on becoming prime minister in 2016, decided to make modern slavery one of the key causes of her government, announcing in July 2016, that 'just as it was Britain that took an historic stand to ban slavery two centuries ago, so Britain will once again lead the way in defeating modern slavery and preserving the freedoms and values that have defined our country for generations'. And it was May who decided last September to take her stand against modern slavery before the United Nations. And she did all this with what amounted to a cross-party consensus, and the official backing of several British newspapers.
From the perspective of what's left of the British establishment, it makes a certain sense. It's a cause that can burnish its campaigners with the lustre of moral purpose, and can command a near universal consensus. After all, the British state is standing against slavery here – and who doesn't think that treating someone as a piece of property to be traded and used as their owners see fit is morally abhorrent? Who wouldn't want it outlawed? That's probably why it has already been outlawed – nearly 200 years ago in Britain with the Slavery Abolition Act of 1833.
Of course, what May and friends talk about now is not slavery of the chattel variety. Yes, they're leeching off the moral repugnance generated by the idea of the slave trade, and they're seeking to furnish their cause with the same moral gravity of that momentous struggle against slavery over 200 years ago. It's just that what they want to campaign against – modern slavery – is far more nebulous, and therefore far more difficult to pin down and prove the existence of.
It is said to encompass slavery, servitude, forced and compulsory labour and human trafficking, many of which are crimes already covered by long extant legislation, and where not covered, amount to little more than dubious labour-related practices. In other words, what exactly is it May & Co are fighting? The anecdotes – the trafficked African girl pushed into prostitution – are horrific, but isolated. And the supposed 10,000 to 13,000 victims of modern slavery postulated in an official report from two years ago persist undiscovered and unprosecuted. As the National Audit Office revealed in December, in a report that laid bare the disorganisation and incoherence of the government's modern-slavery strategy, there were just 80 modern-slavery prosecutions in 2016. Which is no suprise given that that huge figure, consisting of many who were said to be enslaved in plain sight, in farms and nail bars, was the product of speculative advocacy research, not objective analysis.
To cast doubt on the campaign against modern slavery is not to doubt the existence of unpleasant and exploitative labour practices in the UK, especially among migrant workers. Capitalism is not known to favour the raising of wages, the improvement of conditions and the extirpation of nasty labour-related practices. But, as labour history shows, those wages and those conditions and those practices can only be struggled against by workers (including migrant workers) themselves. Which as the Cornish daffodil pickers have shown, by exercising their agency outside a police station, of all places, they seem more than capable of doing. And it certainly should not be up to the state to decide what counts as exploitation and what doesn't.
So one thing is for sure: as the arrest of the daffodil farm owners shows, state-led initiatives against so-called modern slavery are not only doing nothing to help migrant workers – they are also harming them.
Tim Black is a columnist at spiked.
Picture by: Getty Images.
To enquire about republishing spiked's content, a right to reply or to request a correction, please contact the managing editor, Viv Regan.