ISIS in Sylvania: confronting Islamism
A new art book satirises our infantile approach to terrorism.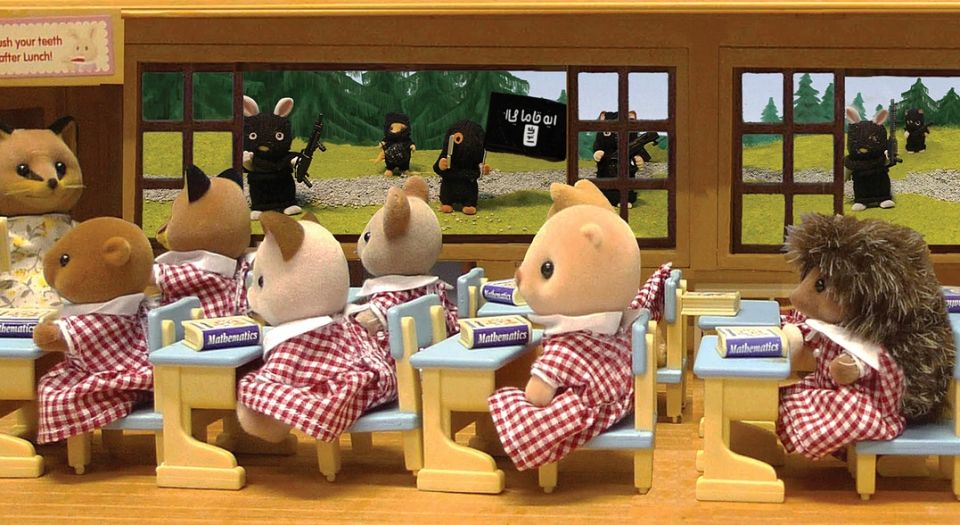 There is a remarkable amnesia towards the terrorist attacks last year in London and Manchester. As Brendan O'Neill noted at the end of the year, there seems to be a deliberate attempt to blot out the memory of these jihadist atrocities in order to dampen down any public outrage and encourage us to 'move on'. It is this spirit of deliberate forgetfulness, this desire to efface the threat in our midst, that is perfectly captured by a new satirical art book, ISIS in Sylvania.
In what looks like an innocent children's picture book, cute animal figurines from the Sylvanian Families toy-sets are posed in bright tableaux. A series of double-page spreads show these animal families at a picnic, on the beach, watching television, at school, in a beer garden, and even at a Gay Pride festival. But look closely at each idyllic scene and you spot a sinister presence – equally cute animals garbed in black outfits and masks, armed to the teeth and poised to wreak havoc and destruction on the peaceable fun-loving Sylvanian citizens.
Many of these tableaux were first shown as a series of light-box images at Passion for Freedom, an art exhibition at London's Mall Galleries in 2015. Or at least they were meant to be. Ironically, given the themes of the images, within hours of the exhibition opening they were withdrawn on the insistence of the gallery because police raised security concerns. The gallery suggested the images were inflammatory, warning that they might be seen as 'Islamophobic' and could spark protests.
As the anonymous artist, who goes by the name of Mimsy, argued at the time, ISIS in Sylvania is not just about the childish and barbaric ideology of ISIS; it's also about the childish idiocy of the West, too. 'The decision to censor shows that our establishment is more threatened by satire, clarity and truth than by young men willing to kill, rape and pillage in the name of Islam', wrote Mimsy, adding that 'it was ultimately an act of national cowardice dressed up as health-and-safety rhetoric'.
Mimsy's use of the Sylvanian Families toys pointedly exposes the infantilisation of a society that chooses to 'keep calm and carry on', ignoring rather than facing up to and dealing with the threats to its existence. 'The first image was composed over the course of two days', writes Mimsy. 'I wanted to look as if it came out of an Argos catalogue. I hoarded Sylvanian Families figures from a mixture of shops and house-clearance adverts. The backdrops were built and lit in my studio, and I set about designing and making tiny costumes with the help of a tailor. The first image was of the ISIS army standing on a hill, looking down at the rest of Sylvania. I wanted the Sylvanians to look wilfully oblivious to the threat they were facing, still indulging in their little day-to-day pleasures.'
The attacks by ISIS are clearly aimed at destroying the pleasures of Weatern life, sins in the eyes of extreme Islamists. But the media, police and politicians would rather rally the public against Islamophobia and 'hate speech' than confront the anti-Western ideas that allow terrorism to thrive.
ISIS in Sylvania develops the theme of the exhibition, adding several new tableaux. One depicts a crowd of peace protesters holding lighted candles and singing John Lennon's 'Imagine', apparently oblivious to a suicide bomber in their midst. Another shows refugees being welcomed on lifeboats, a terrorist lurking among them. In the final pages, an artist is silenced and under arrest, while a bomb-maker remains free to carry on his activities.
The satire is not subtle. It makes a very clear point – namely, that if we continue to ignore the barbaric threat posed by ISIS, we put at peril everything we hold dear about Western freedoms. It is unsurprising that the artist exhibits and publishes under a pseudonym. Mimsy is brave but not foolhardy at a time when speaking truth to power – the power of cultural relativism – could make her a pariah.
Reflecting this climate of opinion, Mimsy's distributor refuses to sell her books, stating: 'Although we vehemently defend both the hard-won privileges of freedom of speech and the potential power of parody to de-base an organisation such as ISIS, we have to find a balance between the duty to our clients and risks of legal infringements and political sensitivity.'
ISIS in Sylvania certainly uses the power of parody to de-base and demystify ISIS. But the legal and institutional response to it re-empowers ISIS, turning it into something around which we must tread carefully, lest we offend the all-too easily and all-too violently offended in our midst. It is a situation worthy of parodying in ISIS in Sylvania itself.
Wendy Earle is convenor of the Institute of Ideas Arts and Society Forum.
The art edition of ISIS in Sylvania is available online here.
Picture by: Mimsy.
To enquire about republishing spiked's content, a right to reply or to request a correction, please contact the managing editor, Viv Regan.